Monaco-PSG draw shows signs of budding rivalry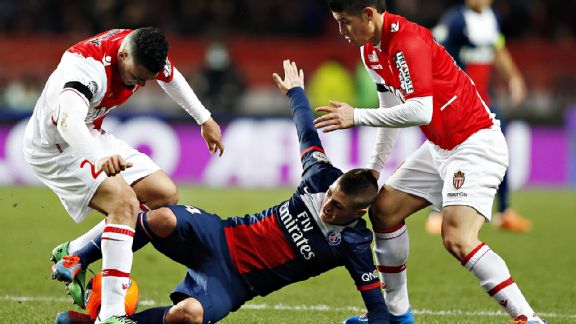 Valery Hache/Getty ImagesPSG and Monaco played to a hard-fought 1-1 draw on Sunday for the second time this season.
MONACO -- Directly across from the Stade Louis II in Monaco, Paris Saint-Germain fans stopped to peer in the window of a car dealership. Oblivious to nearby estate agents offering apartments starting at a cool one million euros for 30 metres squared, a range of Ferraris had attracted their attention.

A few yards further on, a local resident driving one -- retail price circa 250,000 euros -- pulled up to allow supporters to cross the road leading to the stadium. It seemed a fitting sight ahead of a fixture that has become known as the "Cashico".

Everything about the principality screams both success and excess. On Sunday, its expensively-assembled football team had the chance to prove that they are ready to continue that tradition.

- Report: Monaco 1-1 PSG

Only two players who featured when PSG last visited Monaco in 2011 are still at either club. Neither of them played Sunday night, giving an indication of the upheaval since Russian and Qatari owners arrived at the top two clubs in France's Ligue 1.

Some of the chat in the build-up centred on whether Monaco or PSG had the best-paid footballer in the world. Le Parisien believes that Monaco striker Radamel Falcao (1.2 million euros, net, per month) edges out PSG's Zlatan Ibrahimovic (807,000 euros).

Both teams had to do without their biggest summer signings on Sunday. While 60 million euro signing Falcao continues his recovery from a cruciate ligament injury, PSG lost 64 million euro forward Edinson Cavani to a thigh problem. With El Tigre and El Matador missing, the focus switched to whether Monaco's new arrival, Dimitar Berbatov, could rival Ibrahimovic. But while Berbatov started on the bench, PSG's talisman recovered from a back complaint to lead the line for the visitors.

This was, according to French sports daily L'Equipe, a game for which everyone had waited months. For once, the Stade Louis II was a sell-out. Monaco had an average attendance of 8,964 before this match, but you suspect that there would have been many more paying customers if the capacity was more than 18,500.

Ibrahimovic's first involvement was to sloppily give the ball away, but he showed his intent by immediately winning it back and waltzing past Joao Moutinho in midfield. The Swede had looked pumped up in the tunnel beforehand and he was just as expressive when PSG opened the scoring after eight minutes. The goal came from an unlikely source, however, with the oft-maligned Javier Pastore heading in at the back post.

Monaco boss Claudio Ranieri had suggested that his team were only interested in playing for second place this season, but his players suggested otherwise with their response. Shortly after Emmanuel Riviere missed a golden chance to equalise, Thiago Silva made a sensational late tackle to deny the same player.

The battle was raging from one end of the pitch to the other and the high tempo and urgency of both teams was fitting for a potential championship decider. After 16 minutes, Maxwell found Ibrahimovic only for the former Barcelona striker to fail to get sufficient contact inside the six-yard box.

Ibrahimovic had come in for criticism for missing several chances once he had opened the scoring in the 1-1 draw between these sides in Paris on September 22. But the Sweden captain has inspired his team since then, racking up 31 goals in all competitions. His speed of thought and movement tested Monaco's veteran centre-half pairing of Ricardo Carvalho and -- by his own admission -- the out-of-form Eric Abidal.

Carvalho picked up a booking 10 minutes before halftime for a poorly judged tackle on Ibrahimovic and James Rodriguez soon followed -- another player to be outwitted by the mesmerising footwork of the PSG number 10. Meanwhile, Abidal's fading powers were illustrated when Pastore strolled past him inside the box before firing wide.

For all Monaco's endeavour, PSG maintained their lead. The visitors threw bodies in the way of shots and hunted in packs when Monaco had the ball. Moutinho, signed along with Rodriguez in a bumper summer deal, seemed to be struggling with the intense nature of the midfield battle.

Ranieri recognised that something needed to change and 20 million euro midfielder Geoffrey Kondogbia came on at halftime for Lucas Ocampos before he handed Berbatov his debut after 63 minutes.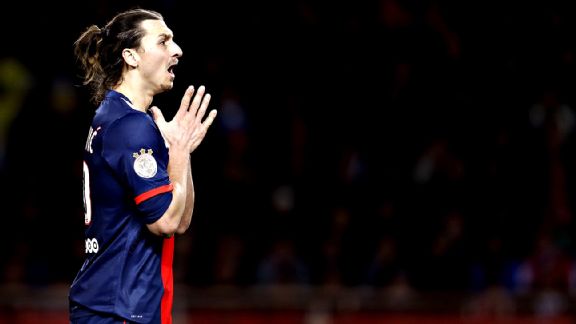 Valery Hache/Getty ImagesZlatan Ibrahimovic was denied a winner three times by Monaco goalkeeper Danijel Subasic.
It would be stretching it to say that Berbatov's very presence brought about a mistake in the PSG defence. But 10 minutes after his arrival, Fabinho's cross -- on course for Riviere and Berbatov -- was turned into his own net by Silva. While the PSG captain punched the ground in frustration, the Monaco bench charged onto the field in celebration.

Suddenly, the defending champions looked vulnerable. In midfield, 90 million euros worth of talent -- Moutinho, Rodriguez and Kondobgia -- were becoming increasingly influential. Kondogbia's aggression and added physical presence, in particular, was telling. Up front, Berbatov was giving PSG something different to think about. The Bulgarian was involved in the build-up when Fabinho almost snatched all three points at the death.

Not to be outdone, Ibrahimovic almost did likewise at the other end. But for the third time in the game, Monaco keeper Danijel Subasic denied the Swede. For the second time this season, neither side could strike a decisive blow after throwing everything at each other.

Having reached the Coupe de la Ligue final in midweek thanks to a late winner from Ibrahimovic, a point here was acceptable for PSG.

From Monaco's point of view, an eight-point deficit with 14 games to go would surely have been unassailable. A draw, though, keeps them in the hunt for the title and the manner in which they achieved it suggests they could push PSG all the way.

Whatever the outcome this season though, the rivalry between these two financial heavyweights is showing signs of becoming a classic.