Ozil gives Arsenal teaser of his qualities
MUNICH -- While Miroslav Klose equalled the German scoring record and captain Philipp Lahm made his 100th appearance, Friday night marked something of a landmark for Mesut Ozil too.

Germany's 3-0 win over Austria in Munich was a cause for celebration for both Klose and Lahm but the spotlight was also on Ozil, 24, in what was his first game since joining Arsenal for a club record €50 million.

Several English journalists made the trip to the Allianz Arena to get a closer look at the player, while many German observers were still wondering why any club would sell such a talent.

In the end, it was not Ozil's best performance for the national team, although he still demonstrated why his team-mate Per Mertesacker believes that he will have no problem fitting in at Arsenal.

The midfielder drifted all across the pitch as Germany probed the visiting rearguard with long phases of short passing, an experience Ozil will presumably become accustomed to with the Gunners as well.

There was the odd groan from the crowd when a more daring pass was cut out but Ozil's cunning and vision was at the heart of the early German pressure.

The former Schalke player could have opened the scoring after 24 minutes but, after finally getting his feet together, he fired to the left of the Austrian goal from just inside the box.

Four minutes later a glorious through ball allowed Marco Reus in on goal only for the Borussia Dortmund attacker to be denied by Austria 'keeper Robert Almer.

As the German dominance began to be reflected on the scoreboard, Ozil shipped some heavy challenges and was hobbling early in the second half.
But one of the most impressive features of his game is his ability to shield the ball under pressure and then ghost past a defender.

Since Monday, all sorts of people have been queuing up to question Real Madrid's wisdom in offloading the wily playmaker, not least his former team-mates.

Cristiano Ronaldo is reportedly angry that the Spanish club would sell the player who knew his movements best, while Sergio Ramos said he was the last Real squad member he would have got rid of.

Chelsea boss Jose Mourinho also gave his backing to Ozil and Borussia Dortmund manager Jurgen Klopp - whose team will face Arsenal in the Champions League - joined in the chorus on Friday.

"Mesut is a cracker," he said. "Nobody knows why he was sold."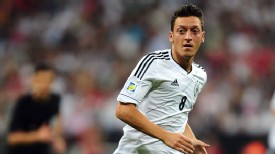 PA PhotosMesut Ozil played the full 90 minutes of Germany's 3-0 win over Austria.
One person who knows Ozil better than most is Arsenal and Germany centre-back Per Mertesacker, 28, who was also part of the Werder Bremen team that reached the UEFA Cup final in 2009. That thrilling European run will no doubt have helped convince Real Madrid to splash out €20 million on Ozil a year later.

Speaking after Germany's win over Austria, Mertesacker said he could not have envisaged that the two players would be reunited in London three years later.

"To be honest I wasn't expecting it, simply because with a team like Real Madrid you couldn't just assume that Mesut Ozil would still be on the market," he said.

"I knew for a little while that Arsene Wenger was thinking about Ozil a bit, but actually signing him, that would be a big surprise. Because of that we're really thrilled, and I think we're really going to enjoy having him.

"We had a lot of conversations in the national team. Of course we discussed what it's like in London, what life is like there, what the trainer is like, what the club is like.

"I think he got a very good feeling that he could be really liked there, and that life there is very anonymous and very good. I think that perhaps he had that in the back of his mind."

Not everyone believes that the move is a good one for Ozil, however. In an editorial in the magazine this week, Kicker's chief reporter Oliver Hartmann said that Ozil could now let go of his dream of becoming European Footballer of the Year.

The transfer represented a first step down on the career ladder, Hartmann said, because Ozil was leaving a world-class club where he could have won anything.

Arsenal have not lifted a trophy in eight years, he noted, and he said he was left with the impression that Ozil fled in the face of added competition for places at Real Madrid.

The counter argument, as German manager Joachim Low outlined during the week, is that Ozil is a player who needs the full support of his coach.
He's certain to get that Arsenal, where his price tag and his reputation make him the biggest name at the club, as opposed to one of many at Real Madrid.

Ozil, who turns 25 next month, will no doubt get plenty of time to show off his skill again when Germany visit the Faroe Islands on Tuesday.
Paulo Di Canio, meanwhile, is likely to be the first Premier League boss to attempt to curb Ozil's influence when Arsenal visit Sunderland next Saturday.

With great close control, vision and guile, Ozil seems the perfect fit for Arsene Wenger's side. The stage is now set for him to try to propel the Gunners to new heights.