Three Things: Man United vs. Fulham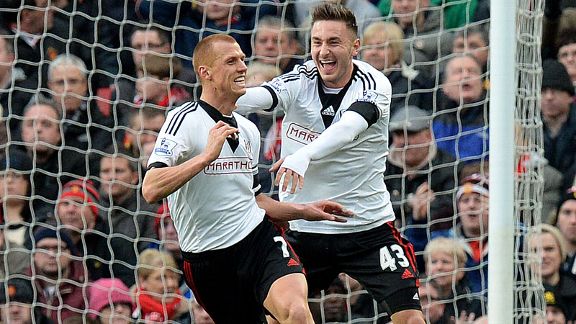 AllsportSteve Sidwell and Fulham have put more pressure on David Moyes.
MANCHESTER -- Three quick observations from Old Trafford as Fulham equalize in injury time to earn a 2-2 draw with struggling Manchester United ...

1. United cause themselves more problems
The boos at the final whistle told a tale. Patience is wearing thin at Old Trafford. Manchester United's self-destructive streak is ever more prominent, their shortcomings an ever greater problem. Even when it appeared United had dodged a bullet by coming from 1-0 down to take a lead, they contrived to concede in the 94th minute.

Darren Bent scored an equaliser that may damage United more than it benefits Fulham. Once again, Old Trafford has emptied with the fans disappointed. In a dreadful 2014, their worst moments, whether the FA Cup exit to Swansea or the ignominious failure to convert four penalties in the shootout with Sunderland, have been reserved for the home crowd. Before too long, they may turn on David Moyes.

It was, too, a chastening day for Nemanja Vidic. The captain was celebrated at the start following the announcement of his impending departure. Yet he was also a prime culprit for the equaliser, and struggled throughout. A moment when Kieran Richardson sped past him, in particular, made him look his 32 years.

- Mison: Rene makes his point
- Payne: United plumb new depths
- Report: Man Utd 2-2 Fulham

United had trailed initially to the excellent Steve Sidwell's volley. Then, after John Arne Riise made a wonderful block to keep Javier Hernandez's shot out, Juan Mata steered the rebound into Robin van Persie's path and the Dutchman finished. Following on from Richardson's poor clearance, Michael Carrick's shot flew in within two minutes, aided by a sizeable deflection off Scott Parker. United, it seemed, had gotten out of jail.

Then they contrived to clamber back in, allowing Richardson to shoot and, when David de Gea parried, affording Bent the chance to head in the rebound. Again, Vidic was slow to react.

And so, two more points were dropped. They are nine adrift of fourth-placed Liverpool. Next season's Champions League is ever more unlikely to feature England's defending champions.

2. David Moyes' side get cross
A frequent criticism of Moyes' tactics is that United are overreliant on crosses and unable to fashion chances in the middle of the pitch. If the signing of Juan Mata was recognition that United need to be more creative in central areas, stationing him on the right prevents even a natural wanderer from spending much of the match in the No. 10 position. Yet with Mata, United became more one-dimensional.

What it meant was that United had another player in a crossing position. With Ashley Young and Rafael da Silva offering the majority of the supply line from the sides, United crossed. And crossed. And crossed. They put in 46 crosses in the first half alone. They soon cruised past the previous high in the division this season, Stoke's total of 51 -- not since Bob Beamon added 55 centimetres to the long jump record in 1968 has a sporting best been set with such conspicuous ease.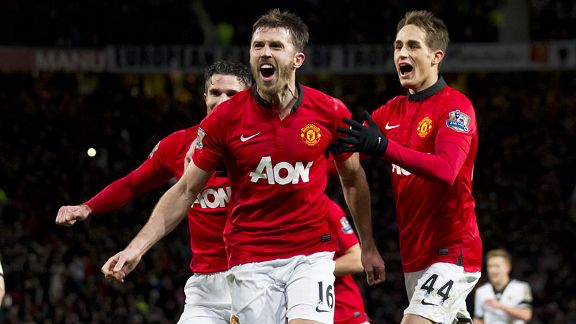 GettyImagesMan United celebrate Michael Carrick's goal which appeared to have given them a 2-1 win over Fulham.

It wasn't the most logical approach against a team with a 6-foot-6 centre-back in Dan Burn, especially with Fulham defending deep and narrow, and having plenty of other players in their own box to head crosses away.

Indeed, it rather suggested Rene Meulensteen was happy to cede space on the flanks and allow United to cross, presuming a compact shape would allow them to deal with the aerial bombardment and rationalising that the lack of variety in the hosts' play and the absence of genuine invention could enable them to survive spells of pressure.

And while the crosses did produce some chances, there were nothing like as many as might be expected from the sheer volume of them. Of United's 82 crosses in 95 minutes, just 18 found their mark.

3. Meulensteen throws a curveball
An act of desperation or inspiration? At first, it looked like the former, then the latter. Fulham earned a surprise point, but the greatest shock came with the arrival of the team sheets. Meulensteen's former employer, Sir Alex Ferguson, used to give himself the element of surprise by selecting a side few had predicted. Sir Bobby Charlton used to play a game he said he never won when he attempted to guess Ferguson's team, but inside knowledge or psychic powers would have been required to anticipate this Fulham lineup.

It says something that the oddest element was not the decision to give an 18-year-old a full Premier League debut, alone in attack and at Old Trafford. With Brede Hangeland and Scott Parker beginning on the bench, Meulensteen removed both his defensive totem and midfield fulcrum. The emphasis was on the new, with five players boasting a combined total of two previous league starts for the club, and the young.

The youngest of all, the teenager Muamer Tankovic, did not return for the second half. Darren Bent at least provided a token presence on the halfway line thereafter. Before that -- especially after Fulham scored -- they often had 11 men behind the ball. When they counterattacked, it was sometimes simply with the quickest players. The formation veered from a flat back four to a retreating 10. Yet they were organised and committed and, when they trailed, they had the spirit to respond.

Meulensteen's great gamble was justified. Now he needs to baffle the managers of the other relegation-threatened sides.