Three Things: Tottenham vs. Everton
LONDON -- Three conclusions from White Hart Lane after Emmanuel Adebayor's goal proved the difference in Tottenham Hotspur's 1-0 win over Everton on Sunday.

1. Tottenham could yet finish in the top four

If Liverpool's performance against Arsenal on Saturday was of the level of a title challenge, what does that say about the chase for the fourth Champions League place? It is a race that has taken a distinct turn of late, after an extended period in which it all seemed so open but conversely congested. That diversion was further emphasised by this result at White Hart Lane.

Although the perception remains that Tottenham have pressed "reset" on this entire season and are no longer realistic challengers for that final qualifying place, there they are -- in fifth, just three points off Liverpool. At the very least, you cannot just dismiss them from the challenge.

At the same time, you cannot dismiss the benefit of this score line to Liverpool's own challenge. An Everton win would have put them to within two points of Brendan Rodgers' outfit, and they undisputedly look a better long-term prospect than Tottenham, with a more promising long-term plan. On this evidence, however, they didn't show it.

2. It wasn't Everton's day, but what will that do to their season?

Roberto Martinez has openly talked in the past about the influence of the Johan Cruyff approach on his career and, on this occasion, it was one of the Dutch master's other mantras that summed up the game. "Often, a result is confused with the situation."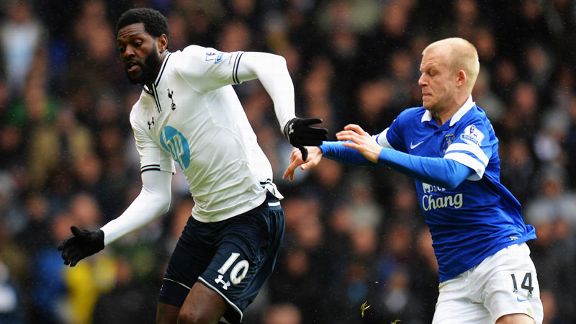 GettyImagesEmmanuel Adebayor and Steven Naismith had contrasting fortunes at White Hart Lane on Sunday.
When you take a step back, Everton's situation certainly looks superior to Spurs'. The game emphasised that, as Martinez's men dominated the ball, the territory and the majority of the good chances. They could have been out of sight by halftime, and likely would have been had they been playing a forward on any kind of top-six form.

That was ultimately the difference between the sides and, for all the positives of Everton's progress, it points to an issue that Martinez is going to have to rectify in the long term.

It shouldn't go unnoticed that Romelu Lukaku's scoring rate had already dropped off before his injury, and Everton had sustained their form, but there were still indications of a slight drop off. To illustrate a gradual erosion of the previous assurance that had marked their play no matter where they went, they have now won five of their last six at home, but just one of their last six away.

Martinez again tried to look at the positives, stating that the overall display showed that Everton "can go anywhere" and dominate, but he also couldn't deny the lack of penetration. "You always miss a goal scorer when he's not around and there is no debating Lukaku has been decisive." For all of Everton's progress, it could prove decisive this season.

3. Sherwood may be lacking in some areas, but is looking up in others

Tottenham remain a hugely difficult team to work out, even if this game was not. The home side were dominated, got fortunate, even avoided a late penalty call, but took advantage of the one big chance that fell their way as Adebayor scored the game's only goal. It happens. Spurs know that all too well themselves. The entire game and result was arguably the reverse of November's 1-0 defeat to Newcastle United at the same stadium, which went some way to costing Andre Villas-Boas his job.

For all the previous justifiable complaints about the Portuguese's time in charge, his team did have a clear structure which is not quite the case with Tim Sherwood's. It was remarkable that, for so much of the first half, Spurs were playing with three defensive midfielders but didn't look like they were playing with any.

As Sherwood admitted, they were "far too deep." Halftime brought a blunt reassessment of that, and despite the remaining issues with the side, their durability should not be questioned. That is to the new coach's credit. Although their problems, and all the ructions, should point to a fall, they are still there. Currently, they are the best-placed outside the top four to enter it. That says an awful lot.