Rodgers measures expectation while Wenger seeks response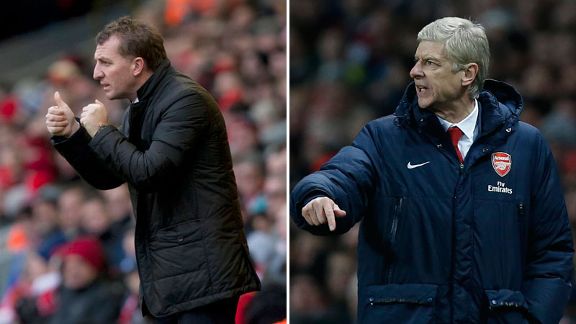 APBrendan Rodgers' Liverpool side inflicted a 5-1 defeat on Arsene Wenger's Arsenal.
LIVERPOOL, England -- Is humility the fashionable route to title success? Brendan Rodgers certainly spared the bombast as he played down Liverpool's chances of actually winning the Premier League after the shellacking Arsenal.

Rodgers might have been forgiven for triumphalism but he demurred, choosing to revel in the performance than talk of sending messages to the likes of Manchester City and Chelsea.

"The objective has always been to finish as high as we possibly can, but you also have to look at the teams around you, the monies that Manchester City have," said Rodgers.

"You only have to look at Arsenal's bench today. We will keep focused and our concentration. We just hope to keep with that development and see where it takes us."

Rodgers had perhaps been listening to Jose Mourinho's Monday view that Chelsea did not have a title chance, even after ending Manchester City's 100 percent home record.

- Brewin: Three Things from Anfield
- McNicholas: Arsenal's title hopes take a hit
- Kelly: Tempo key to Anfield masterclass

"This year was going to be another big step for our development. It's a very young side with a wonderful appetite for the game and a wonderful ability to learn," the Liverpool manager said, slipping into his usual superlatives.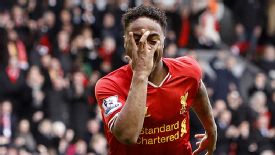 PA PhotosWith two goals, Raheem Sterling heaped more misery on Arsenal.
Nevertheless, despite describing his team as "tactically brilliant," this was a downbeat Rodgers. Individual praise was dished out to Philippe Coutinho and Jordan Henderson, and especially Raheem Sterling: "There's no better winger in England at this moment in time."

However, like his team, Rodgers is maturing into his role. He has been at Liverpool long enough to know that hope springs eternal and sometimes damagingly. He could ask Arsene Wenger of the pain that expectation can bring.

This win will have some believing that a 19th title can now happen after the pain of a 24-year wait -- with Liverpool's remaining toughest opponents all having to visit Anfield -- and it also served to wipe away the hurt of a transfer window in which Liverpool failed to add to their squad.

"I was always clear that I still want to improve the squad," said Rodgers. "We need to do that and it wasn't for the want of trying.

"But once the window's shut you're not going to look back. I always said I was happy with what we have got and I think you have seen in the performance today as to why."

Arsene Wenger, meanwhile, offered few excuses. He was despondent, haunted by a horror show of a performance that started badly and was confirmed as a defeat just 19 minutes in.

He was forced to look to the immediate future for solace. Manchester United on Wednesday is a different proposition than in previous years but perhaps still dangerous, especially if there is a hangover from Anfield.

It is clearly preying on his mind. With Chelsea back in the race, and Liverpool re-entering the hunt, Wenger's team cannot afford to falter.

"It is important that we respond with a different performance because our performance overall was poor today," he said. "On the concentration level, on the pace, on our defensive stability -- it was all very poor.

"Congratulations to Liverpool. They were the better team today and we were very poor today. Only our fans were good for 90 minutes.

"It's maybe better I don't talk too much and we respond on Wednesday night because I include myself in that performance. It raises questions that we have to answer. It's not what about people say, it's how we respond. We have only one to answer and that is Wednesday."

Unlike Rodgers, Wenger actually did sign someone in January, but Kim Kallstrom is still having his wages paid by Spartak Moscow as his back heals.

Still, it was difficult to see where the Swede could have helped in stopping Liverpool's relentless waves of attack. A usually solid defence liquidated in the first minute and never recovered its footing until Liverpool took their foot off the gas with their own midweek fixture in mind, a rather winnable-looking fixture at Fulham.

"No matter what happens here, it remains mathematically possible," Wenger said when asked of his team's title chances. "It's always what you make of defeats that decides your future. We have a lot to answer for, and a lot of answers to find."

Wenger might seek solace in his team taking 20 points from a possible 24 in the matches that followed their 6-3 defeat at Manchester City in December, but his hangdog look hardly reflected comfort.

"It was a similar situation [to the Man City game], a 12:45 game and early goals conceded," he said. "It was similar but we have to analyse what happened and why.

"We didn't look sharp physically. Let's respond well on Wednesday," the Arsenal boss said, returning to that clutched straw.

With United in painful transition, and Chelsea and Manchester City also undergoing regime change, this was perhaps Wenger's best chance to end a title drought that now stretches out to a decade.

He has not given up hope yet, despite this defeat. Rodgers, meanwhile, was not to be drawn after a victory that renewed his team's credentials.