Three Things: Chelsea vs. Newcastle
LONDON -- Three thoughts from Chelsea's 3-0 win over Newcastle.

1. Hazard is the Premier League's in-form player

On Monday evening, Eden Hazard was one of various Chelsea players who shone, but his mazy dribbles weren't quite effective enough to provide a decisive moment in the 1-0 victory over Manchester City. He was merely one of three effective midfield runners, each providing a different type of speed.

On Saturday, Hazard was the main man. Oscar was back in the side, and Willian also played to ensure Chelsea had three "pure" attacking midfielders behind Samuel Eto'o (rather than two plus Ramires, who was rested having played more minutes this season than any other Chelsea outfielder). But there was only one man leading the charge.

Hazard didn't just drift inside and shoot repeatedly, he drifted across the width of the pitch, interchanging with Willian and Oscar freely, in a manner reminiscent of the tactics briefly deployed by Roberto Di Matteo at the start of last season.

- Lythell: Chelsea hit top gear as rivals falter

Everywhere the Belgian went, he was a threat. At 0-0, two of Chelsea's most dangerous moments came when he was out on the right and fired a couple of low crosses into the box. When central, he found pockets of space to create.

Hazard's two first-half goals were both magnificent, the first an instinctive finish into the far corner from a low Branislav Ivanovic pass, the definition of "sweeping the ball home."

The second was even better, partly because it epitomised what Mourinho wants from him. It was a lightning-fast break, moments after Newcastle had missed a golden chance to make it 1-1. Hazard drove forward before exchanging passes with Eto'o, who returned the ball with a lovely backheel, and calmly curling a shot low into the far corner with the inside of his right boot.

It was a superb counterattacking goal, perhaps the sort Robert Pires used to score when combining with Thierry Henry in Arsenal's golden days under Arsene Wenger. Hazard later secured his hat trick from the spot, having been given the opportunity by Chelsea's regular penalty taker Frank Lampard.

A telling moment of the game was Mathieu Debuchy departing shortly after Chelsea went 2-0 up. The French right-back had collected a knock after 10 minutes but soldiered on for the majority of the first half.

Once Newcastle realised what devastating form Hazard was in, however, it was clear there was little point in Debuchy continuing. His replacement, Mapou Yanga-Mbiwa (who later gave away the penalty), was booked after an hour for a lunge that was comically far from the ball. Debuchy would have been pleased to be out of the line of fire.

2. Matic could be crucial in the title race

With Nemanja Matic having played for Chelsea a few years ago, it should come as no surprise that he has settled into Premier League football so quickly. But that shouldn't detract from what a lift he has given the club in the past few weeks.

Against Stoke in the FA Cup, he was crucial in an aerial respect, dropping in front of his centre-backs to help Chelsea contain Peter Crouch. On Monday, he won the man of the match award against Manchester City for his excellent defensive work, helping to nullify David Silva.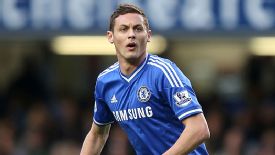 AllsportMatic was quietly impressive against Newcastle.
Here, his performance was more understated but still important. He patrolled the midfield keenly, happy to take on Sissoko physically, and his passing range is always impressive for a player you initially consider to be primarily a destroyer, zipping the ball across the turf at great speed.

Interestingly, having spent the past decade to the left of Chelsea's midfield, Lampard has moved to a centre-right position to allow left-footed Matic to distribute the ball better.

But Matic also showed great ability to move forward in possession, driving forward unexpectedly, for example, in the lead-up to Hazard's opener. That is a quality Chelsea never had from John Obi Mikel, whose skill set is a little too simple for Mourinho's 4-2-3-1 system. Matic excels in three separate aspects of midfield play: ball-winning, mobility and passing range.

Chelsea have paid an incredible sum of money for a player they essentially gave away three years ago (in part-exchange for David Luiz), and few clubs can afford such profligacy.

However, in a sense, it's a (very expensive) way of a Chelsea player going on a long-term loan, similar to Romelu Lukaku and Thibaut Courtois, before returning to the club ready to play an immediate part in a title challenge.

3. Sissoko yet to make Newcastle fans forget Cabaye

Among a surprising selection from Alan Pardew -- Sammy Ameobi was on the left wing, Santon in the centre of midfield -- arguably the most interesting revelation was the identity of the captain. There were other options for the Newcastle manager, such as dependable centre-back Mike Williamson, but he elected to choose Moussa Sissoko as skipper for the first time.

With Sissoko not known for his leadership qualities, the move was surely intended to represent his evolution into arguably Newcastle's most important player. The club have suffered greatly because of Yohan Cabaye's departure; he provided so much with and without the ball: pressing, tacking, creating and scoring. With no direct replacement, it falls to Sissoko to become that player.

The French international played in the role Cabaye filled toward the end of his time at Newcastle, driving forward from the top of midfield. Tactically, he showed a good understanding of his responsibilities, positioning himself well to receive possession and pressing when necessary, even making a couple of decent interceptions.

Unfortunately, however, almost everything he did with the ball went wrong. He took a poor first touch when receiving a cutback in a Lampard-esque position on the edge of the box, hit a long-range shot past the far post when under relatively little pressure and sliced a cross woefully into the Matthew Harding Stand to jeers from the home supporters.

Most crucially, however, he failed to take advantage of a one-versus-one chance toward the end of the first half, receiving the ball through on goal by springing the offside trap but again taking a heavy first touch, which enabled Petr Cech to dart out and narrow down the angle before making a save.

After each mistake, Sissoko looked furious, kicking out in frustration or screaming at himself. He understood this was his opportunity to make Newcastle fans forget Cabaye, but his fellow Frenchman possessed much more guile. Sissoko certainly possesses the same tendency to commit dirty fouls, though, as he showed when he was booked just before full-time for a lunge on Mohamed Salah.

Sissoko had one good moment, five minutes from the end, when he stormed through the middle on the break and slipped in substitute Sylvain Marveaux, who somehow contrived to miss an extremely presentable chance. That shows promise, but Sissoko must deliver more.