Ronaldo notches another milestone
BELFAST, Northern Ireland -- It was a historic night at Windsor Park, and Cristiano Ronaldo has always had a strong sense of history.

As Northern Ireland prepared to get the bulldozers in and revamp their national stadium, Portugal's captain was aiming to equal Eusebio's record of 41 international goals -- as the country's second-highest all-time scorer -- at the very ground where "La Pantera Negra" scored his final goal for his country in March 1973.

Ronaldo got his metaphorical garlands -- and his match ball -- in the end, with his hat trick pulling his team out of a dangerous situation.

This was, however, no mere procession. As has been the way of things in this qualifying campaign, Portugal did this with an acute sadomasochism. Arriving in Belfast, they had been through the wringer since October's game between the two, when they had been in shambles under torrential rain and against a steadfast green rearguard at the Dragao.

Late avoidance of defeat in Israel and a laboured win in Azerbaijan gave way to victory over Russia in Lisbon, and a surprise defeat in Belfast for Fabio Capello's men gave a glimmer of opportunity for Paulo Bento's side. Portugal still had work to do here. By the time they were underway, Russia had already got back on track -- as foreseen -- with a routine 4-1 win over Luxembourg in Kazan.

There is resourcefulness in this Portugal side as much as there is chaos, but they shouldn't have had to dig deep even at an appropriately noisy Windsor Park. Even at their nadir in Porto in autumn, they had pulled a point from the bottom of a deep hole. Here, after a good opening, Bento's men managed to dig themselves a fresh one from scratch.

In a steady start, it looked as if Ronaldo might not need to be at full pelt for Portugal to get the win necessary to keep the pressure on Russia. He was a mere distraction for the home defence at Joao Moutinho's 21st-minute corner, allowing the lurking Bruno Alves to finish deftly from the edge of the area when a limp clearance came out to him.

Some sort of rhythm followed, and Vieirinha almost put the finishing touch to a flowing move from the left, with Roy Carroll down sharply to save. It was a cause for optimism, with Portugal never guaranteed to flow.

In terms of selection, Bento is extremely loyal -- or unadventurous, depending on your point of view -- meaning he is often a hostage of fate. Yet his chosen ones were in good nick going into this, with his front three a particular case in point. Ronaldo had sharpened his shooting boots against Athletic last weekend, Vieirinha continues to be influential for Wolfsburg, and Helder Postiga put a pair past Barcelona last weekend to take his tally to three in three for new club Valencia. There was strength on the bench too, though Bento's hand had been forced a little through injuries, meaning the in-form Lica (Porto), Nelson Oliveira (Rennes) and Adrien Silva (Sporting) were drafted in after the initial list was released.

There were, however, questions at the other end. Fabio Coentrao's aborted late move to Manchester United had brought him back into the headlines after a spell on the periphery. He may well have proved an asset to David Moyes, as he habitually provides Portugal with an extra attacking dimension, but his lack of match sharpness began to show when the home side attacked, as he was slipped a feint or two by an increasingly confident Niall McGinn.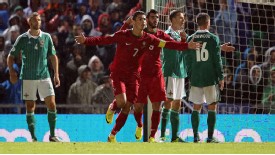 PA PhotosCristiano Ronaldo celebrates after netting his second goal against Northern Ireland.
The goals on either side of halftime that put Portugal into a losing position were predictable in their origin, with the excellent Gareth McAuley heading in Shane Ferguson's in-swinging corner and Rui Patricio unable to hold on to a Jonny Evans header from another Ferguson delivery with (an admittedly offside) Jamie Ward bundling it into the net. Some might say that McAuley made a potentially crucial contribution between times as the protagonist in Postiga's red card, just before halftime, but the West Bromwich Albion man did his best to save the Portuguese, staying on his feet after the forward foolishly nodded his head into the defender's face.

Trailing 2-1 and a man down, Portugal were in real trouble. They were given a lifeline thanks to a moment of madness by Chris Brunt, whose lunging tackle on Joao Pereira earned him a second yellow right on the hour making it 10-a-side.

But Ronaldo still emerged to make a difference on a night that seemed destined to be inauspicious. He had seemed close to losing it himself in the first half, taking a booking for his protests in the immediate aftermath of the Postiga send-off and unwisely hanging around to complain to the fourth official as the teams left the pitch for the interval, pointing to his calf conspiratorially as he complained of rough treatment.

He had been under the cosh in Belfast before as a 20-year-old in a November 2005 friendly -- a 1-1 draw during which he was frequently whistled. He got the same treatment here from his first touch, drawing a hail of boos from the off, followed by a few rounds of "Messi" before the Windsor stands swelled to a chorus of "You're just a cheap Gareth Bale." Being Cristiano, he wasn't disposed to turn the other cheek, pulling out his best flicks and drag backs like a footballing version of Eminem in "8 Mile."

Despite ending the match on top, Ronaldo spent much of the night as the heaving-in-the-bathroom hopeful of the film's opening scenes rather than the dexterous, strutting freestyler on a Detroit dive's stage in the climax. Yet he found a way, first with an imperious near-post header from a Moutinho corner then with another from a central position from a Coentrao cross -- with an overworked defence distracted by the significant presence of the impressive substitute Nelson Oliveira. The hat trick followed with a driven free-kick through a flimsy defensive wall.

So Portugal continue to thrill under Bento, and Ronaldo continues to save. But for how long can they keep getting out of these scrapes?