Three Things: Norwich vs. Manchester City
NORWICH, England -- Three observations from Norwich's 0-0 draw versus Manchester City at Carrow Road.

City looking a lot less slick

On what was a very good day for Chelsea, you do have to wonder whether Jose Mourinho's new league leaders contributed to this drab performance from Manchester City.

This was very far from the Manuel Pellegrini team we've come to know, and you do have to wonder whether last Monday's defeat to Chelsea did disrupt their momentum. Prior to that game, City had utterly embarrassed Tottenham Hotspur with a 5-1 win that had the Chilean coach talking it up as a "complete" performance. If so, it's remarkable that they suddenly look so lacking.

After the type of performances that produced the most offensively prolific team since 1945, City have now gone a full two matches without scoring. Worse, they were not even creating the chances that they wasted early on in the Chelsea match. This was not a side brilliantly brimming with confidence.

-Report: Norwich 0-0 Manchester City

If one were to nitpick, City have now scored "just" 68 goals in 25 games, which has seen drop just below Tottenham Hotspur 1960-61 in terms of goals per game. That, of course, is no more than extra colour to their campaign. The more significant concern from this admittedly temporary blip is whether it says anything about their title chances as a whole. There is potentially a wider issue.

It is possible that the frequent goal avalanches have covered a few remaining issues with the side. Because, in all of City's 17 wins in the league this season, only three of them have been by a single goal. All of them, however, saw Pellegrini's side ahead for the final time by the 66th minute.

In other words, they have not yet had to grind out the kind of traditional late win you associate with title-winners.
Needless to say, that's not an issue if you are scoring enough but, on this occasion, City weren't even creating enough. For the last eight minutes of the game, going into stoppage time, the majority of the play was in their own half with Norwich missing the two best chances.

City, meanwhile, missed an excellent chance to go back to the top of the table.

Pellegrini stuck in the middle

If City did not exactly respond to Arsenal's earlier evisceration in the manner you would expect, it also must be said they did not have their most rousing players where they would want them. Sergio Aguero and Fernandino are on the treatment table and, as a consequence, Yaya Toure was forced into a completely ineffective role in midfield. City could never get going, and there weren't too many signs of life.

When the Ivorian's disappointing performance was pointed at in the post-match press conference, Pellegrini claimed he played defensive because that was precisely what he was asked to do. The wonder is why he didn't change it, if that even meant putting the pedestrian Matin Demichelis in defensive midfield. Roberto Mancini often tried a similar tactic, after all, by introducing someone like Nigel De Jong. It also should be noted that the Italian's City got a fair few of those late wins themselves, with a few famous examples.

For his part, it's not like Pellegrini did not roll the dice. Towards the end, he completely reshaped the attack by hauling off Alvaro Negredo -- who he claimed, along with Edin Dzeko, was not fully fit -- and bringing on Alexander Kolarov. That allowed David Silva to move back into the centre, but City still couldn't get enough of the ball into the Norwich box.

That does raise the curious question of how a club with so much finance has so few options. It is abundantly clear why Pellegrini looked to bring in Fernando from FC Porto and, because of that failure, their title challenge does look much more complicated.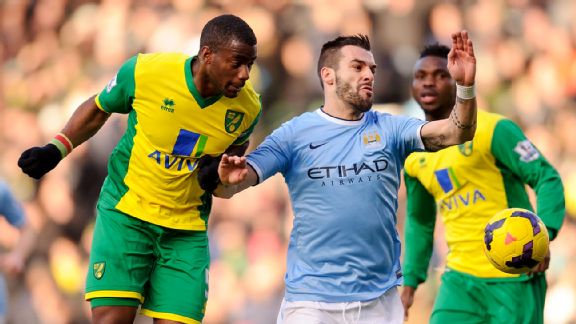 Rex Features/AP ImagesNorwich showed a lot of resilience in holding off Manchester City.
Norwich display durability

As the bottom half of this Premier League title continues to crunch, Norwich's capacity for lifting themselves just when it comes to the crunch should be credited. Every time it seems like their situation is going to be come quite problematic, they claim the right result.

This, of course, was not a win. It did, however, come very close to that and ultimately felt like victory. Completely keeping out such a free-scoring side was admirable, but not as much as the fact they rendered so many of City's attackers irrelevant. Alexander Tetty, in particular, was superb. Martin Olsson, meanwhile, rose to the occasion on the one moment of real worry as he blocked a Jesus Nevas shot just when City looked like they had finally opened Norwich up.

That there were so few such chances to speak of summed it up. This was the sort of organisation that Hughton's side became respected for in the first half of last season, rather than the haphazardness that has afflicted them since -- not least in the 7-0 defeat at Manchester City back in November.

That reversal reflects a tenacity, and an undeniable ability to prevent a return to the Championship any time soon.