Three Things: Liverpool vs. Arsenal
LIVERPOOL, England -- Three conclusions from Liverpool's devastating display at Anfield that saw them hammer Arsenal 5-1.

1. Liverpool blitzkrieg destroys Arsenal

Destruction, devastation and growing belief: this was a performance to make Liverpool recalibrate their season. To continue Jose Mourinho's equine metaphors, make this a four-horse title race. Arsenal never got out of the stalls; they should have been pulled up after just 20 minutes.

Liverpool led within a minute. Steven Gerrard's free kick delivery was superb. The ball arrowed into a corridor of uncertainty, and Martin Skrtel made an unmarked run from deep to score.

The source and scorer were the same for the second. Gerrard's corner caught the wind and swerved to the Slovak, whose header rattled into the top left of the net.

Arsenal were already broken. Daniel Sturridge might even have made it three, but his chip glided wide. Luis Suarez wanted a piece of the action, too, and thundered a 25-yard drive off the post. Anfield was ablaze with excitement. This was an even better start than last week's derby.

When Jordan Henderson robbed an idling Mesut Ozil, and played in Suarez, Raheem Sterling led the queue to convert the third. Arsenal's defending was abominable. The game had been won and lost within 17 minutes, and, by the 20th, away fans were heading back to Lime Street Station. Philippe Coutinho threaded Sturridge through; the striker's relaxed finish was the mark of a team sure this was their day.

Brendan Rodgers' own sense of relaxation was viewed when he waved back to the Kop to acknowledge praise for him. Five yards to his left sat Arsene Wenger, glowering and muttering for 90 painful minutes. This was the season his team transformed into doughty fighters. Instead, they gave up the ghost, and a chance to open up a lead, in a feckless manner that has wrecked title hopes so often in the past decade.

Arsenal came to play at Anfield in their usual way, but, in the same fashion that Mourinho bested similarly one-dimensional Manuel Pellegrini, Rodgers' rampant start simply blew Wenger away.

And abandon all talk of a one-man team. Suarez did not even score. His teammates did all the damage. Should they continue to play like this, the title could be on.

2. Gunners win nothing playing like that

To lose 6-3 at Manchester City was embarrassment enough. Being pumped by Liverpool in such fashion was yet more shameful. Liverpool's ambitions were set at finishing fourth. This was supposed to be Arsenal stamping their authority on the title race after Chelsea's win at City gave them the whip hand.

That opening onslaught also will have reminded Arsenal fans of the 2001 Sunday lunchtime when Manchester United blew them away in a 6-1 romp that was done and dusted by half-time or even an 8-2 loss at the same place in 2011. Back then, Wenger could complain of having to field a defensive partnership of Igor Stepanovs and Oleg Luzhny and a callow team in the latter thrashing. No such excuse this time. Per Mertesacker and Laurent Koscielny have been the rocklike foundation for Arsenal's front-running.

Liverpool's devastating salvo of goals reduced the pair to wobbling jelly, with Sturridge's strike for the fourth hugely revealing of the central pair's discombobulation. Coutinho's brilliant pass bisected the pair, and Sturridge sped past them with facile ease to score.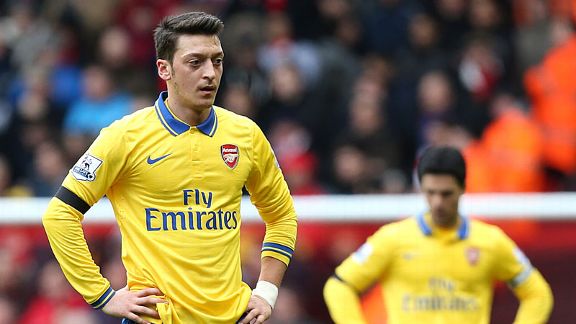 PA PhotosMesut Ozil reacts to Arsenal's woeful beginning against Liverpool.
Worry for Wenger must result from the fact that this was the exact same back four that was pillaged at Eastlands. Only Nacho Monreal faces questions against first-choice status. Sterling's score for Liverpool's fifth resulted from nothing more than a hopeful Aly Cissokho punt.

Arsenal's midfield, the source of their success so far, was equally culpable. Mikel Arteta could not make a tackle, the most productive part of Jack Wilshere's game was the temper that won him a yellow card, and Ozil's casual strolls cost goals. He was subbed from the field on 60 minutes to jeers from fans both home and away -- 41 million pounds is beginning to look extortionate.

The Gunners' 2-0 defeat of Liverpool in November was their performance of the season, a signpost of credentials. This was an icy splash of realism, with vulnerabilities exposed horribly.

3. Feast of Steven

Gerrard's reincarnation as a quarter-back looked like facing its toughest challenge yet. In the team's previous Premier League meeting, Arsenal's five-man midfield had swarmed all over Liverpool and forced the abandonment of Rodgers' experiment with a three-man defence. At the Emirates, Gerrard creaked with age, unable to support the forwards, and a lack of defensive discipline allowed Arsenal's tricksy midfielders to freely burst from deep.

A spell out with injury has forced a rethink. For Liverpool to accommodate Gerrard, he must change, too. Their excellence in attack is built on speed. He no longer has that, so backward he goes.

Gerrard must fight the instincts of his 15-year career. His urge was always to power forward or play the risky pass. Now, the square ball and backpass are the tools of his trade. A player of such innate football intelligence should adapt eventually, but it had been a struggle so far.

Arsenal gave him the easiest test yet of his integration. He swept up their tepid attacks with keen anticipation and some well-judged tackling -- the penalty concession aside. Once they had been put to the sword with four quick goals, he was often to be found between the centre-backs and exchanging pea-rolling short passes with Henderson with a casualness borne of certain victory.

He even allowed himself the indulgence of a couple of his famed "Hollywood balls." One was pinged perfectly; the next zipped its way to the hands of Wojciech Szczesny. Rodgers stepped up to the sideline to angrily remind his skipper that his new job is to keep the ball, not to give it away wastefully, four-goal lead or not.

It was the gesture of a manager no longer in thrall to a club legend, feeling ever more comfortable in telling a sacred cow what to do.