Argentine Di Maria settles fiery 'Brazilian' Copa clash
MADRID -- Graham Hunter was on hand at the Bernabeu as two own goals and a Jese strike gave Real Madrid a comprehensive 3-0 victory over crosstown rival Atletico in their Copa del Rey semi-final, first leg.

Played in the Spanish capital between the two clubs which divide the city of Madrid and in front of the Spanish national team coach, this night threatened to be wholly Brazilian.

Until, at least, an Argentinian poked his nose in.

For the longest time, while Real looked as if they'd been plugged directly into the stadium's electrical sockets for several hours before the game, playing with 500-volt surges of power and excitement, the names on everyone's lips were Pepe, Diego Costa and Miranda.

Long before he slammed in the opening deflected goal, Pepe had showed Costa that this wasn't business -- it was personal.

It would be convenient to offer up the idea that Pepe, aka Képler Laveran Lima Ferreira, had saved up his simmering anger on behalf of the Brazilian nation that Costa -- the nerve of him! -- had deserted the Pentacampeon's cause in order to sign up for La Roja. Handy but fatally flawed given that the big windmill in boots -- Pepe, Képler, call him what you wish -- jumped ship seven years ago.

- Report: Real hit three vs. Atletico

Perhaps there was some local emnity, some Brazilian 'derbi' rival of their own that Pepe and Costa were playing out. The striker was born in Sergipe, in the state of Lagarte, just three hours south of Maceió, something of an ocean paradise where Pepe was born, constructed or dreamed up -- whichever applies.

In a country as massive as Brazil three hours counts as next door neighbours so, who knows; perhaps one day the Costas borrowed the Ferreiras' hedge-trimmer and never returned it, or maybe the Ferreiras just never liked "them Costa folk." Who knows.

But from the off it was explosive. Pepe famously missed the Copa del Rey final defeat to Atletico last May -- out of favour with Mourinho but living every second of it vicariously on the touchline in club clothes, roaring and urging and cursing. It made compulsive viewing.

And it was surely that feeling of impotence he bottled up and let loose.

Every challenge between the two men was Herculean and Real had clearly taken a policy decision to try and asphyxiate the man who scored in that Copa final to turn this rivalry back in los Colchoneros' favour... and who scored the winner here earlier this season. No room to breathe but room to react, room to lose his temper if he was foolish enough to do so.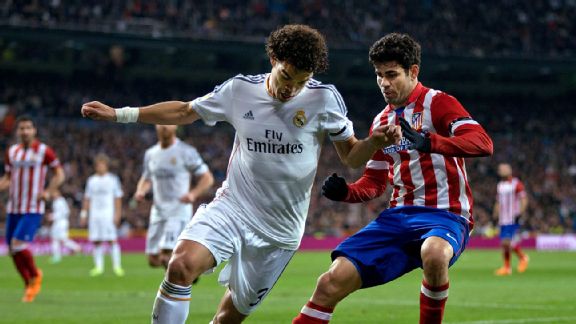 Gonzalo Arroyo Moreno/Getty ImagesPepe produced a superb display to neutralize and frustrate Atletico's prolific striker, Diego Costa.

Did he remember that Vicente Del Bosque was here? Did that matter to him?

Simmering reached boiling when Alvaro Arbeloa took a couple of bumps at Costa off the ball, the Brazilian reacted and went looking for Pepe. There was a Brazilian exchange of where to meet outside the stadium, a dark corner where dark deeds could sort out ugly rivalries, and what they might do to each other.

Referee Clos Gomez is unfairly pilloried in this manor, held culpable for his red card decisions in last season's Copa final - Ronaldo and Mourinho ordered off and Gabi joining them far, far too late. But that game was low, dirty and bitter and the ref did his utmost.

This night he needed all his wits.

A minute after the first Costa-Pepe tangle the striker was fouled by Alonso, two minutes after that Pepe was booked for a foul on Costa and all the while the Bernabeu chanted, with all their might: "Costa's not Spanish.... Costa's not Spanish."

Food for thought for him... and Del Bosque. Tucked neatly in between all this was a hidden decisive moment.

Last May it was the young assist-King, Koke (in fact, young King Koke has a ring to it) who crossed for Miranda's winning headed goal past Diego Lopez. (Oh, yes, Miranda. Born João Miranda de Souza Filho.)

He nearly repeated it here. Koke's ball, Miranda's delicate touch but there was Iker Casillas, Saint Iker to the Madridistas, showing that "anything Diego Lopez can do, I can do better." (That tune will be stuck with you all day now.)

In the move there was a tug-down of Costa's shirt by Arbeloa. Had the referee seen it, then it would have been a penalty. But he didn't. On such thin margins, and Iker's talents, do games turn.

Then, the coup de grace. Pepe's enthusiastic gallop and thump ... the ball flying left off Insua, Courtois beaten, Real's tails up, Atletico tailspin.

With the Brazilian theme in mind and the World Cup starting to edge ever-closer, there is definitely food for thought here for the national team coach. Firstly it's clear that there is, as yet, precious little affection between the senior Spain players in Madrid's ranks and their new Brazilian recruit. That's not disastrous; they've yet to play together in red and bonds can form via winning goals, training sessions and long days spent in training camp hotels.

But it's a thought for Del Bosque to mull on. And you wonder if Costa ever allows just a sneaking thought of... have I done the right thing? No matter. There's about as much love and brotherhood between Argentina and Brazil as between the Costas of Sergipe and the Ferreiras of Maceió.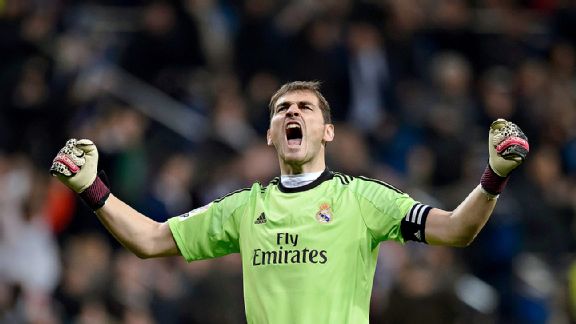 Dani Pozo/AFP/Getty ImagesIker Casillas has played in his fair share of Madrid derbies and his joy was evident at Wednesday's massive win.

Angel Di Maria wasn't letting the Brazilians have all the fun. His value to this Real Madrid side, given that he felt unloved and nearly left in the summer transfer market, has soared recently. Nominally a winger, he was sometimes converted to a No. 10 "opener-up-of-defences" under Jose Mourinho and on those occasions he showed that he has the full repertoire. Vision, passing skills, balance, creativity.

The arrival of Gareth Bale and the surging emergence of Jese both threaten him, obviously, but Carlo Ancelotti has managed something fabulous in recent weeks. The change to 4-3-3 has made Real Madrid eminently more solid in defence -- particularly as they automatically move to 4-4-2 when not in possession.

Di Maria plays in midfield. Modric and Alonso allow him to work across the pitch, he opens up defences, overloads full-backs by switching to partner either Ronaldo or Jese and his work rate simply bears no relationship to the player he was on the wing.

In Wednesday night's game, Di Maria sealed things. A wonderful pass to let Jese slip the ball under Courtois and then a speculative, but fierce, shot deflected off poor old Miranda for 3-0.

Costa's booking, a reaction to close personal attention from Di Maria, means that the already forlorn second leg won't feature his talents.

Meanwhile, it appears that revenge for last May has already been taken. Iker, the perpetual thorn in Atletico's side, departed the stadium with his record intact. It's now a quarter of a century of "derbis" he's played in and not tasted defeat. Just when Atleti thought they had Madrid's measure, back comes their perpetual nightmare.

Yet it wasn't all positive. Marcelo, I'm sad to say, departed the stadium with vicious, unforgiveable monkey noises ringing in his ears. He was the victim of that and "Marcelo's a monkey" sung by the Atletico fans isolated in the empty stadium as a traditional security measure.

Not acceptable but not going away any time soon until we draw attention to it and Spain's social and footballl authorities begin a long overdue programme of education that we reject racism. Utterly.

Football of this intensity, however -- we'll take every week.