Measured Mourinho stays calm in victory
MANCHESTER, England -- For a manager whose success over the past decade has been largely relentless, Jose Mourinho hugely enjoys the role of underdog. Equally, he basks in putting one over old enemies.

The scalp of both Manchester City and Manuel Pellegrini left him unable to hide the smirk on his face, but he was still unwilling to relinquish his idea of little old Chelsea.

"Two horses and a little horse," was how Mourinho described the title race with Arsenal and City afterward. "One horse that needs milk and to learn how to jump. A nice horse."

- Brewin: Three Things from Man City vs. Chelsea

This was a win to remind of the days when FC Porto became the most unlikely Champions League winners in 2004, or when Chelsea were a rebel force storming the Premier League's establishment, before attempting to conquer Europe.

Pellegrini's unbending reliance on attacking instincts played right into his Real Madrid's successor's gleeful hands. City had double the possession of Chelsea, but the visitors took twice as many shots than the team that had previously been a runaway train of goal scoring.

Mourinho will never be one of football's great liberals, but his best teams have always been ruthlessly efficient. This squad may yet prove to be, but he will not be speaking of it in such terms for a while yet.

One goal did the damage, scored by Branislav Ivanovic, to follow the pattern of some of his finest triumphs. Even then, a most humble Mourinho spoke of his team's shortcomings in attack.

"It is so difficult for us to score a goal," he agonised after seeing the woodwork struck several times. "Many times this season we played not as well as today, which was special, but very well and had chances but could not score.

"This is also good for the Champions League because in the Champions League we have big opponents. This is a good feeling. We played against the best team in this country."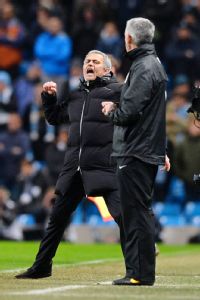 PAUL ELLIS/AFP/Getty ImagesAfter winning 2-1 vs. Man City at Stamford Bridge in October, Mourinho's men emerged victorious at the Etihad.
Mourinho continued to talk of City as a giant slain by his under-resourced novice chasers. That said, he could not resist a celebration of an undiminished ability to rise to the occasion, or a snatched chance to besmirch predecessor Rafa Benitez.

"We love the big games," he said. "Obviously, when you love it maybe you feel extra motivated for that. And I keep saying, the best thing for the evolution of this team is not to play Europa League, not to be 15-20 points behind the leader, but with pressure to be there, to be close to the leaders.

"When we played Arsenal at the Emirates, Arsenal was the leader. Today, City was the leader. This is the best thing that can happen to this team. Maybe Arsenal deserve it more than us, They are top of the league and they are the favourites."

Chelsea did not even play as immovable force against irresistible object. There were periods of City pressure at either end of the match, but the threat of Yaya Toure was extinguished as the Ivorian's suspect energy levels faded.

He ravaged Chelsea in the opening moments, only for Nemanja Matic and David Luiz to eventually outlast him and seize control of the midfield as City's defence felt the greater pressure.

With the injured Fernandinho not present to share shuttle-run duties with Toure, Martin Demichelis, playing out of position, was left isolated and overrun by the athleticism of Willian and Ramires, and befuddled by the skills of Eden Hazard.

The Belgian is a symbol of the upward curve of Mourinho's Chelsea, Mark 2. Where Hazard once considered himself unable to contribute defensively and hold shape, he now matches work with the attacking flair that cost 32 million pounds.

When Chelsea required an outlet, Hazard was a willing and beguiling runner. It was his attacking surge that led to the move that provided Chelsea's winner from Ivanovic.

Back in November, Hazard was distracted: A Sunday night appearance at a Lille game and a missed train home caused him to be left out of a Champions League match with Schalke.

Mourinho spoke then of him as a "kid." Not sparing the rod did not spoil the child. The 23-year-old's maturity is fast developing, and the manager now treats him as a favourite son, making favourable comparisons to the world's best with the caveat that there remains work to be done.

"I keep saying he has to improve, he needs to have his feet on the ground," Mourinho said of a star man whose influence in the game Pellegrini rather strangely dismissed.

"Ronaldo and Messi are Ronaldo and Messi," the Chelsea boss continued. "Eden Hazard is probably the best young player in the world with legs to go there, but give him time."

"We are a team in evolution but this is the kind of performance that helps the team to grow up a lot," the manager said proudly of his pups. "Tactically, mentally, I think it was fantastic."

This was a win to suggest that Chelsea are back. Just don't expect Mourinho to say so.