Three Things: Man City vs. Chelsea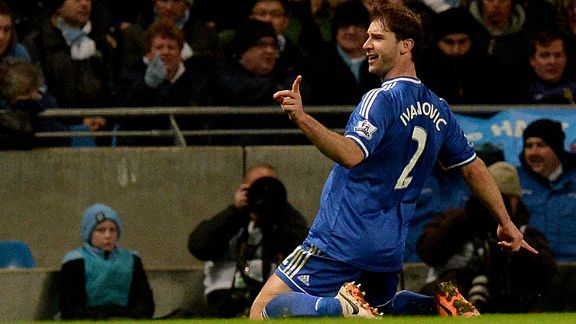 GettyImagesChelsea went ahead through Branislav Ivanovic.
MANCHESTER, England -- Branislav Ivanovic's first-half goal split the Premier League title race wide-open. Here are three things from Chelsea's 1-0 win over Man City.

1. Mourinho stages a coup

The suspicion was that Chelsea manager Jose Mourinho might follow last week's gibes at West Ham by installing his own "19th century" tactics. Instead, he staged the type of tactical coup he has trademarked in a decade of snaffling trophies. Manchester City manager Manuel Pellegrini and Manchester City, regular targets of his, are just the latest victims.

Samuel Eto'o's presence meant Chelsea that never quite "parked the plane," as Mourinho described his 2010 Internazionale triumph over Barcelona. Back then, Eto'o played as an auxiliary left-back. This time, he led the line expertly. The pace may be ailing, but his ability to follow instructions remains. Only from the 83rd minute on was a 4-6-0 employed.

The presence of Nemanja Matic and David Luiz as a double ballast spelled Chelsea's intent: stop supply lines to Yaya Toure and David Silva, and seize the game from there. Willian and Eden Hazard were the weapons of attack to play off Eto'o. Both starred, but the Belgian was the outstanding player for whom City had few answers. He becomes ever more his club's key man.

- Report: Man City 0-1 Chelsea

When Willian robbed Martin Demichelis and played in Ramires in the 28th minute, Chelsea suddenly had three attackers on one defender. Joe Hart's save and Willian's poorly executed overhead robbed them of the smash-and-grab their manager had come for. Yet that moment proved a mere dress rehearsal for Ivanovic's goal.

Employed as a runner instead of the benched Oscar, Ramires made a typical burst from deep after being released by Hazard. After his shot was blocked, the Serb's left-foot effort flew past Hart. Part 1 was done; now to frustrate City. Much of that work was done by Chelsea creating much better chances; Eto'o rattled the woodwork after Hazard had ripped past Pablo Zabaleta.

Matic's presence also allowed the excellent Luiz to indulge himself. As part of a pair, the Brazilian's liberal tendencies are not so risky. Matic pairs discipline with a hammer of a shot; he rattled the post with Hart beaten in the second half.

City pushed hard but to no avail: Silva's free kick was clawed away by Petr Cech before the Spaniard screwed wide from Aleksandar Kolarov's cross, while sub Stevan Jovetic had a shot saved deep in injury time. There was still time after that for Matija Nastasic to skew wide. Gary Cahill and John Terry were worked hard, but a strike force shorn of Sergio Aguero and eventually Alvaro Negredo was held at bay.

2. Demichelis' danger

Fernandinho's muscle injury allowed the novelty of Pellegrini fielding a fully defensive-minded midfielder. The one thing Demichelis will always do is sit deep. A complete lack of speed makes that definitive.

Not that Demichelis lacks experience in that position; he won back-to-back doubles with Bayern Munich in that role before being converted to the centre-back that City fans recognise him as. In going back to his old job, his role was to stop the Chelsea midfield getting at his usual department.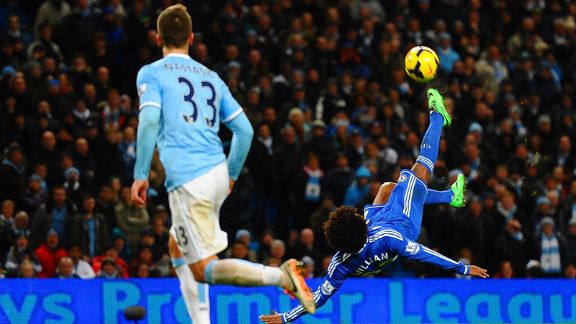 AllsportIn the end, Willian's glaring early miss didn't matter.

So far this season, the pairing of Fernandinho and Toure had devastated all comers at Eastlands, but there are justified accusations of them leaving too much open at the back. That matters little when opponents are hit for five and six.

Demichelis' detail was to stop the runs of Hazard and Willian in support of Eto'o. Their pace left him flat-footed. Vincent Kompany and Nastasic often found themselves with Demichelis as a "false sweeper" sat mere feet in front of them. That left acres within which Chelsea's advanced midfield trio could create danger.

Toure no longer had to swap duties, as he does with Fernandinho, and could make his rampages from deep without recourse to consider tracking back. That left an outnumbered Demichelis to make up the shortfall, a role he could not fulfill. Too often he had to rely on the last-ditch option. Mourinho and Chelsea benefited fully from the fortune of Fernandinho's absence.

3. Unlucky strike

Aguero's presence in the starting lineup proved to be a typo born of wishful thinking on City's official Twitter account. Instead of a blue shirt, the hamstrung striker wore a grey woollen jerkin as he wished his teammates good luck in prematch.

City began with the breakneck speed that has usually strangled opponents before they can settle. Kolarov's drilled cross evaded the slide of Toure before the Ivorian powerhouse smashed a shot that flew narrowly over. A thunderous run straight through Cesar Azpilicueta took Toure to the byline, but Silva could not reflect the ball's angle anywhere but beyond Cech's right-hand post.

From there, supply died off as Chelsea took hold. Silva and Toure became negligible, while Negredo and Edin Dzeko were reduced to potshots.

Aguero sniffs chances where his others cannot. With chances at a premium, too many were spurned, and his quicksilver surges and dead eye were missed. When Negredo left the field in the 58th minute, it was clear he had failed to recover from his own injury problems. Jovetic's arrival in his place was a voyage into the unknown; City's usually irresistible striking unit was robbed of its deadliest weapons.