Derby romp underlines gulf between Juve, Inter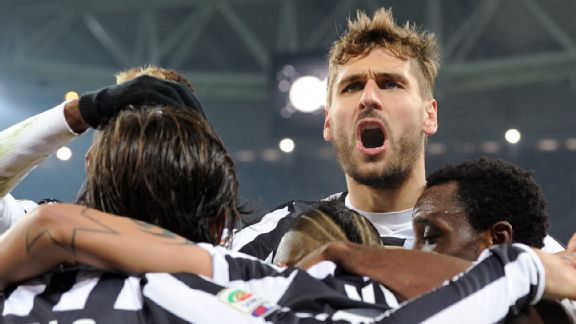 Claudio Villa/Getty ImagesJuventus maintained their advantage over Inter with a big Derby win.
TURIN, Italy -- The 162nd Derby d'Italia between Juventus and Inter Milan proved to be no contest on Sunday night as the Bianconeri extended their lead over Roma at the top of Serie A to nine points with a 3-1 win in a one-sided encounter.

More pertinently, though, they underlined a gulf which has opened up between them and their old rivals.

In November 2012, Inter arrived in Turin to face a Juventus side unbeaten in 49 games, a run which spanned three seasons. The Bianconeri had never lost a single Serie A game in the Juventus Stadium, either. Until then. A brace from Diego Milito and a late Rodrigo Palacio goal cancelled out Arturo Vidal's first-minute opener to break both records and thrust Inter into the race for the title.

It proved to be a turning point in both teams' season, albeit not as you would have expected. Inter won just seven more games and slipped to a ninth-place finish while Juve won 17 and secured a second straight Scudetto with, all said, a 33-point advantage over the Nerazzurri.

- Report: Juve 3-1 Inter Milan

This weekend a similar gulf existed prior to kickoff. Twenty-three points separated the two sides coming in, and only 21 games had been played. The gulf between the two sides appears to be growing rather than reducing.

Sunday's comfortable defeat was not in the script Inter president Erick Thohir was reading when he took control of the club last November. Only seven points separated the two clubs then, while some Inter fans still harboured dreams of a serious challenge for the Scudetto. His fanfare arrival, ending 18 years of Massimo Moratti rule, was met with muted enthusiasm -- muted because the prevailing mood was one of disappointment at Moratti's departure even though Thohir's "big business" talk still struck a note.

Now, his initial promises of Champions League glory within three years ("We'll be in the final in Milan!") seem more misplaced than a blue and black flag in the Curva Sud of the Juventus Stadium. Inter fans have grown sick of the word "business." The only business they want to see their club doing is on the field, yet they are not delivering on either front.

Still reeling from the mere thought of a planned (and failed) Fredy Guarin-Mirko Vucinic swap between the two clubs, Inter's fans are questioning more than ever Thohir's business sense -- the arrival of Hernanes from Lazio has done little to placate them. Meanwhile, Juve took Pablo Daniel Osvaldo on loan until the end of the season, from right under the noses of Inter, who were so keen on the Italy forward when he left Roma for Southampton in the summer. With five strikers already on the books, that seemingly unnecessary move looks like Juve teasing Inter in much the same way they did on the field.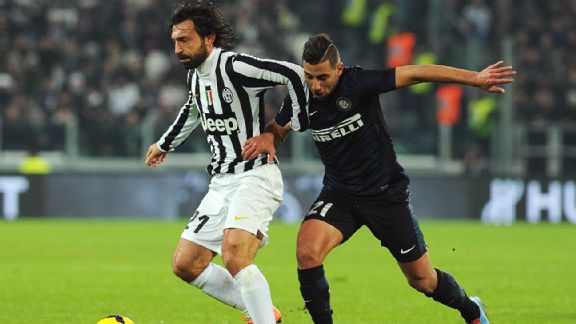 Valerio Pennicino/Getty ImagesAnother strong effort by Andrea Pirlo kept Juve in the ascendancy.

The halftime score line of 1-0 to the hosts may not have expressed it so vividly, but it was a monologue. Carlos Tevez could have given Juve an early lead like Vidal's in 2012, but Samir Handanovic kept him out twice before Giorgio Chiellini eventually hooked the second rebound over the bar.

Met with a standing ovation each time he approached the corner flag to take a set piece, Andrea Pirlo then conjured up one of those typical passes which nobody else sees to put Stephan Lichtsteiner in for a diving header, one which he guided expertly and accurately beyond Handanovic's reach. After 15 minutes, it was 1-0.

You could be forgiven for not noticing that Juve No. 1 Gianluigi Buffon was suspended and replaced by Marco Storari. Not even when Rodrigo Palacio had the goal at his mercy five minutes before the interval did the calendar pin-up need to intervene. It was a trend which continued into the second half, one that saw the hosts finally transform their superiority into goals and do so with a nonchalance which suggested they could have added even more.

In fairness, Inter did give them a helping hand, too, allowing Paul Pogba first to power his way through and then failing to clear the danger as Chiellini bagged his third goal of the season. It was Pogba again who proved too much of a handful for the Nerazzurri back line, spreading fear before Vidal struck Juve's third with the Inter back line caught watching the ball.

Rolando did pull a goal back for Walter Mazzarri's men, his shot taking a deflection on its way past Storari in the 72nd minute. Vucinic then tried to rub further salt in Inter's wounds, striking the post late on against a side he could have been lining up for Sunday night. That might just have been too much for the Nerazzurri faithful to take, and so it was another 3-1 between these two historic foes -- just like the one in November 2012, only much has changed since that night.

Twenty-six points is now the gap separating them in the standings, and it's a gap that seems most likely to grow. It seems like the only way Inter can get close to Juve these days is in an alphabetized list.