Three Things: West Brom vs. Liverpool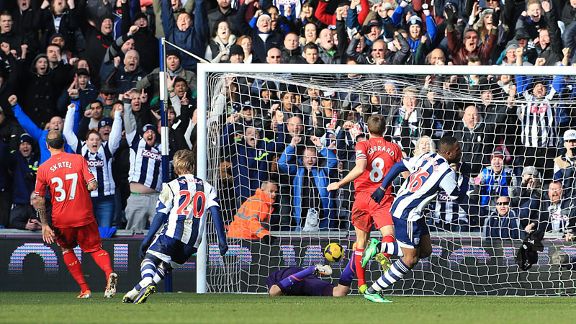 PA PhotosVictor Anichebe levels for West Brom following Kolo Toure's stray pass.
WEST BROMWICH -- Liverpool's progress for a top-four finish was stalled after a 1-1 draw at West Brom. Here are three thoughts from Sunday's early Premier League clash ...

Carelessness could cost Liverpool
Fourth place was Liverpool's for the taking. They were set to go four points clear of fifth-placed Everton and nine ahead of their slumping rivals Manchester United. Then Kolo Toure intervened haplessly, gifting Victor Anichebe a goal, and they were dragged back toward the pack. If Liverpool lose to Arsenal on Saturday, they could end next weekend in fifth place, which carries the gloomy promise of a place in the Europa League.

Their season amounts to a giant experiment: can Luis Suarez and Daniel Sturridge score goals at a quicker rate than their porous defence leak them? On this occasion, the answer was no: excellent forward play was cancelled out by disastrous defending. Two points slipped from Liverpool's grasp and while West Bromwich Albion performed admirably in the second half, it was scarcely because of the hosts' brilliance. It was because of another error.

- Usher: Liverpool fail to press home advantage

Brendan Rodgers could point to the absence of an entire back four -- Glen Johnson, Jose Enrique, Daniel Agger and Mamadou Sakho were all out injured -- yet mistakes were made when some of them were fit, too. Much as their deadline-day failure to sign Yevhen Konoplyanka frustrated, the reality was that another winger was not the prime requirement at Anfield. Reliability is the priority. Without it, their pursuit of Champions League football will continue to be a white-knuckle ride.

Suarez and Sturridge back on the same wavelength
It should not tarnish Liverpool's biggest Merseyside derby win since 1982 or a performance of counter-attacking brilliance, but one of the abiding images last weekend was the sight of Suarez casting accusing glances when Daniel, rather selfishly, went hat trick hunting against Everton.

Perhaps they were isolated incidents; certainly, their relationship was not in need of major reparation work. But if there were any cracks, they have been mended. Suarez displayed wonderful awareness and precision to set up Sturridge for the opening goal. In the process, he may have reminded his younger colleague of the importance of having an altruistic streak, even in a profession where greed is good.

A theme of Liverpool's season, which is both encouraging and rare, is how these two strikers are as capable of being prolific together and apart. Sturridge started the campaign with a flurry of goals when Suarez was suspended. The Uruguayan kept on scoring when the Englishman was injured. Yet they are particularly potent together, as a total of 24 goals between them in the 16 league games they have started together shows.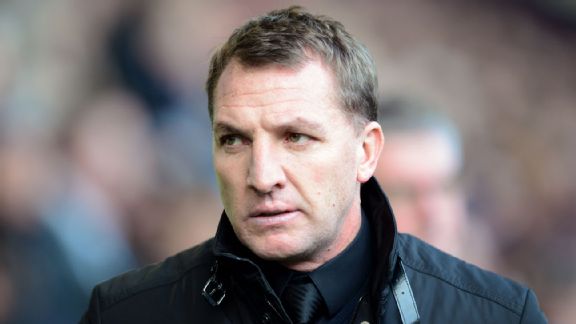 Jamie McDonald/Getty ImagesBrendan Rodgers won't be happy that his defense is undoing all of Luis Suarez and Daniel Sturridge's hard work up front.

Indeed, it almost feels like an anticlimax when Suarez completes a game without scoring. This was one of those rare occasions, even if his cause was aided by his error-prone Uruguay teammate Diego Lugano -- more on him below -- who contrived to misjudge Toure's punt forward and allow his compatriot a chance to get his 24th goal of the season. Ben Foster kept it out and nine minutes later, Anichebe struck. It meant that the third anniversary of Suarez's Liverpool debut was not the happy affair that they had long envisaged.

Mel's team still a work in progress
Pepe Mel is having to learn on the job. No matter how many West Bromwich Albion games the Spaniard saw before taking charge, he seemed to start with an imprecise knowledge of his new squad. The first few games have been a case of trial and, in some cases, error.

Albion's 4-3 defeat to Aston Villa was partly caused by the presence of two of his better defenders on the bench. That mistake was remedied with Billy Jones displacing Steven Reid at right-back and Lugano, after his tragicomic derby display, making way for Gareth McAuley.

There is something reassuring about the Northern Irishman -- The Hawthorns would not feel the same without the rhythmic chants of "Gareth McAuley is better than JT" -- and a late bloomer has emerged as a more dependable defender than the man who captained Uruguay to the World Cup semifinals. Unfortunately for Albion, Lugano's rest lasted only 40 minutes until Jonas Olsson limped off. Another glaring blunder from him almost came at a cost.

Further forward, issues remain. Albion were without Stephane Sessegnon and Nicolas Anelka, their most gifted -- and most mercurial -- attackers. So far, Mel has shown too much faith in Matej Vydra and Zoltan Gera and while the Hungarian almost struck from 25 yards, theirs was a powder-puff forward line until the Spaniard brought on Anichebe and Toure presented him with a rare goal. It may well earn him a start against Crystal Palace on Saturday.

But with Albion's top scorer, Saido Berahino, starting on the right, Mel still has to find his finest combination up front. He is yet to record a first win but can at least take solace from the fact his substitutions have twice inspired comebacks in home games.