Moyes' shortcomings exposed at Stoke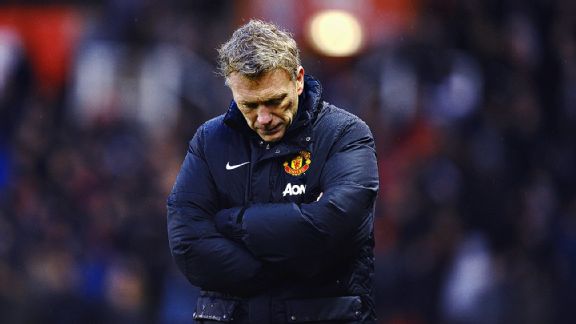 Laurence Griffiths/Getty ImagesIt was yet another day to forget for David Moyes.
STOKE -- Perhaps the most galling part of this latest defeat for Manchester United is that such a reverse does not even raise eyebrows anymore. Losses such as this have become as mundanely routine as the champions' lifelessly predictable attacking play.

No, what really stunned was the statement that followed it. In 15 words, David Moyes summed up so many of the concerns that have materialised during his seven months in charge to date.

"I don't know what we have to do to win," Moyes sighed. "I thought we played well."

The first part is alarming, largely because the second part was entirely inaccurate: Manchester United did not play well in this woeful defeat to Stoke. They were largely dismal, devoid of any spark or creativity.

It is simply incredible that that can be said of a team that featured the talents of Wayne Rooney, Robin van Persie and Juan Mata and, if Moyes can't see that it can be improved on, by many levels, then United have very profound cause for concern.

It is utterly damning that the new hope derived from Mata's signing so quickly gave way to the same dire, old problems. Most conspicuously, the latest landmarks that illustrate just how historically poor this United team -- they have lost eight of 24 league games this season -- are at the moment are as plentiful as the pitiful four shots on target they mustered at the Britannia.

This was Stoke City's first win over United in any competition in 21 years, and their first in the English top flight since 1984. This was also Mark Hughes' side's first victory in nine Premier League games, but brought United's fourth defeat in eight games.

For the defending champions, that is just not good enough, regardless of any mitigating circumstances. Moyes, inevitably, pointed to those circumstances, most of all poor fortune.

"We were really unlucky," he stated afterwards.

- Payne: That losing feeling
- Whittaker: Champagne Charlie

The United manager referenced the freak nature of Stoke's goals either side of van Persie's 47th-minute equaliser, as the industrious Charlie Adam benefited from, as Moyes put it, a "deflected 30-yard free-kick" and a once-a-season "worldy."

To make some allowances for the 50-year-old, it would also be impossible to dispute that Moyes suffered even worse luck beyond those goals. Most conspicuously, there were the injuries to Jonny Evans and Phil Jones.

The problem with putting it all to down vagaries of fortune, though, is that it has reached a fairly miserable stage when a club such as Manchester United are looking at luck to just avoid dire defeats rather than bring defiant late victories.

That is how slim Moyes has made the margins, how limited United have become. And that is where the most worrying concerns about his management are rapidly rising.

Of course, the former Everton manager inherited a range of problems for which he can have no responsibility, not least the problematic midfield that has proven so curiously difficult to strengthen.

None of that is any excuse, however, for just how poorly United are currently playing.

To bring it to the most obvious point, it would have been entirely reasonable to anticipate van Persie, Rooney and Mata could at least suggest the beginnings of some creative relationship, to offer a few flashes, some spark.

No one would have expected instant integration, just a few interchanges. Instead, though, in the 78 minutes they spent together on the pitch, they only linked up twice.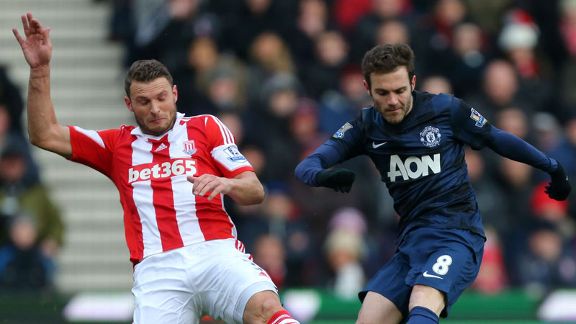 PA PhotosMata made van Persie's goal but was otherwise frustrated by Stoke.
One of them was the single occasion in the first half that a United attack didn't end with an orthodox cross or clearance. Most lamentably, a player as ingeniously inventive as Mata spent almost the entirety of that opening period as a standard winger in a 4-4-2. It was, in short, a waste.

There was at least the suggestion the lack of link-ups may have been just down to teething problems early in the second half as, immediately after the break, Mata found himself in the centre to feed Van Persie for a fine equalising finish. It was United's one moment of quality.

It soon transpired, however, the instance was merely the consequence of great players instinctively reacting to a chance Stoke error. Beyond that, it was business as usual, with what amounted to wingers repeatedly pounding in standard crosses for forwards better suited to playing on the ground and -- in Ryan Shawcross and Marc Wilson -- against some of the most muscular centre-halves in the league.

It meant that, for all the admirable urgency about United's second-half performance following Adam's second, there was never a true siege. There was only one moment of panic in the Stoke box, when a long-range Rooney set-piece hit the post. After it, the number 10 sank to his knees.

Moyes did hold his head high but had a rather novel description of the period. "It was our downfall we didn't score from chances," he said, "but we must have got to the byline eight or nine times."

Again, if that is the extent of his expectations for an elite side's attack, it is perhaps the greatest problem of all. When you are competing for the top trophies, you simply must have a variety of angles of attack.

Furthermore, without wishing to get too critical in the immediate aftermath of another defeat, perhaps this also helps to explain why there was only one other club -- Schalke -- with which Moyes was publicly linked besides United.

Although it is still so early in his six-year contract, there is a growing feeling he is not tactically modern enough. While the likes of Barcelona and Bayern Munich are pushing the boundaries of what is possible in attacking play, United are endlessly slamming the ball in the box. Currently, there is no evidence of any coaching in that regard, or any evolution whatsoever.

Just a few weeks ago, it still could have been fairly argued that Moyes should have been cut some slack because perhaps only Jose Mourinho and Pep Guardiola had the personalities sizable enough to handle a transition as seismic as Ferguson retiring.

Now, though, it is beginning to feel as though any modern manager with a more nuanced approach would at least be getting United playing better. The results, meanwhile, can't get much worse.

At the very least, so many coaches would salivate over how to configure an attack featuring Van Persie, Rooney and -- even before Mata -- Shinji Kagawa.

Moyes has so far slotted them into a template and, consequently, the template of United's season has been tepid performance after tepid performance.

Stoke was just the latest example.