Three Things: Newcastle vs. Sunderland
NEWCASTLE -- Three things from Sunderland's emphatic 3-0 win over rivals Newcastle in the Tyne-Wear derby at St James' Park.

1. Mugged on the Tyne

Last autumn, Sunderland were down with the dead men. Their presence alongside Crystal Palace left just one relegation place to avoid. Yet both began Saturday out of the drop zone. Others are now appreciably more in danger. Both Gus Poyet and Tony Pulis have provided their new clubs with belief and organisation. Regime change can work.

Three defeats of Newcastle in eight months and a Wembley final to look forward to; Sunderland survived Paolo Di Canio and optimism, a distinct rarity on Wearside, is beginning to flow freely. Anger ruled as home fans spilled out. One lady of a certain age left at half-time. She had seen more than enough to know. It was too cold to sit and suffer. Poyet meanwhile had replicated the scoreline of his predecessor's keynote April victory at St James' Park.

- Randall: Poyet on course for a miracle
- Ryder: Newcastle go down without a fight

For the victors, Fabio Borini looked the forward that Liverpool paid big money for and in no sense the misfit they were so happy to loan out. His parent club's transfer window might not have been so desperate if he had shown off such capabilities in a red shirt. Up ahead, Jozy Altidore led the line expertly, the ball usually sticking when he was required as an outlet. He gave Mike Williamson a torrid afternoon, though might have done better when he was given the chance to take on Tim Krul in a one-on-one situation.

The damage was done early. Vurnon Anita's foul on Phil Bardsley allowed Borini to score from the penalty spot with some aplomb. His celebration was over-zealous; climbing up to preen in front of home fans was unnecessary and he was rightly booked.

Newcastle swiftly compounded that mistake. Jack Colback was allowed to advance from deep, and his deflected shot was only parried by Krul into the path of Adam Johnson. Davide Santon slumbered while Johnson scored. Pardew soon felt the wrath. His team lacked the type of spark that now saunters down Parisian walkways rather than the Bigg Market; Yohan Cabaye was missed horribly.

A fortnight ago at West Ham, with Cabaye in the team, Newcastle thrilled with their invention. This performance and the determination and organisation of Poyet's team rendered that a memory from a different age.

Even in the second half, as Cheick Tiote and Shola Ameobi efforts signposted potential revival, Sunderland went closest when Johnson rattled the post. Colback's fine finish in the 80th minute from Borini's pass sent fans to the exits, and two fans onto the pitch to remonstrate with Pardew.

2. Ashley pulls the rug

Cabaye's departure was inevitable. At West Ham, Pardew did little to skirt around the fact that his star man was for sale at the right price. Paris Saint-Germain's euros eventually told, and Toon fans must now try and be happy that Cabaye stayed around enough to inspire the club's revival in fortunes.

Owner Mike Ashley's constant willingness to pull the rug from under his managers had left Pardew bereft once more. Cabaye's sale made business sense, but not paying a transfer fee for a single player for two consecutive transfer windows is not good footballing practice. Chief scout Graham Carr is lauded throughout the game, but he may as well be redundant if Newcastle refuse to buy players.

Newcastle suffered for Loic Remy's wholly avoidable absence. His headbutt on Norwich's Bradley Johnson may have been soft -- it was no "Gallowgate kiss" -- but a three-match ban was deserved on the grounds of stupidity. Indeed, Newcastle were lucky not to get his suspension increased on ground of a failed "frivolous" appeal. With Yoan Gouffran absent, Pardew lacked an attacking unit that on its day could be devastating. Note the use of past tense.

Now that Cabaye is gone, Hatem Ben Arfa mans the position that fits his shirt. Less willing to work in a rearguard effort, but no less blessed than his compatriot in terms of attacking talent, Ben Arfa is the type of enigma that Newcastle have too often relied on; what made Cabaye their best midfielder in generation was his reliability when properly fit. Sunderland fans could not resist singing the name of their rivals' departed hero. Ben Arfa meanwhile never found his way into a position to trouble the dependable Sunderland duo of John O'Shea and Wes Brown.

Shola Ameobi, Remy's replacement, has been dependable down the years as a Mackem slayer, but Remy's incision was not replicated. Remy can conjure goals from half-chances. Ameobi has no such ability. Brother Sammy looked even less able at Premier League level and was replaced by loanee Luuk De Jong at half-time. The debutant did not distinguish himself.

Pardew's team returned to the unimaginative sludge they played last season, and in precisely the wrong fixture. Twelve months ago, St James' Park was a desolately unhappy place. Angry boos at half- and full-time suggested that such a state of disquiet is soon to return.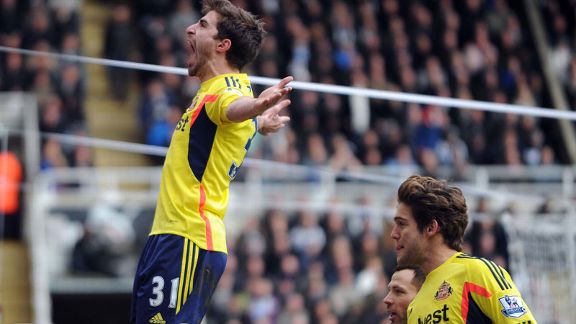 PA PhotosFabio Borini celebrates his opening goal against rivals Newcastle.
3. They punch horses, don't they?

April's home defeat to Sunderland was the catalyst for a riot in the city centre that infamously resulted in the conviction of an over-inebriated Toon Army member for punching a police horse. A dispute between the two clubs acting in alliance and Northumbria Police had meant that Sunderland fans were allowed to arrive in Newcastle unaccompanied; usual practice has been to bus them in and out. They would be best advised to exit incognito from their neighbouring city.

On the walk from the station up to St James' Park, pub doors were being banged on to open up. Assistance was required to calm nerves; the locals had a bad feeling about this one. Sunderland had won the last two, including earlier this season when Fabio Borini's wonder strike flew in at the Stadium of Light to win it for Poyet's freshly installed regime.

Equine health was in clear and present danger from the early period in which Sunderland took advantage of Newcastle's inability to defend, create chances and sustain pressure. "Lock up yer horses, there's gonna be hell," sang jubilant Mackems.