Three Things: Tottenham vs. Man City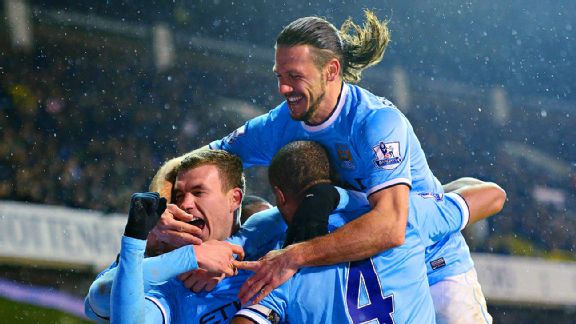 Jamie McDonald/Getty ImagesMan City top the Prem and don't look to be beaten any time soon.
LONDON -- Three quick thoughts from Man City's 5-1 rout of Tottenham at White Hart Lane ...

Slick City rise to the top
Manchester City climbed to the top of the table, taking advantage of Arsenal's Tuesday slump with the defeat of their North London rivals. Many would suggest that they are now here to stay.

Tottenham's attempts to grimly hang on were derailed by the intervention of linesman Scott Ledger, who disallowed a Michael Dawson goal and rubber-stamped the decision that gave City the penalty which took the game away from Spurs. Danny Rose looked to have won the ball when tackling Edin Dzeko in the area, but contact from behind caused Ledger and referee Andre Marriner to award the spot-kick and then red card the Spurs full-back.

- Report: Spurs 1-5 Man City
- Prem wrap: Chelsea held

Once Yaya Toure had slotted the penalty and Dzeko steered in a rebound to add a third, City were set fair to top the table at the completion of a Premier League round of matches for the first time since August's opening weekend.

Etienne Capoue's goal gave Spurs the merest glimmer of hope, but when sub Stevan Jovetic cut in to score his first Premier League goal for City, Tim Sherwood could be heard shouting some very rude words indeed. He repeated them when Vincent Kompany completed the rout in the 89th minute.

Not that City's climb to the summit did not suffer some collateral damage; Sergio Aguero limped off with a hamstring problem before halftime. Over at Stamford Bridge, Jose Mourinho would have been smiling despite his own 0-0 draw with West Ham. As it stands, City will be without their prime weapon in Monday's showdown with London's Blues.

With their next few matches looking eminently winnable -- as do most opponents for Manuel Pellegrini's machine -- City have now reached a point where they can match the expectation that they will lift the title in May.

This was the team that used to be reluctant travellers, but they played from the start as if they call White Hart Lane home. Only in the 15 minutes before halftime did Spurs truly trouble them, but the gulf in class soon revealed itself again.

Goal machines keeps churning
Manuel Pellegrini, with habitual values of adventure, selected two strikers. For him, such an approach is no gamble. It is a reversion to a mean that no other Premier League outfit can match. When City travel to the Nou Camp in March, we should fully expect them to play the same formation.

It has usually yielded results given that his team is a ludicrous scoring machine. However, his prime centre-forward is beginning to look rather injury-prone. Aguero's hamstring may rob City of their talisman when they need him most. He will definitely be absent for Monday, may well miss Barca's visit to Manchester and perhaps even the League Cup final at the end of next month.

Alvaro Negredo's shoulder injury had seemed little problem in the light of Edin Dzeko's continuing form but Pellegrini now needs the pair back to the form they showed after Aguero's ankle gave out against Arsenal in November.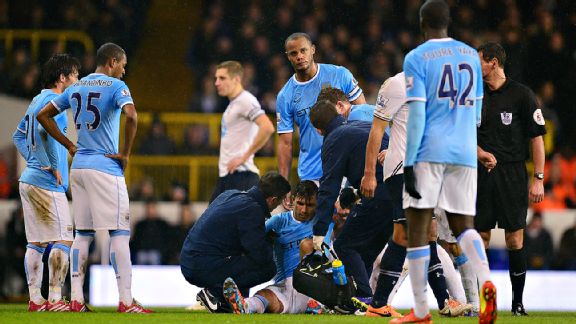 Jamie McDonald/Getty ImagesWill Sergio Aguero's latest injury derail Man City's progress?

When Aguero spun off Vladimir Chiriches and crashed his shot off the bar in the fourth minute, procession to victory began. The Argentine exocet's man-to-man battle with Michael Dawson was footballing inequality in action. The Spurs captain is a fine professional but utterly ill-equipped for Aguero's bullish bursts into space.

Once David Silva found the time and space to supply him, Aguero was so far off the shoulder of Dawson as to be in a different postcode. A dinked finish as Hugo Lloris came out was a reminder that Aguero is comfortably the best finisher in the Premier League.

Spurs were already hanging on. Dzeko drifted a couple of efforts wide; Martin Demechelis had a header cleared off the line. Wednesday's game threatened to be another massacre like that at Eastlands which precipitated the downfall of Andre Villas-Boas. It eventually was.

Aguero's exit prompted the arrival of lesser spotted Stevan Jovetic, at last having a chance in a big game after a nightmare start to his City career. The Montenegrin understandably looked somewhat off the devastating pace of his team-mates. Once one of the most coveted players in Europe, Aguero's absence could be his chance to finally assume the limelight. His goal was sound enough, and his gesture to supportive fans was a good PR move, too.

All good things ...
The good run could not last. Tim Sherwood's cocksure sense of self has taken a hit. He suffered his first league defeat as Tottenham manager.

He had abandoned his 4-4-2 to employ a lone frontman in Emmanuel Adebayor, a striker whom only Sherwood fully trusts. Christian Eriksen's role was to float though the Dane spent much of his evening drifting through his own inner space, such was his detachment.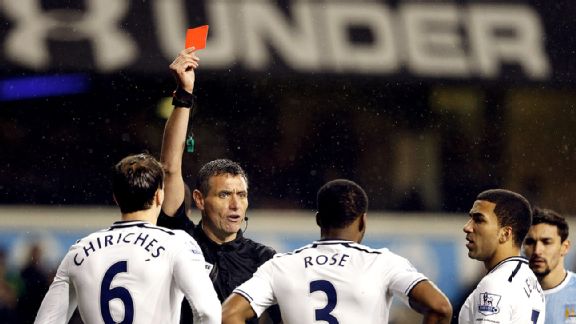 Adrian Dennis/AFP/Getty ImagesDanny Rose's dismissal didn't doom Spurs. Rather, it just allowed Man City to turn a comfortable win into a rout.

Eriksen was chasing the always looming shadows of Fernandinho and Yaya Toure, the pair dictating City's irresistible wave of attacks. It was not until the 32nd minute that Spurs enjoyed anything approaching a period of possession. The dead ball might have provided solace, but Eriksen first whipped a free-kick out of play, and then Michael Dawson had the ball in the net but had a goal chalked off for offside.

Spurs' brief arrival in the match came via reducing the match to scraps. Sherwood's long experience as a Premier League player taught him that mixing it can pull teams back in.

Toure's fouls on Mousa Dembele and Danny Rose served to lift Spurs' determination. The Ivorian might even have been sent off as matters began to boil over. Aguero went down under what he claimed to be an elbow from Dawson. Then Adebayor went over the top on Demechelis, but Marriner booked the defender instead. Spurs assistant Steffen Freund on the sidelines was boiling over, too, but in stepped old head Brian Kidd to calm him down.

Halftime came at the wrong time for Sherwood. Things fell apart immediately once the second began. On the sideline, he continued to encourage his men, but eventually even his enthusiasm waned. Defeat was tinged with a sense of injustice, but his team were beaten by a profoundly better proposition.