Three Things: Manchester United vs. Cardiff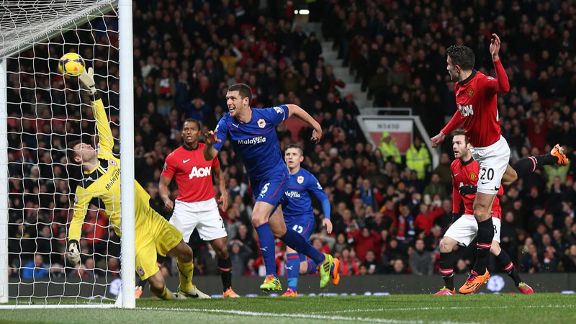 AllsportRobin van Persie's goal was his first since Nov. 10.
MANCHESTER -- Three thoughts from Man United's 2-0 win over Cardiff.

1. United's fate rests with their top talents

Seven days earlier, Manchester United kicked off against Sunderland with Javier Hernandez and Danny Welbeck in attack and no recognised striker in reserve. Fast-forward a week, and manager David Moyes was able to select Juan Mata to play off Robin van Persie and put Wayne Rooney on the bench. It is a colossal difference.

And while the goal of the game came from Ashley Young, who beat David Marshall from 20 yards, and Antonio Valencia twice struck the woodwork, this was a match to reinforce the importance of United's top talents. Sir Alex Ferguson excelled in conjuring performances from the lesser lights, but usually when one of the resident superstars led the way.

- Payne: That's not entertainment

Van Persie had not played in the past 11 games and had not scored since the first week of November. Thus, his early header, which eased the pressure on a side with a poor record at home, was the most significant strike and an indication of how the Dutchman has changed over the years, from flair player to one of the foremost penalty-box predators.

Rooney, who had been out for five games, came on when van Persie's comeback was curtailed, and almost scored a third. While Moyes has to decide when to start United's new holy trinity together and how they can best be accommodated, each provided welcome moments of quality.

It is improbable that collective brilliance will propel United into the top four, but individual inspiration might. For that to happen, Moyes needs at least two of the trio of Rooney, van Persie and Mata to stay fit.

Nevertheless, while this was United's sixth win in eight league matches, they have reasons to be cautious. A home game against the side propping up the table is, on paper, the easiest encounter of the season and, behind the star-studded front two, there were familiar frailties. A storming run from Jordon Mutch that exposed a void at the heart of the United midfield was one warning sign, and some desperate defending was required.

However, teams with potent match-winners can sometimes camouflage their flaws.

2. Mata goes deep to create

It was an expensive way to provide an injection of confidence, but Mata accounted for a more upbeat mood around Old Trafford. United no longer feel like a club resigned to its fate and, instead, have recovered something of their swagger by spending 37.1 million pounds.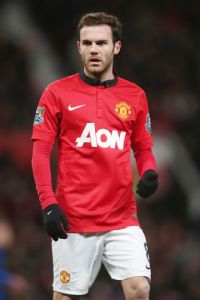 John Peters/Man Utd/Getty ImagesMata logged 85 minutes before being replaced by Adnan Januzaj.
Not that Mata looked cowed by the fee. Instead, he eased into new surroundings by familiarising himself with the ball. The newcomer displayed a willingness to retreat toward his own goal to pick up possession from the centre-backs which, as it is when Rooney and van Persie do the same, is invariably interpreted as an indictment of United's midfield. Indeed, whereas the Spaniard tended to operate in a more advanced position for Chelsea, Mata dropped deeper in his United debut.

This was a playmaker's performance, and the record buy, other than the rather odd central-midfield combination of Phil Jones and Ryan Giggs, served as the creator-in-chief. It was a ploy that worked, too, as the opener stemmed, albeit indirectly, from Mata's cross-field pass to Patrice Evra. Young's pile driver also came after he received a short pass from his new teammate.

Yet the broader issue is that Mata cannot transform a team's style of play on his own. He is more comfortable in possession than many of his new colleagues and is also more attuned to a passing game. He was not quite at full pace -- understandably, as it was his first game in 27 days -- but he nonetheless had the awareness to jog into space.

There were times when too few of his new teammates made themselves available to receive a pass from him, but nevertheless, when he was substituted his efforts were met with a standing ovation and a predictable chant of "what a waste of money" from the Cardiff fans.

Mata's arrival had another benefit: In one recent game, when United won a free kick within sight of goal, Tom Cleverley and Alexander Buttner stood over the ball. Mata immediately took over as the set-piece specialist. It is an upgrade.

3. Solskjaer remains a favourite son

Reunions can be unpleasant affairs for many footballers. Booing and taunting are commonplace. That is not the case at Old Trafford, however, where former players tend to be afforded a generous reception on their return. However, they are rarely this euphoric. In recent memory, only Cristiano Ronaldo has been greeted as warmly as Ole Gunnar Solskjaer.

Indeed, Mata's name was heard rather less than that of the Cardiff manager. The Spaniard may have made United history by becoming their most expensive player, but the Norwegian acquired immortality by delivering the Champions League trophy 15 years ago.

The game began to the familiar soundtrack of "You are my Solskjaer," complete with the gibe about the costlier Alan Shearer, and the songs continued intermittently thereafter, with the visiting manager acknowledging with a wave.

The love-in was such that it feels rather rude to point out an inconvenient truth: Solskjaer has a zero percent winning record in the Premier League, given that his first three games resulted in three defeats. Admittedly, two have come away in Manchester, and the next few fixtures -- Norwich, Swansea, Aston Villa and Hull -- will provide a truer indication of his prospects.

Yet if Mata's maiden appearance was the beginning of an era for United, it felt like the end of another for Cardiff. This seemed like a final outing for recently sacked manager Malky Mackay's Cardiff, with none of Solskjaer's signings starting. That should change, not least when Wilfried Zaha and Fabio da Silva, Solskjaer's recruits from United, are available.

So the Old Trafford interest in Solskjaer's career should continue, if only to see whether he can succeed where Moyes has failed with two of the unwanted. Certainly Cardiff, which have taken only one point from their last seven games, require the impetus new faces can provide. But given their new manager's track record of making decisive late interventions, there has to be hope in their relegation battle.