Three Things: Chelsea vs. Stoke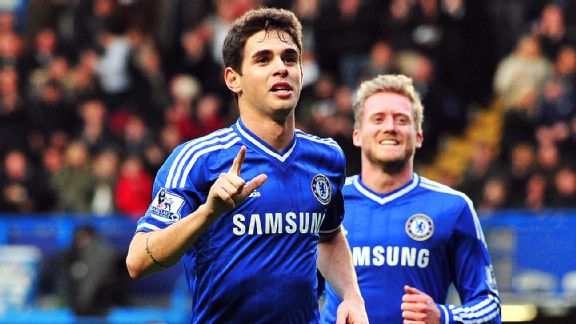 Glyn Kirk/AFP/Getty ImagesOscar repaid Jose Mourinho's faith in him with a brilliant free-kick goal which won the game for Chelsea.
LONDON --- Three observations from Chelsea's tight 1-0 victory over Stoke at Stamford Bridge:

No Mata, no problem. There is Oscar

Juan Mata is Chelsea no more, now that he has signed with Manchester United. Jose Mourinho chose not to mention him in his programme notes and used his prematch interview to instead talk of completing the signing of Basel's Mohamed Salah. One fan's banner wished Mata well, but the show will happily go on without him. This was no wake for a prodigal son.

A loyalist narrative suggests Mata was work-shy, unwilling to put in enough defensive effort for the cause. That he had become a misfit. Such an image does not quite tally with the effervescent talent who starred on teams that won two successive trophies, but no matter, Mata is someone else's concern now.

Mourinho can argue with considerable weight that he has similar players who follow his philosophy far more readily. Oscar showed why he had superseded Mata with a performance of devilment and drive. The Brazilian looks slight but is considerably taller than Mata, a definite boon for the manager, and he tackles like Dennis Wise once did -- sometimes dirty but always with plenty of force and technique.

Oscar also possesses as strong a creative skill set as Mata. His free-kick winner from 25 yards out was hit with ruinous swerve that offered Asmir Begovic no chance. He later hit a post with Begovic again beaten. Buzzing runs into the heart of Stoke's defence caused constant discomfort, and versatility allowed Oscar to interchange positions with Eden Hazard and Andre Schurrle in the trio playing off lone striker Samuel Eto'o.

Hazard, too, has been converted into a workhorse, while his goals have been the force behind Chelsea's 11-match unbeaten run since losing at Stoke on Dec. 7. When Salah arrives, it is with a reputation for direct running and responsible defending. That quartet, plus Willian, fit the amped-up Mourinho plan. Mata was just too arty, too free a spirit. Plus, 40 million pounds will ward off the Financial Fair Play concerns.

Still, Chelsea were dominant yet wasteful in beating Stoke and making the fifth round of the FA Cup. Eto'o's shank wide of an open-goal chance could have been costly, but Oscar's goal eventually guided them through with an ease that the score line belied.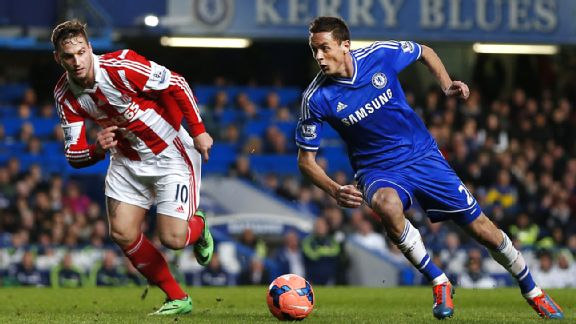 Adrian Dennis/AFP/Getty ImagesNemanja Matic made quite an impression during his first start for Chelsea as he showed he could be the enforcer that the club has lacked over the years.
Are you being Serb-ed?

Instead of Mata, Chelsea have Nemanja Matic. His return to the club, at the cost of 21 million pounds paid to Benfica, meant that having David Luiz and Matic in tandem cost the Blues something like 46 million pounds. They finally have a player who can supplant the Brazilian at the base of midfield. Matic was a make-weight in the January 2011 deal for Luiz but has returned to supplant him.

Against Manchester United on Jan. 19, Mourinho could be seen exasperating at Luiz's positioning in the anchorman role. Here, he was restored to centre-back while Matic slotted in alongside Frank Lampard.

The aim of his partnership with the veteran was that one would hold while the other charged forward -- a worrying reminder of Lampard's uneasy marriage with Steven Gerrard -- but Matic is far more selfless. Most of the time, it was Lampard making the majority of forward runs, although his new partner made a couple of rangy runs into the heart of Stoke's defence.

The Serb is imposing and full of running but hardly blessed with electric pace. One crunching challenge on Peter Crouch suggested that Matic means muscle. Crouch had company on every goal-kick, too. Matic was within the striker's orbit whenever the ball was pumped into the air.

Mourinho's dissatisfaction with his central-midfield options now has a robust answer, and Michael Essien has been jettisoned to Milan. Marco Van Ginkel's cruciate injury led to Luiz playing in a position that Mourinho mocked former interim manager Rafael Benitez for employing him in. Now Matic is in the role, and only in extreme emergency will Luiz return to that role.

A sweet pass from Matic set up the move from which Andre Schurrle struck the angle of post and bar at the beginning of the second half. He was soon to be found robbing Stephen Ireland with a well-timed interception. All that while holding his position. His manager clearly approved.

Matic, second time around, was making his first start for Chelsea and impressing. A player once surplus to requirements might provide an answer to a long-held problem.


Crushed Pottery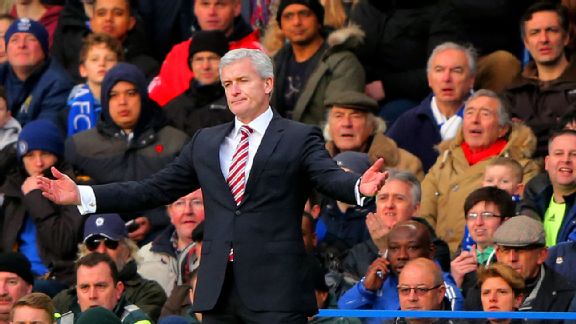 Ian Walton/Getty ImagesIt hasn't been easy for Mark Hughes at Stoke considering the club's lack of resources.


Mark Hughes was the subject of a prematch video montage. Chelsea fans have not forgotten their former striker's part in the club's late-1990s revival. A few years ago, Hughes was seen as a potential future Blues boss and put his candidacy forward following Mourinho's removal in 2007. But after his reputation took a kicking at Manchester City and QPR either side of an utterly unmemorable season at Fulham, Stoke is something of a staging post in an attempt to revive his reputation.

Relegation is still a distinct concern, and he has hardly resurrected Barcelona in the Potteries. A low budget means he must blend an inherited group of players with bargain-basement buys.

Stoke's fans were not travelling high in numbers and hopes. Only 700 -- 10 percent of their possible allocation -- had braved the trip from sodden Staffordshire, understandable considering financial concerns and a not particularly welcome Sunday kickoff time. There was no need for Chelsea's PA announcer to mock visiting fans. Contrary to much popular opinion, Chelsea is a welcoming club with a considerable tradition, but less of the bantz, please. This is sport, not some bear-pit TV panel game. Come on Blues, you're far better than that.

Hughes, a hugely demonstrative sideline presence, had less trivial concerns. The first half saw his team fail to mount any attacks of note until Ireland broke clear and missed the target in the 40th minute. Chelsea's high-pressing game pinned Stoke back, and on a quiet afternoon when home fans were hardly vocal, Hughes sounded exasperated at his team's inability to keep the ball. There was no consistency of threat to have a chance of forcing a replay. Time instead to concentrate on the league. There is still much work to be done.