Three Things: Arsenal - Coventry City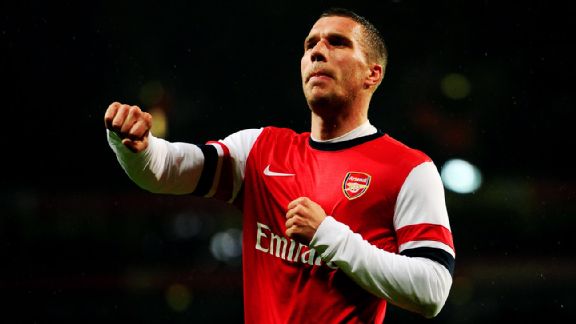 Mike Hewitt/Getty ImagesLukas Podolski's double against Coventry City proves that Arsenal have some depth in attack.
LONDON -- Three observations from Arsenal's 4-0 win over Coventry City at the Emirates Stadium.

1. Arsenal making a virtue of easy victories

It may have been a thoroughly predictable, routine win, but for once, that in itself is something to be remarked upon for Arsenal.

It isn't so long ago, after all, that this team seemed to have developed a rather debilitating capacity for calamitous defeats. It goes a long way to explaining that eight-season trophy drought, and it isn't all that long ago since they suffered such a setback: their last FA Cup tie against a lower-division club, in fact.

Just 11 months ago, Blackburn Rovers eliminated Arsenal from the fifth round, in a 1-0 defeat that seemed to bring the entire Arsene Wenger era to a particularly bleak nadir.

That it so quickly followed a League Cup loss to lowly Bradford City reflects the fact that easy wins over teams like Coventry City should not be sniffed at.

By contrast, Arsenal appear to have made a real virtue out of claiming victory in all the games they should. To put that into a more relevant context, try and count the number of games since the opening day defeat to Aston Villa where Arsenal dropped points they shouldn't have.

Sure, there was the 1-1 draw away to West Brom, and a similar result at home to Everton -- perhaps even the 2-1 defeat to Borussia Dortmund. As the very esteemed status of that last example indicates, however, there haven't been that many and all of them have been marginal.

Wenger has so far developed a genuinely admirable habit for professionally doing all that is necessary. Needless to say, that could go a long way to defining and deciding a league campaign currently involving the rightest of margins at the top.

Fully reflecting all of that, there was the cold-blooded manner in which Arsenal even went ahead so quickly in this game. No hiccups, no holdups ...

2. Lukas Podolski suggests form at the right time -- as do a few others

It was only 24 days ago, on the first day of the year and the opening date of the transfer window, that Lukas Podolski appeared to indicate just how badly Arsenal needed a backup striker for Olivier Giroud. Just returned from injury, the German looked badly off the pace as he wasted a number of opportunities against Cardiff City and did even worse with his general touches. It was dismal, with the poverty of his performance only put into further focus by the fact Nicklas Bendtner came off the bench to eventually score the key goal in a 2-0 win.

Wenger still hasn't added to the squad, but it does appear that Podolski has worked on his fitness. The No. 9 was razor sharp here, finishing so smoothly to open the scoring after just nine minutes.

It wasn't the only element of the game that would have had Wenger nodding his head. For a start, there was the player who initiated the move. Despite much recent criticism, Mesut Ozil cruised into space to release Podolski on a killer pass. It was gorgeous.

If that move summed up the modern Arsenal, however, the second goal had a few throwbacks to the past. On 27 minutes, Per Mertesacker produced the kind of front-post back header that assistant manager Steve Bould would have been proud of, allowing Podolski to nod in from close range in the manner that Tony Adams did so frequently from 1988 to 1995.

Beyond all that, then, was also the fact that Giroud may be beginning to fix the problem that created the need for a backup option in the first place.

Before this game, the French striker had scored just four in his last 15, compared to eight in his previous 14. It was a drop-off that seemed to reflect a recent laxness in the team as a whole. By the 85th minute, however, Giroud had come off the bench to slot the third goal of the game.

In the meantime, precocious 16-year-old Gedion Zelalem came off the bench to make his much-awaited Arsenal debut, before another crafty midfielder finished the job. Santi Cazorla continued his fine recent form (scoring four goals in four games) by burying a bounced effort.

3. Coventry show defiance off the pitch as well as on it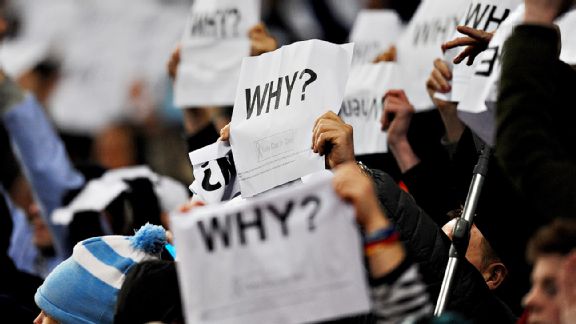 Mike Hewitt/Getty ImagesCoventry City fans made their displeasure of team ownership known with several protests throughout the match.

About 18 minutes into this game, with Coventry City having just gone 1-0 down, captain Carl Baker surged forward with a fine run to suddenly check inside and force an excellent save from Lukasz Fabianski. Given that it came so quickly after Arsenal's opening goal, it was a spirited and defiant response. It was still nothing compared to the Coventry fans.

On 31 minutes, the away crowd seemed to bring the Emirates to a standstill and the home supporters to their feet, as they began a 60-second protest against the lamentable situation their club are in.

Thousands of banners raised up with the message "Why?" -- asking of a situation in which the team continue to play their home games as far away as Northampton as part of a forced ground share.

"We want SISU out," they chanted, about the regime that has left the League One club so adrift.

A widespread sympathy for their plight was revealed in the 68th minute, when a lone fan went out onto the pitch to attract further attention for the protest. It said much that the Arsenal stewards were extremely slow to escort him from the pitch, and when they eventually did, a number of Coventry players came over to hug him and shake his hand.

Arsenal look onto bigger things. Coventry have bigger problems.