Three Things: Man United vs. Sunderland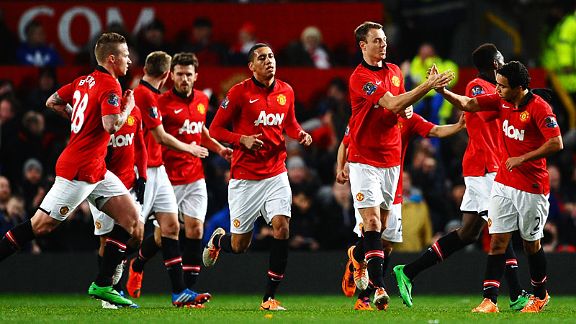 AllsportJonny Evans gave Man United a winning platform but David Moyes' men failed to take advantage.
MANCHESTER -- Three thoughts from Man United's stunning penalty shootout defeat that put Sunderland in the Capital One Cup final ...

Theatre of nightmares

Just when Manchester United think things are getting better, they get worse. It has been the story of a season. Another dreadful night for them -- a 2-1 win on the night, a 2-1 defeat on penalties after a 3-3 aggregate score -- could prove to be the microcosm of a miserable campaign. Now there will be no silverware in David Moyes' debut year at Old Trafford and no all-Manchester final.

Instead it is Sunderland, spirited Sunderland, who may have a major honour. After starting the season with one point from seven games, it would be quite an achievement, while after inheriting the defending champions, Moyes' plight gets worse by the game. He seems ever more beleaguered.

- Report: Man Utd 2-1 S'land (1-2 on pens; 3-3 agg)
- Payne: Calamitous defeat leaves Utd in peril

United were two minutes away from Wembley when Phil Bardsley struck, his shot spilled by David de Gea into his own net. Yet after Javier Hernandez leveled from Adnan Januzaj's low cross in what appeared to be the 121st minute, the sense was that they had the momentum in the subsequent shootout. Then, when Sunderland's first two penalty takers missed, it was another opportunity.

Instead, some extraordinarily bad spot kicks -- Danny Welbeck, Januzaj, Phil Jones and Rafael da Silva all failed to score from 12 yards. The lack of conviction epitomised their team. The faulty radars of the two Englishmen were symptomatic of a side that has lost direction. Darren Fletcher's cool effort apart, this was one of the most abject displays of penalty taking imaginable.

Now, barring the most improbable of Champions League triumphs, United need to finish in the top four to prevent this campaign being branded an unmitigated disaster. At least, the pessimists in their support may reflect, there will be no humiliating Wembley defeat to Manchester City.

So what went wrong? How did this happen? Once again, United were not clinical enough, something only partially attributable to the absence of their two premier strikers, Wayne Rooney and Robin van Persie. A well-worked set piece converted by Jonny Evans brought a breakthrough but every goal feels a huge effort for this side. There are too few of them and the two they eventually did score only made it a Pyrrhic victory. For Sunderland, it was a glorious defeat. Such is the nature of two-legged ties.

Their progress was all the more admirable as United had something Moyes has felt they have often lacked: luck. Chris Smalling hauled down Steven Fletcher after mis-kicking and escaped unpunished when a red card might have been the appropriate sanction. Though Moyes was fined by the FA for his comments about referee Andre Marriner after the first leg, he was rather more fortunate on this occasion.

Considering Rafael could have been sent off at the Stadium of Light, if either team feels aggrieved with the officials over the 210 minutes, it should be Sunderland. Though they'll be too busy celebrating their first League Cup final appearance since 1985.

Sunderland have turned a corner

Trophies are famously scarce for the clubs from the Northeast. Even semifinals don't come around very often for success-starved Sunderland; this tie was their first for a decade and having followed their club through thin and thinner of late, there was the sense the fans wanted to make the most of it.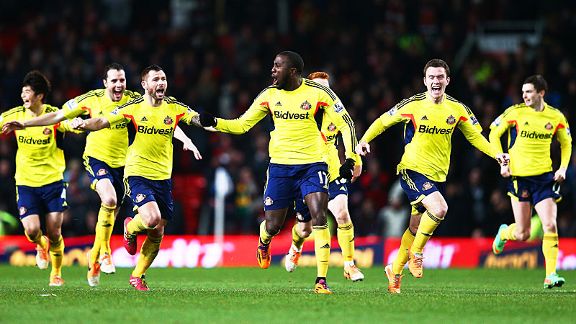 AllsportSunderland's Capital One Cup win proved they've turned the corner.

Old Trafford was unusually noisy but the atmosphere owed much to the Sunderland support. The 9,000 visitors made a raucous din. Perhaps that backfired early on as their United counterparts responded in kind and Moyes' team began with more urgency than usual. Nevertheless, Sunderland played with the confidence they could prosper at Old Trafford, getting stronger as the game progressed and positively brimming with belief by the end. There is the sense that they have turned a corner after their hideous start to the season and their progress could be capped by a first major trophy in 41 years.

Certainly in Gus Poyet, they have a far superior manager to the unintentionally amusing Paolo Di Canio. The Italian's Black Cats were too open at times. Yet the Uruguayan's side began with a well-drilled 4-5-1 as Lee Cattermole, Jack Colback and Ki Sung-Yueng formed a tight trio in the middle of midfield and allowed them to spring counterattacks.

The South Korean midfielder again suggested that, for all the many mistakes the former director of football Roberto De Fanti made in the transfer market, his arrival was a coup.

On the left, another of the better bits of business, Fabio Borini, delivered a decidedly mixed performance. He should have been cautioned for a foul on Januzaj, was booked for fouling Evans and appealed in vain for offside when the Northern Irishman scored, even though he was the man playing him onside. In between, however, Borini indicated why Brendan Rodgers signed him for Liverpool 18 months ago, as he combined a willingness to graft defensively with an ability to threaten. A dipping volley almost brought a goal and his eye for a strike, which has been increasingly apparent in recent weeks, is a reason Sunderland should be positive about their survival chances. The revitalised Adam Johnson provides another.

A Mata of where and when

The day Moyes has been anticipating for eight months is almost upon us; since the announcement of his appointment last May, he has hoped to unveil a signing who would underline his ambition and boost his credibility. After a summer of frustration preceded an unhappy reunion with Marouane Fellaini, the imminent arrival of Juan Mata promises rather more -- and also provokes many a question.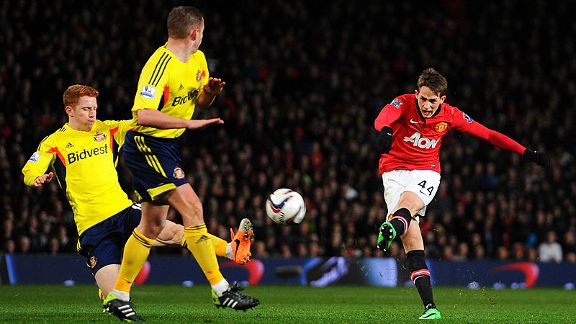 AllsportEven when Juan Mata arrives, Adnan Januzaj's place is assured. Though United have lots to fix before the transfer window closes.

Many have wondered how and where Mata will fit in at United. In this side, the answer is comparatively simple: he could slot in behind one striker. When van Persie and Rooney are added to the equation, it becomes more complicated. Yet even in the absence of the two resident superstars, Moyes may have offered a hint of his tactics when the Spaniard signs.

The Scot dispensed with out-and-out wingers altogether and started with No. 10s, Shinji Kagawa and Januzaj, cutting in from the flanks. The teenager's future is assured and, once again, he was United's most creative player; indeed, central as he often is to their plans, he can look more dangerous in a wider role, as Sunderland know to their cost.

Yet that leaves the Japanese playmaker as the likely fall guy; certainly the interpretation of the dedicated band of Kagawa followers from his homeland is that Mata's recruitment will sound a death knell for their compatriot's United career.

If Moyes' mind is made up, Kagawa's influential performance was a case of too little, too late. Nonetheless, it was one of his brighter showings in a United shirt. He provided the cross when Darren Fletcher struck the post. Time and again, he looked for Hernandez, the Mexican's movement chiming with the quick-witted Japanese's eye for a pass. However, it was telling that, with the tie finely poised, Moyes replaced Kagawa with Antonio Valencia. Kagawa does not command his confidence and, in time, it is possible to envisage United playing 4-2-3-1 with Mata, Rooney and Januzaj behind Van Persie.