Three Things: West Ham vs. Man City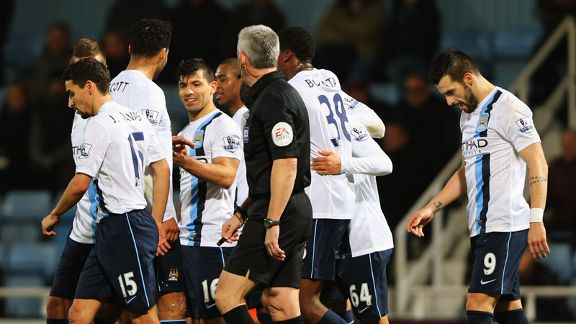 GettyImagesSergio Aguero doubled City's lead on the night against West Ham.
LONDON -- Three things from Man City's comfortable 3-0 (9-0 aggregate) Capital One Cup semifinal victory:

Relentless City power through

"It could be worse. You could have Moyes," sympathised Manchester City's travelling fans with their West Ham counterparts.

This could be their most fun season ever. While Manchester United slump, City are on course to succeed their enemies in red as the country's leading force, its trophy-winning machine.

Playing a game that was already won revealed the depth of their relentlessness. Only at 8-0 up on aggregate did they show signs of slackening. Even then, Alvaro Negredo soon barrelled through to take the advantage to nine. It seemed rude not to go for 10, but they rather surprisingly missed out.

What's worse for United is that should they manage to overcome their first-leg deficit to Sunderland, then City lie in wait at Wembley. David Moyes will need to have learned how to beat the big teams by then or that could get ugly.

Manuel Pellegrini might not like to admit it, but he is following a Jose Mourinho blueprint. Winning the first trophy possible is a good way to lay the foundation for a dynasty. Mourinho's Chelsea did just that in Cardiff in 2005, always fielding a strong team to preview their future dominance.

- Report: West Ham 0-3 Man City (0-9 agg)

Pellegrini saw little need to experiment in the League Cup, a competition typically used for fielding squad players and stars in the making. Dedryck Boyata's limited skills got a run-out, but more interesting was Marcos Lopes, an 18-year-old squat Portuguese-Brazilian playmaker. Playing as a nominal No. 10 while wearing 64 on his back, he looked more than assured on the ball and seemed unfazed by playing passing triangles with the likes of Sergio Aguero and Negredo, two megastars whose presence up front seemed almost unfair to the Hammers.

In the light of Negredo's scintillating form, it is worth remembering that he was purchased as a backup striker to Aguero. His 23 strikes currently outstrip his prolific partner by one goal in a season where the partnership is back in fashion. City just cannot stop scoring; nobody else can stop them doing it either.

The death of a dream

The reverie ended quickly. With a third-minute nod of Negredo's head, fevered dreams of West Ham achieving the impossible were ended. Lopes' cross produced the usual end result from City's prolific Spaniard.

When Aguero slotted home for a strike in his first City start since Dec. 14 at Arsenal, the Hammers were in imminent danger of conceding their own proud history. In 1966, a West Ham team featuring the England trio that won the World Cup that year put 10 past Cardiff over two legs. That was once a League Cup record, but one of Bobby Moore, Geoff Hurst and Martin Peters' lesser-known accomplishments faced being wiped from the history books. At least that was salvaged from a miserable evening.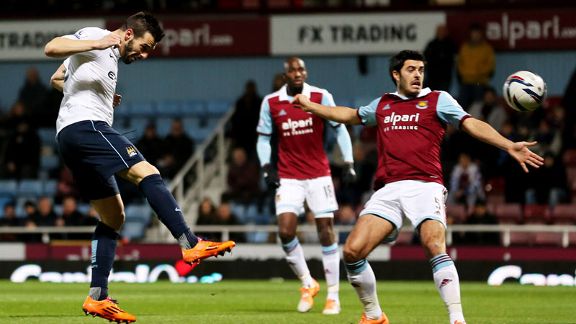 GettyImagesAlvaro Negredo headed home for City in the opening minutes at Upton Park.
Up in the stand that bears Moore's name, fans stood for as long as they bothered to stay, but Upton Park's rousing roar was neutered. Irony was the order of the day. Some of the Irons fans' proudest moments have come in defeat. In 1991, an FA Cup semifinal thrashing by Nottingham Forest was soundtracked by a permanent chorus of "Billy Bonds' Claret and Blue Army," but there was to be no repeat of such rousing defiance here.

Those were more innocent times, perhaps, and those were away fans. Upton Park has been a broken home all season, the place where relegation fears have been crystallised by inept, blunt performances.

When Kevin Nolan had a goal disallowed for offside straight after Negredo's first, referee Chris Foy proved something of a spoilsport even though he was prescribing the laws of the game correctly. West Ham would not be making a contest of the night. Instead, the time until the final whistle would be counted down as the club's season enters the one-shot deal of a relegation dogfight.

The Hammers' months ahead are going to be a difficult watch.

Running on empty

Upton Park's usually cramped corridors were empty. What is usually a snaking queue for the bar was a case of walk-right-up. Even the prematch announcer sounded half-hearted in his sales pitch for a relaunched club "onesie." The Clash's "London Calling" got stuck on a loop too.

Perhaps there were other concerns for the good folk of East London. Hammers fan Danny Dyer's new role as landlord of the Queen Vic in "Eastenders" coincided with kickoff. The Olympic Park that will soon be the club's home is now open to the public. There are some last-minute bargains to be had as the January sale concluded "up West" in the nearby Westfield Centre.

There was also the small matter of West Ham being six goals behind against the strongest squad in the English game. A chance to see what would have been the greatest comeback in the history of this competition and many others was sacrificed en masse. The problem of selling tickets at the full price of 42 pounds before the first leg meant that beyond "kids for a quid" no cut-price offers could be made in fear of outraging those who had already paid. The crowd was announced as 14,390 -- 20,000 fewer than capacity.

Andy Carroll was making his first start since May but lasted only the first half while Nolan was back after the extended suspension he received for two red cards in three weeks. Alou Diarra, the onetime France captain who spoke this week of making the wrong decision in joining the Hammers and desiring to leave, was also started. Both he and Nolan might consider their involvement as some kind of penance for past sins.

This turned out to be no night to "play the kids." Sam Allardyce already rolled that dice at Nottingham Forest and was punished 5-0. Repeating that would probably serve to demoralise the next generation altogether. Instead, the veterans had to play out a game that few wanted to see.