Ireland's World Cup dreams take a blow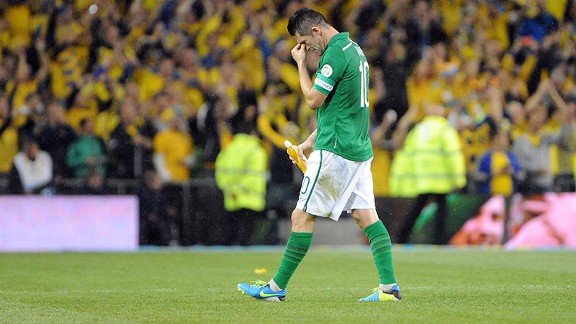 GettyImagesIreland's Robbie Keane shows his disappointment.
It all started so brightly, despite the appearance of dark clouds just ahead of kick-off, as the Republic of Ireland supporters began to believe that only could Sweden be slayed, but a World Cup ticket could be secured too.

Having only beaten the Faroe Islands in their three home qualifiers before this match, Giovanni Trapattoni's team knew that it was win-or-bust here. Second place in Group C was a three-way tie between Ireland, Sweden and Austria, so any slip up at this late stage would tilt the balance for one of the contenders.

It should have been Ireland who grabbed that advantage after Robbie Keane fired them in front and they bossed the bulk of this encounter. Yet goals from Johan Elmander and Anders Svensson gave the large travelling support plenty to cheer about on a cold night that reaffirmed the much-held view that it's time for Trapattoni to go.

There is no cruelness in expecting the 74-year-old to lose his job after this narrow defeat where Ireland were the better team, it is just part of the nature of modern football. He knows that it's all about results and this result leaves Ireland playing catch-up and hoping for miracles to be part of the World Cup party in Brazil next summer.

A new manager with new ideas can bring new optimism going into the next qualifying campaign for the 2016 European Championships. Expect plenty of names to be circulated in the coming days -- the home supporters reacted positively when Norwich City boss Chris Hughton was spotted on the big screen -- even though Ireland travel to Austria for another big game.

However, if this game proved anything, it was that there is plenty for Ireland to build on. For the first time in this qualifying campaign they looked like a team who wanted to win by playing positive, counter-attacking and that allowed them to expose Sweden as the ordinary side that they were -- they possessed as many tricks as a magican in a sleeveless shirt.

Then again, it should hardly be surprising that this Irish team could play like they did in the first half as they had six Premier League regulars in their starting line-up and plenty of quality. The talent was always available to Trapattoni, he was just slow to realise and he now appears to have run out of time to transform them into a team that can clinch a play-off spot.

Sweden must now fancy their chances to snatch that spot despite being so average. The one player who could make a difference for them was Zlatan Ibrahimovic, but he was absent so much during this game that he could have nipped into Dublin city centre for a spot of late-night shopping and nobody would have noticed.

The Swedes did take both of their goals well, although their attacking display was more acurately summed up by Sebastian Larsson's amazing miss on the half hour when all alone at the back post. Somewhere Thomas Brolin was shaking his head in disgust at that one.

Although, Ireland didn't have the fuel in the tank needed to rev the engines after Svensson scored on 57 minutes. They needed help, they needed inspiration. So what did Trapattoni do? He replaced the lively Jonathan Walters with Simon Cox – a Championship striker who is only back from injury to play on the right wing. And that was with Robbie Brady, Anthony Pilkington and Wes Hoolahan also on the bench.

The player who should have been carted off was James McClean, who somehow tricks people into believing that he is being productive despite the fact that his hit-and-hope crosses rarely make it past the first defender. Anyone would have been mistaken for thinking that he was Aiden McGeady -- the other over-hyped winger who Trapattoni is fond of.

Although, it wasn't down to personnel issues why Ireland lost this game, it was due to basic errors. They were too slow to close down Mikael Lustig for the cross that Elmander headed in after getting in front of Richard Dunne, while nobody tracked Svensson's run from midfield. At this level, with so much at stake, those incidents cannot happen.

Rather than spend the next number of days and weeks looking for scapegoats, the FAI should move quickly to announce that they are indeed ready to embrace a new era. Trapattoni's five-and-a-year reign almost brought Ireland to the 2010 World Cup, it saw them humilated at Euro 2012, and now it is about to finish with failure to qualify for the next World Cup.

There is the core of a good squad to work with, in the likes of Seamus Coleman, Ciaran Clark, Marc Wilson, James McCarthy, Brady and Shane Long. Although they need the right leader to implement the right style of play and ensure that off-field antics such as isolating players and not being able to properly communicate with them does not distract from the goal of mixing it with the big nations.

It would be nonsense to suggest that Ireland were never good enough to clinch second spot in Group C, where ordinary sides like Sweden, Austria, Faroe Islands and Kazakhstan also trailed behind Germany. They should have been in for that runners-up spot, but now that looks unlikely and that means change should follow.