Champions League tightrope brings best out of Gunners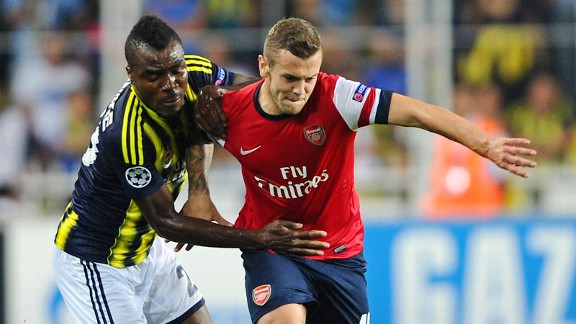 BULENT KILIC/AFP/Getty ImagesJack Wilshere and Arsenal showed their muscle in the first leg of their Champions League playoff win at Fenerbahce.
When the world assumed the fire in Arsenal's bellies had been extinguished, they responded at the moment they most needed to. In an atmosphere at Fenerbahce's Sukru Saracoglu Stadium that sizzled with its usual intent, Arsene Wenger's embattled side puffed out their chests rather than retreating into their shells.

-- Match report: Fenerbahce 0-3 Arsenal

Maybe the mania of Istanbul provided Arsenal's players with the stimulus a quiet transfer window has thus far failed to. On social media, Jack Wilshere and Aaron Ramsey were actually enthusing about the presence of the flare-wielding supporters making merry outside the visitors' hotel on the night before the game, seeking to disrupt the players.

The Wales midfielder in particular might not have seen the Sukru Saracoglu as hell, having scored his first goal for the club there as a 17-year-old in a famous 5-2 win in October 2008. He might have spurned a 25th-minute chance to repeat the trick, shooting just wide from the edge of the area after a flaky Bruno Alves clearance, but his moment was to come.

Ramsey's goal midway through the second period as good as sealed the tie and was a deserved reward for an enterprising display as Arsenal's nominal midfield sentinel. Home goalkeeper Volkan Demirel probably should have saved it, but unlike the last time he erred with opponents' long-range shooting in the Champions League, in a thrilling tie in Sevilla in March 2008, there was little chance for redemption -- Demirel had sensationally saved three shootout penalties on that sweltering night. On this one, he didn't get a sniff of Olivier Giroud's spot-kick third.

Ramsey had been at the genesis of the opener, threading a delightful ball behind Michal Kadlec for Theo Walcott to cross and Kieran Gibbs to fire home a rare goal. It was an avenue that had looked promising since Wilshere's fifth-minute burst through a static midfield to set away Walcott, who could have laid on a sitter for Giroud with quicker thinking.

Fenerbahce's disinclination to either press -- with the notable exception of Dirk Kuyt -- or attempt to impose any sort of tempo on the first half allowed a reminder of a more serene time for Arsenal, in the early days at the Emirates when they were good to watch but frustrating, rather than the current drift. Given that, Wenger might have feared his side were letting a golden chance slip by.

After the break, they put those worries to bed. Maybe we shouldn't be surprised. Arsenal have almost always made this stage look like a breeze. Their nearest flirtation with premature exit was in their last playoff, two years ago at Udinese's Stadio Friuli, where the Gunners overcame going a goal down in the second leg to Antonio Di Natale and survived a missed penalty by the same player before going through. Their other four ties against Celtic, Twente, Sparta Prague and Dinamo Zagreb were negotiated with barely a bead of sweat to trouble the collective brow.

The Yellow Canaries, on the other hand, have form for choking in Champions League qualifying. Exits to Young Boys Bern in 2010 and Spartak Moscow last year -- sandwiching the 2011 withdrawal ordered by the Turkish Football Federation -- were both authored by second-leg falterings at their formidable home. Coach Ersun Yanal's side appeared as paralysed by nerves as predecessor Aykut Kocaman's crop had been before, with a potentially lethal front three of Kuyt, Moussa Sow and Pierre Webo isolated by a leaden midfield and undermined by a porous defence.

Arsenal will face greater sporting challenges in the months to come, but they have responded well to their first genuine occasion of the season. Maybe Wenger's faith in this group is not as misplaced as many believe.