Three Things: West Brom vs. Everton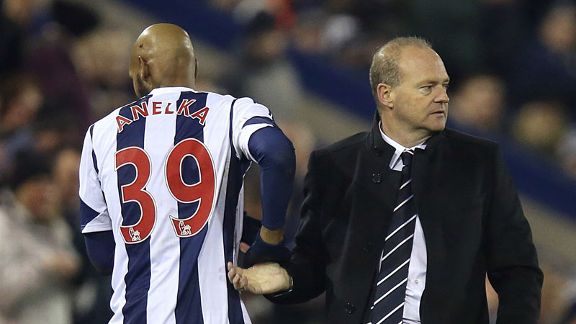 PA PhotosNicolas Anelka played 77 minutes of Pepe Mel's first game at West Brom.
BIRMINGHAM, England -- Three observations from West Brom's 1-1 draw with Everton.

1. Nicolas Anelka's last stand?

Following Monday's announcement from property website Zoopla that it would not be renewing its expiring shirt sponsorship deal with West Bromwich Albion at season's end in the wake of the Nicolas Anelka "quenelle" controversy, all eyes were on the French striker. As the unremarkable sight of Anelka stepping onto The Hawthorns turf with the sponsor's name on his kit suddenly became worthy of note, it was hard not to consider that the site could barely have dreamed of such a coup de publicite three weeks ago.

- Zoopla to end West Brom sponsorship

The announcement of Anelka's name in the Baggies' starting XI drew a mixed reaction; mainly, opinion was divided between supporters of the two teams, suggesting little in the way of strongly held moral conviction on the issue in hand. There were chants in support of the Frenchman from the local fans behind the goal at the south end of the ground, and Anelka rewarded their backing with a strong display.

As local palms begin to sweat, Anelka looked like the cool head needed in the situation. In the ninth minute, his smart pass sent Matej Vydra away, but the scurrying Czech's cross-shot was pushed out by Tim Howard. Anelka then cut in from the left to slice a shot of his own across goal before, on the half hour, he dropped into a Dennis Bergkamp-esque hole to deliver another telling through pass, which Zoltan Gera received to force Howard into a solid save.

In the second period, Anelka showed that his old gazelle-like pace was still intact, gliding down the right to present substitute Victor Anichebe with a chance he should have done more with that simply bobbled into Howard's waiting hands.

New coach Pepe Mel clearly saw something of the leader in Anelka, taking the opportunity of Youssouf Mulumbu's entrance as substitute to converse with his forward. Having already lost Shane Long to Hull through what technical director Richard Garlick presented as economic necessity, the coach could do without having to pass on Anelka too -- perhaps permanently. As he left the field to another big hand when being substituted, there was the nagging sense that this most idiosyncratic of footballers might not be back if the expected Football Association ban is handed down.

2. Everton's Champions League challenge requires greater ruthlessness

As Romelu Lukaku returned to West Brom, the buzz around Everton recalled his excitement, recently expressed, that his new club was on the brink of special achievement. He has clearly been a major stepping stone to that, and it showed, although in a less blood-and-thunder way that might be considered synonymous with his best.

The Belgian received a generous -- and unanimous -- ovation from The Hawthorns crowd when his name was announced before kickoff. Newly shorn of his trademark dreadlocks, he snuck around the back of his former colleagues' defence in the fifth minute onto Sylvain Distin's long through pass but lifted the ball harmlessly wide.

The same combination made good some 37 minutes later, when Lukaku's deft headed flick of another Distin long-range pass sent in Kevin Mirallas to slot calmly home beyond goalkeeper Ben Foster. It was the culmination of a dominant first-half display from Roberto Martinez's team and inevitably came from a move down the left, with Steven Reid seemingly pinpointed for a stern examination.

Bryan Oviedo hit a volley just wide from the edge of the area after Leighton Baines' free-kick was headed out for the home side's first close shave, but Reid was mainly spared a grilling from the Costa Rican. Oviedo, lurking on the right like a trainee Arjen Robben, then collected a Lukaku cross and shot just wide of Foster's left-hand post.

So much was coming down the left that West Brom could be forgiven for nodding off and allowing Seamus Coleman oceans of space at the back post, with Chris Brunt hacking his shot off the line. In the end, it was Everton who became the more somnambulant, certainly by their own zesty standards.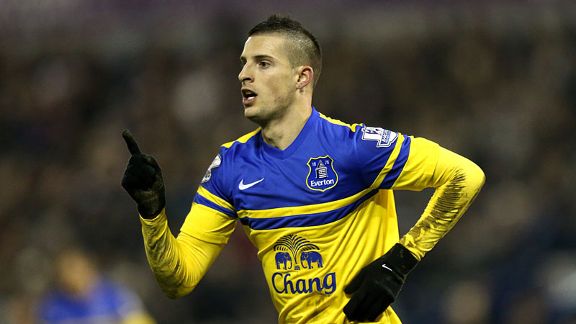 PA PhotosKevin Mirallas opened the scoring for Everton at West Brom.
Martinez knows that if Everton really are to beat neighbours Liverpool for the final Champions League place, they will need to show more of a killer instinct than they did here. This was reminiscent of Everton in the opening stanza of last season -- exhilarating, but not ruthless. They have made great strides under Martinez, but it wasn't evident in the second half on Monday.

3. Pepe Mel's big bow

As Mel made his touchline debut as West Brom's head coach, he was warmly received on this cold night, made to feel at home straight away. One could imagine Mel allowing himself a wry grin when the generously accented PA announcer stumbled through an announcement to a lost Spanish visitor, perhaps recalling the very particular way of speaking in his old home of Sevilla.

If Mel's English is, in his words, "Ana Botella level, but improving" -- referencing the clunky efforts of Madrid's mayor to tame the tongue of Shakespeare -- he gets his message across. From the outset, there was no shyness as the famously hands-on coach pushed the edge of the technical area, cajoling, shouting and pointing his players into position.

He got willingness in return, if not always polish. One frequently had the feeling, especially in the first half, that his side was hanging on, as might be expected against a side of Everton's form and intensity. His team kept its attacking half of the bargain, with the Anelka-Vydra combination showing the sort of spark he would have desired and James Morrison buzzing pleasingly in midfield. It was little surprise that Morrison was the architect of the equaliser, even if it was a shock to see Diego Lugano pop up deep in the penalty box to apply a superb headed finish.

That there was a clear quality gap elsewhere should not be hidden by that welcome goal. Mel worked miracles at Betis, and while West Brom don't quite need that just yet, the new man is undertaking a stiff task with somebody else's players and little room to maneuver. Caretaker Keith Downing did a doughty job in digging out six points during his four-game tenure in the Premier League, but the interminable 23-day gap between Steve Clarke's removal from office and the installation of Mel could yet cost them.