Pressure growing for Moyes as United's fall from grace continues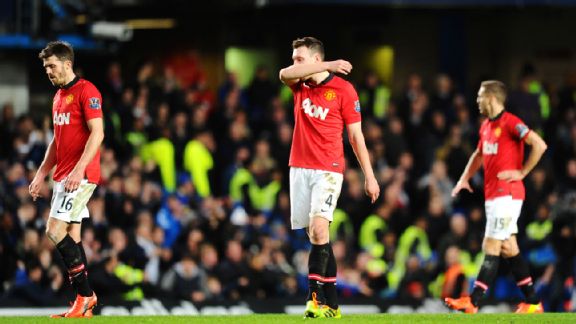 Mike Hewitt/Getty ImagesThe Red Devils' morale is likely at an all-time low after Manchester United lost 3-1 versus Chelsea at Stamford Bridge.
LONDON -- As Patrice Evra made a first-half burst, Jose Mourinho found himself in front of the Manchester United bench and in David Moyes' line of sight. Chelsea's manager apologised immediately, noticeably more respectful to his opposite number than when Manuel Pellegrini visited Stamford Bridge.

That may be a reflection of Moyes not being considered a threat where the Chilean is.

Moyes' miserable record of not winning at any Premier League giants' homes continues. His team has lost to five of the six teams ahead of it in the Premier League table. United have a truly onerous task to catch them.

In an alternate reality, Mourinho could have been spending the whole match on United's bench. Instead, his new/old club is happy to have him back, and watching Moyes' team failings and fadings must have satisfied him that he chose Chelsea. He may not have the squad he wants, but the results are coming, whereas Moyes continues to flounder.

Despite enjoying possession and a commitment to attack, United presented little goal threat until it was far too late. There was no way back from the errors that presented Samuel Eto'o with his second and third goals. Nemanja Vidic twice sold himself to allow Gary Cahill to tee up Eto'o.

"The game came down to two set pieces. We were terrible at defending a corner kick," Moyes said pointedly. Vidic's ears should have been burning.

"I think we deserve to win, but we did not deserve to be winning 2-0 at halftime," said Mourinho. "I think they started the game better than us. It's hard for them to be playing so well and be losing."

The United captain, sent off for a pointless injury-time foul on Eden Hazard, may lead the list for summer exits. Evra has been out of form for a while, and this was no performance to encourage a U-turn. Both he and Vidic are out of contract this summer, and neither looked as if he would be much missed.

Moyes' mantra this season has been to suggest that his team has played well but not got the breaks. That held credence during the first half, but questions of psychology have to be raised. Is a lack of belief at the heart of United's continuing inability to convert pressure into points? Playing well and conceding readily at Chelsea is the mark of a lesser light. United's fade down the table suggests such a status.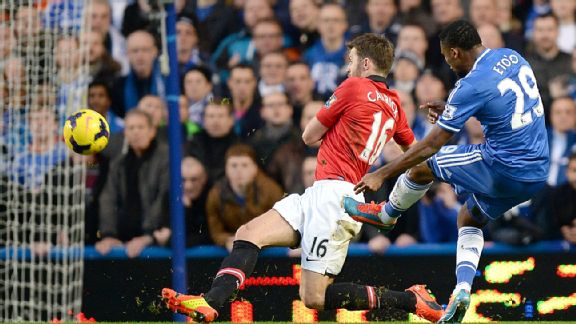 AP Photo/Andrew MatthewsSamuel Eto'o took advantage of porous defending from the Red Devils to score a hat trick.
Chelsea have greater prizes in mind than this expected scalp. Manchester United, 14 points their masters last season, are now 12 behind them. Like Arsenal and City, Mourinho's team has disappeared over United's lowering horizons. Top four is becoming an increasingly distant dream too. Tottenham are now six points clear, joining Liverpool and Everton in looking beyond United's capabilities.

Moyes is shouldering blame, but even if a post-Ferguson dip was expected, United's glamour has faded into an ugly reality. It is difficult to recall this team as outgoing champions. Talk of January transfers could be a case of putting lipstick on a pig. Perhaps this season will be written off without panic buys being paid out for. Wholesale clear-out is a summer certainty.

Adnan Januzaj started in the No. 10 role he is expected to inherit, but way ahead of schedule. In the absence of Wayne Rooney and in the light of Shinji Kagawa's inability to impose himself, giving the teenager such a role was either a mark of fast-growing importance or desperation. Beyond promising early flourishes, it looked the latter.

Should Rooney depart, then a succession plan is in place, but Januzaj did not look ready yet. His waif physique was buffeted and bounced by Chelsea's strongman defenders.

Eventually, Januzaj shifted left, a symbol of a bright start gone bad. Early on, an old-style United move had set Ashley Young into a shooting position, forcing Petr Cech to make an early save. United began in the dominant fashion they once found habitual. Phil Jones clattered though midfield, complementing Michael Carrick, but aside from Young's chance, cutting edge was absent. United's sharp weapons, Rooney and Robin Van Persie, were rumoured to be in London, but neither made the bench. They were particularly missed in those opening stages.

In Chelsea's first attack of note, Eto'o, a player who in his previous Barcelona life punished United in a Champions League final, cut in from the right and saw his shot loop off Carrick and over luckless David De Gea. Moyes must regret all those ladders he has walked under. Chelsea had made the most of an ascendancy where United had failed. United's territorial advantage was squandered by poor final balls and poorly executed dead-ball situations.

"You wanted his job," mocked travelling Reds at Mourinho, who acknowledged the ditty with a wave. A growing number are beginning to wish his application had been successful. "We want you to stay," begged Blues of Moyes as his plight deepened. Beating United was hugely enjoyable for them, even in their rival's reduced circumstances.

Mourinho did not even have to adopt his full big-game face for his 100th Premier League victory. Against Liverpool last month, he was a prowling presence on the bench. For the games that matter, he makes sure that officials and opponents are always aware of him. After Eto'o's third, the figure in black who patrols the touchline while performing a frantic semaphore was no longer in evidence. Instead, he stood with hands in pockets, calm and satisfaction personified, even after Javier Hernandez had converted United's consolation and when Rafael should have been sent off for a two-footed lunge on Cahill.

By contrast, Moyes, shuffling from foot to foot and often muttering to himself, was suffering another afternoon of misery. Though the result was little surprise, defeat piled on further pain.

"It's a massive challenge," admitted Moyes. "I hoped I'd be in a far better position than this, but I am not."