Three Things: West Ham vs. Newcastle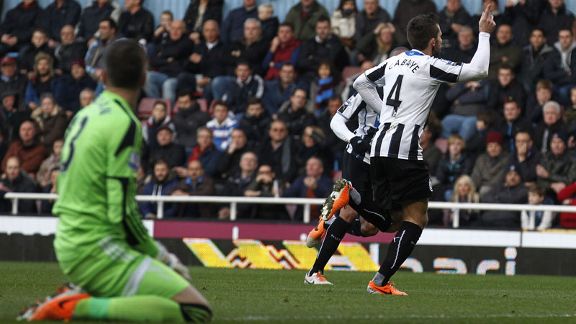 AssociatedYohan Cabaye scored twice to see Newcastle to victory at Upton Park.
LONDON -- Three observations from Newcastle United's 3-1 win over West Ham.

1. Cabaye sinks Sam

No place in top-level English football is as unforgiving as Upton Park. That goes for both visitors and home team. Managers, too, are frequently given a piece of East End mind. Sam Allardyce soldiers on, but patience is membrane-thin. Plenty are willing to tell him what they think and theirs are not complimentary opinions.

Yohan Cabaye's injury-time free kick, which made it 3-1 to Newcastle, confirmed that West Ham will be in the relegation zone at the end of the weekend. They currently look incapable of escaping it.

- Duffy: Classy Cabaye invaluable to Newcastle

Only Mike Williamson's own goal at the end of the first half prevented a full hail of boos at the break, but they were fully audible at the final whistle. After Newcastle's second goal in the 33rd minute, an angry delegation of home fans had to be prevented from storming Allardyce's dugout.

For now, the manager has the support of the co-chairmen, Davids Sullivan and Gold, but for how long? Exasperated resignation filled the air, and especially when Carlton Cole reverted to type and missed a golden chance supplied by stand-in full-back Matt Taylor. The Hammers gave it a better go in the second half, but the biggest cheer came when Andy Carroll made his 62nd-minute entrance. Suddenly, wingers Matt Jarvis and Stewart Downing had someone to aim at. Carroll's first nod down was cheered like a goal, but he next failed to connect with an excellent Taylor ball. From utter hopelessness came genuine threat.

The Hammers need such threats to be carried through if they are to survive. Carroll repeated Cole's trick with a truly horrendous miss. Downing hit the byline, his ball evaded Toon goalkeeper Tim Krul, and the symbol of new hope on whom so much depends merely needed to place the ball. Instead, he chose the Jason Puncheon approach. On the sidelines, Allardyce had his head in his hands.

His team's first 45 minutes had been pathetic, their goal gifted by casual Newcastle defending that probably reflected how easy they had found their opponents. The second half was far better, and should have resulted in an equaliser, but the rescue mission failed when Cabaye drifted in the clincher. How long can Allardyce be safe for? Upton Park does not approve.

2. Gallic charm

It was always unlikely that Alan Pardew would seek a touchline row with "Big Sam" in the fashion he did with Manuel Pellegrini last week. Like the Chilean, Allardyce is older than Pardew but he is probably handier, too. Pity probably played a part, too.

By contrast to the silver fox's hot-headedness, his team have a settled look this season. Last term was a near-disaster only narrowly averted, but with a coterie of French stars now part of the furniture after 12 months at the club, they are a danger to any opponent. A wave of attacks that punished Chelsea on Nov. 2 was probably the best piece of sustained attack by any Premier League club this season, but this being Newcastle, inconsistency is always close at heel.

They have enviable quality in attack, mostly deriving from Gallic flair. Yoan Gouffran, excellent of late, found space on the left, slid his pass expertly to Cabaye, and the midfielder slotted home after picking his spot. It was reminiscent of Cabaye's winner at Old Trafford, and few Premier League teams offer such danger on the counter.

Cabaye might have doubled his tally earlier when drifting a shot wide from similar territory, and that came after Moussa Sissoko should have scored himself. Great holes were being found in the Hammers' defence, and specifically in the territory in front of it, from where Cabaye was finding space and wreaking havoc. It would be no surprise if some of the game's richer clubs came back in for the former Lille man. His brace will drive up his price.

When Loic Remy took the ball down and poked past Adrian to double the Magpies' lead, it was a justified reflection of the pattern of play. The Hammers' hustle was inept and hurried. Pardew's team had pulled them apart at the seams.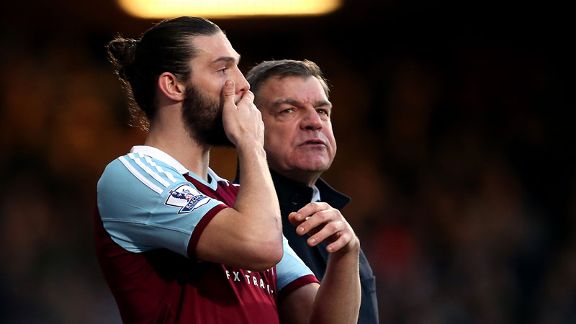 PA PhotosAndy Carroll is still working his way back to full fitness.
3. School of hard knocks

A reshuffle of the club's medical staff might seem an attempt to stem the flow of injuries that Allardyce has been using as an excuse. But, in fact, it seems someone in the Hammers' medical department was headhunted. In his programme notes, the manager welcomed in Dominic Rogan, once of Everton, as head physio to replace Andy Rolls, who has joined Arsenal.

Carroll is still not fit enough to start. Equally importantly, James Collins has returned after injury. With Winston Reid making his way back, the Hammers will soon have a first-choice central defence to call upon, one which used to be a decent guarantee of clean sheets. Collins played well enough, but Roger Johnson offered another reminder why Premier League clubs rarely loan from League One.

Despite some rather hopeful advertising for Tuesday's League Cup second leg with Manchester City, cup football has been relinquished, with the reported blessing of the owners, such that the Premier League survival battle is now the be all and end all. West Ham fans are entitled to feel bleak.

Allardyce has always been able to speak of this being a results business to those who criticise his team's lack of artistic impression. Victory at Cardiff was something of a vindication after the concession of 11 goals in four days, but home form desperately needs to improve if meltdown is to be avoided. This was no performance to pull factions back together.

The Hammers boss did not receive much sympathy from Newcastle fans. Though he still expresses amazement at the speed of his downfall at St James' Park, they recall pig-iron football and bad results. The travelling Toon Army took much amusement at the expense of their former manager. They were unkind about his body mass, and also the size of his head. As Newcastle piled on the agony, there may have been more than a few Irons tempted to join in the mockery.