Three Things: Arsenal vs. Fulham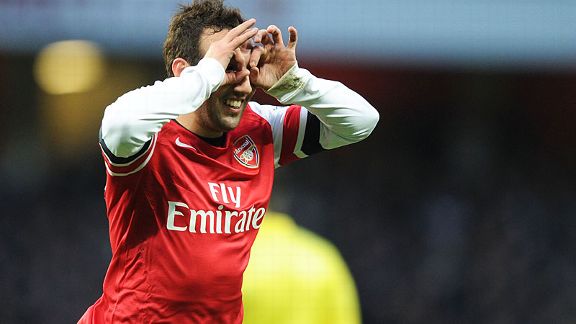 GettyImagesSanti Cazorla celebrates after netting his second against Fulham.
LONDON -- Three observations from Arsenal's 2-0 win over struggling Fulham at the Emirates.

1. Cazorla steps right back up

At their best this season, Arsenal's midfield has been kaleidoscopically good. Just when defences think they have one of their attackers under control, another surges through with a rousing run. At their worst, however, that variety has proven hugely beneficial in a broader sense.

In general, it's safe to say that Santi Cazorla's second season has not quite been as eye-catching as his first.

That is emphasised by the fact he only scored one goal in his first 29 games, but there has also been a slight fluency missing from his play.

- McNicholas: Cazorla's ambidextrous excellence

Cazorla stood out so much in 2012-13 because he was the single player added, a bit of new spark that Arsenal had been painfully lacking. However, this campaign has seen the Spaniard overshadowed by both new faces and new form.

First, it was Mesut Ozil, then the resurgent Aaron Ramsey, and most recently Jack Wilshere.

Against Fulham, Ozil was enduring one of his less lively afternoons; Ramsey was not in the squad and Wilshere was just a touch off his top game. So, what better time for Cazorla to rediscover his most rousing type of displays. Except, he didn't just make Arsenal tick, he was also their match-winner.

At 58 minutes, the playmaker brought his wonderful fluency to fine end product by finishing off a superb Arsenal attack in the box. In the 62nd minute, he displayed his excellent technical precision with a low shot that evaded Fulham goalkeeper Maarten Stekelenburg's grasp.

That, in contrast with the earlier stat, made it three strikes in three games. However, it was genuinely about more than the goals. Cazorla was one of the few Arsenal attackers successfully grasping the game in a largely tepid opening half.

After his goals, then, he seemed to grow in confidence even more. One single-touch takedown from a high cross-field ball was particularly exquisite, and he was at the centre of so many surges forward.

The most significant aspect of all this for Arsenal is that, just when it seems they need another striker to complement a jaded Olivier Giroud more than ever, they have no shortage of options behind. There is generally always someone ready to rise up.

That could end up proving the most valuable quality in their title challenge.

2. Still striding

Arsenal are still in first place and they are providing encouraging evidence of a second gear. Yes, Arsenal were expected to beat Fulham at home, but it also confirmed to a developing trend of the past few weeks. The fixture was very similar to the win over Cardiff City on New Year's Day. After a poor first half in which the visiting side began to grow and fancy their chances, Arsenal responded in the most assertive fashion.

It was perhaps slightly more impressive, though, because of the more extreme manner in which Fulham kept them bay. Hectic goalmouth scrambles either side of halftime, not to mention some fine saves from Stekelenburg, seemed to suggest this would be one of those days.

Instead, Arsenal showed that they are true contenders by taking care of business.

Whereas once you might have said such harder-fought performances were evidence of a previously surging team starting to slide, it now seems no more than a temporary dip -- in terms of fluency -- that they are increasingly able to weather.

While there were some questions in this game -- not least the fact Giroud now badly needs help -- there were also a number of positives: Nacho Monreal's solid stand-in performance, Cazorla's display and, most of all, this resilience.

3. Fulham remain a hugely difficult team to decipher this season

On the face of it, first of all, the feeling persists that Fulham should be a comfortable mid-table team and have been somewhat hostage to circumstances. As Rene Meulensteen argued afterward, "the performances have been good but haven't necessarily yielded results".

Reinforcing that view, this was actually quite a decent display in itself, and would have yielded at least a point against any of the numerous sides with less quality than Arsenal.

There was also, however, the curious nature of it. Whereas Fulham have the worst defensive record in the division and looked particularly porous at the back last week against Sunderland, there could be no disputing a radical improvement at the back with the return of Brede Hangeland and Stekelenburg.

But it was not just the names. It was also the numbers. At various times, they had nine men in their box, which was something we haven't quite seen in many of their recent games where they lost but could've possibly forced a result.

It may not be a purist's favorite approach -- particularly for a manager as well known for his attacking play as Meulensteen -- but a more conservative approach could be essential to this team eventually avoiding relegation.