Benfica honor Eusebio perfectly by ending Porto jinx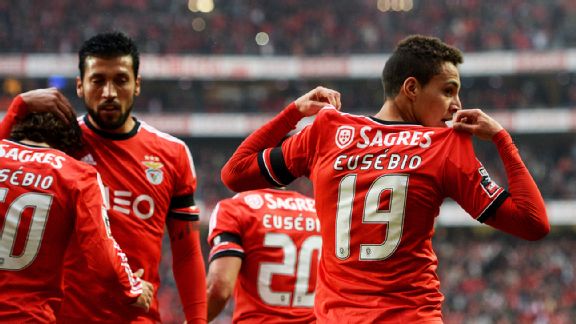 Francisco Leong/AFP/Getty ImagesBenfica sported Eusebio's name on their shirts and the sentiment carried through in their spirited win over Porto.
LISBON -- Under teeming Lisbon skies, Benfica's first game since the death of the great Eusebio began with according respect and sobriety. Fans held up pieces of black material to make a mosaic of mourning, a film of A Pantera Negra was shown to a soundtrack of "My Way" and a minute's silence was well observed, despite the unwelcome shouts of a (mercifully) few idiots.

It ended in a raucous O Classico triumph, with champions Porto firmly put in their place in a typically feisty encounter, beaten 2-0. If neither of these giants have truly convinced this season, Benfica coach Jorge Jesus looks more likely to find redemption from the demoralising blow-out of last season's end than Paulo Fonseca does of convincing the masses that he truly has what it takes to be a Porto coach of note.

Of course, the gratitude for Eusebio will continue. Club president Luis Filipe Vieira has closed off the area around the statue at the Estadio da Luz, avalanched in scarves and other tributes, while Benfica's shirts will carry an image of Eusebio on them from next season.

Yet there was a sense that the real goodbye had been said, in-house, with Monday's funeral that took Eusebio's body from his spiritual home at the Luz to the cemetery at Lumiar. In this unusually early Sunday kick-off, Benfica looked for the win against their bitter rivals Porto -- one that would take them top -- as the best means of remembrance.

O Rei -- "The King" -- would have understood. Rightly noted as a great sportsman, he was also a fierce competitor and knew this fixture as well as most, having taken part in it on 33 occasions. Everything stops for O Classico.

He had been enveloped in it. The one sending-off of Eusebio's career was in a classico, at the Estadio das Antas (the Dragao's predecessor) in October 1964. Having scored one direct free-kick, he was ordered off by referee Porfirio da Silva for taking another in the second half before the referee's whistle. The home fans applauded Eusebio from the pitch and Porto's coach Otto Gloria -- who went on to manage Eusebio at Benfica between 1967 and 1970 -- hugged him when he got to the touchline.

As flags bearing images of the great man were flown, it was worth the home players taking them in for some inspiration. Going into this game, Benfica were on their worst-ever run in confrontations with Porto, who were unbeaten in the last seven Liga fixtures between the two.

Whether lifted by the need to produce for the occasion or simply focused on the job in hand, they never looked like faltering. The morning edition of O Jogo suggested that key midfielder Nemanja Matic had refused to either train or play, to protect himself from accidents ahead of an anticipated move to Chelsea. In the event, the Serbian was present in the starting XI and showed all the industry and drive that anyone could hope for.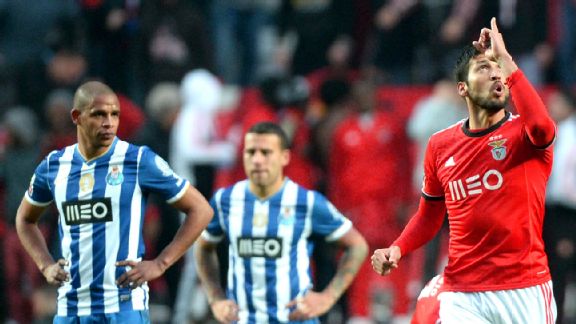 Francisco Leong/Getty ImagesEzequiel Garay's goal put the result beyond doubt. But Benfica's joy at defeating Porto could end with their best players leaving.

However overloaded Chelsea might be with creative talent behind Fernando Torres or Samuel Eto'o, Matic would rarely be quite as stacked with responsibility at Stamford Bridge as he was here. The inclination is to claim that Benfica were setting up in a 4-4-2, but the reality was bolder -- more of a 4-2-4, with neither Lazar Markovic on the right nor Nicolas Gaitan on the left consistently the biggest employer of defensive effort.

Former Boavista coach Jaime Pacheco had suggested in an interview with O Jogo earlier in the week that a switch to 4-3-3 might be more prudent for Benfica, and that "only an idiot" wouldn't change his approach in the face of differing demands. Yet Jesus has rarely lacked bravery, and his positive approach quickly paid off.

In the 13th minute, Markovic's lithe slalom into Porto territory was followed by a slide-rule pass through to Rodrigo on the left. The Spain striker has one of the more powerful left feet in the business and quickly smashed it high into the top of Helton's net at the near post. The Luz erupted.

Porto's Fonseca struggled to respond. He has all the right moves as he prowls the technical area -- the expectant arm-fold, the point into position and the opened-armed imploring of the referee -- but none of it convinces. His team managed to pull off the perplexing paradox of playing with defensive recklessness yet being utterly toothless. Even as they began to dominate possession as the first half progressed, Benfica's stand-in goalkeeper, Jan Oblak, was a virtual spectator.

One of the game's other star attractions, Jackson Martinez, spent most of the first 45 minutes looking like a snooker player without his cue. The Colombian was responsible for over 40 percent of his club's goals in the season leading up to Christmas, but had precious little service here. He might have equalised in the dying embers of the first half, but prodded Lica's low cross from the left wide with the goal beckoning.

That was pretty much as good as it got for Porto. Helton had already beaten out one effort from the lively Markovic when Benfica pulled further in front. Defender Ezequiel Garay -- another player frequently linked with a move away -- rose unchallenged to head in an Enzo Perez corner and the roar from the stands confirmed that finally, on this of all days, the jinx was to be broken.

In the aftermath of that second goal, Fonseca rolled the dice, sending on the returning Ricardo Quaresma -- without a game in over six months -- for Lica. The visitors had a slice of good luck shortly after when Jackson inexplicably only received a yellow card for swinging an arm at Maxi Pereira in full view of referee Artur Soares Dias, and again when Rodrigo smashed over a glorious chance to seal it when clean through after Porto's defence again folded.

There was to be no more. As Fonseca prepared to send on Nabil Ghilas for a bit of extra firepower, right-back Danilo took an unconvincing tumble in the area which earned him a second yellow card. The coach subsequently turned and told a dejected-looking Ghilas to go and sit back down.

If the gap between these two sides continues to be as pronounced, Benfica will be well set to deliver the best possible tribute to Eusebio -- the recapture of the Liga title after four years -- come May.