Three Things: Newcastle vs. Man City
NEWCASTLE, England -- Three observations from Manchester City's 2-0 win over Newcastle, which came in controversial circumstances.

1. Offside law continues to confuse and anger

It took just eight minutes for City to strike, but what seemed like a precursor to an away-day demolition instead only just secured three Premier League points with the help of a late effort from Alvaro Negredo.

It could have all been so different. As good as City's first goal was -- David Silva's vision, the attacking intent of Aleksandar Kolarov, the finish of Edin Dzeko -- it should have been canceled out.

Often encouraged to shoot by patrons of St James' Park, midfielder Cheick Tiote once again indulged them. Only this time it went in. A vicious drive from 25 yards -- his first since he drew Newcastle level with an infamous volley against Arsenal in the 4-4 draw in early 2011 -- hit the back of the net after finding its way through a crowd of players, but a devilish surprise awaited him once he had finished celebrating.

Offside was the call, Yoan Gouffran the culprit. Although three other Newcastle players were within touching distance, the Frenchman was the man adjudged to have been interfering with play by the linesman. In truth, Joe Hart probably wouldn't have got near the shot, but referee Mike Jones' mind was made up.

With the complexity of the offside rules still difficult to decipher, cases were made for it being both the right and wrong call. As with the current form of the law, the gray area is often likely to raise the ire of one side. This time it was Newcastle who temporarily lost their cool.

Describing it afterward as an "injustice," Alan Pardew was visibly incensed. With the referee explaining to him that Hart's vision had been impaired, the Newcastle boss wasn't placated postmatch, but if the call had annoyed him, the 10 minutes that followed did little to reinforce his faith in referees either, with a number of questionable calls going in the visitors' favour.

Unfurling the well-established book of insults throughout the rest of the game, the home support claimed the referee was not fit for his job, did not know what he was doing and even labelled him a "cheat." By the time Negredo had added a late second, the boos were still ringing loudly.

"That's football. We need to accept it and go forward," said Tiote.

Easy to say, hard to do, but we have likely not heard the end of this offside debate.

2. Kompany's class keeps City solid

Vincent Kompany is the kind of player who relishes cold Sunday afternoons on Tyneside.

"I like playing against the strongest players in the world, week in and week out," he told TalkSPORT recently. "I think it raises my game whenever it happens."

The central defender will face arguably the world's best in the next month as he lines up against Lionel Messi when Barcelona face City in the Champions League. If this is to be one of his warm-up bouts, he passed it with relative ease.

A bulking physical frame is cast alongside a strong degree of composure and, making 13 clearances and winning his only aerial duel, Kompany left St James' Park having not committed a single foul, an unblemished record that underlined his importance to Manchester City. Proving he was in fact human, his only mistake -- a 66th-minute collision with Pablo Zabaleta that allowed Loic Remy in -- came to nothing thanks to a solid save by Hart.

With the Belgian in its ranks, the City defence looks like an entirely different prospect.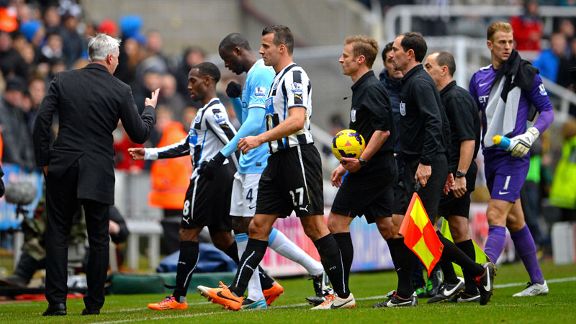 PA PhotosAlan Pardew rants at Mike Jones after the goal was disallowed.
3. A tale of two Citys

City's last defeat at St James' Park may have come in 2005, when Michael Owen scored the only goal in a narrow 1-0 win (since then Newcastle have lost 12 and won none of their past 14 Premier League meetings with City, losing the past eight in a row), but away from home this season they have been poor.

The prematch stats told their own story: City's home goal difference of plus-32 far outshone that of their achievements away from home -- a goal difference of plus-2. It had been a tale of two Citys for most of the season. There had been victories against Fulham and West Ham United, but the fact that all of City's defeats in the Premier League had come away from home highlighted their travel sickness.

With two wins from two matches away from home in the Premier League in 2014, it seems Manuel Pellegrini has made curing his side's travel woes his No. 1 priority. Admitting that securing a win away from the comforts of home is always difficult, Pellegrini described his success on Tyneside as a "big victory" -- and one that sent them to the top of the table.

"I am very happy with the way we are improving," Pellegrini said. "Maybe this same game at the beginning of the season we lose it. Today we win."

Unwilling to believe his side has cured itself of its away-day ills just yet, Pellegrini would be wise to note that one of his forwards could be an important ally in securing that eventuality. Dzeko, the source of City's opener, has scored 63 percent of his Manchester City goals away from home.

With Sergio Aguero notorious for his inability to be a potent option away from the Etihad and Negredo notching just his second Premier League away goal of the season on Sunday, faith in Dzeko could see City continue their solid start to 2014 when they visit Tottenham Hotspur and Norwich City in the coming weeks.