Three Things: Spurs vs. Crystal Palace
LONDON -- Jermain Defoe scored as Tottenham beat Crystal Palace 2-0, here are three observations from White Hart Lane.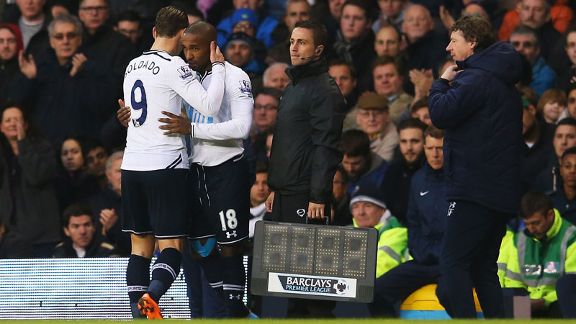 GettyImagesJermain Defoe comes on for Roberto Soldado.
1. Defoe's final fling begins in style

FC Toronto-bound Jermain Defoe is coming to an MLS stadium near you. The last lap of his Tottenham career began with the goal that finished off Crystal Palace. The strugglers had made life most difficult for Spurs. A 1-0 lead was looking slimline as Tony Pulis' team prepared for a final push.

Instead, a typical finish from one of Tottenham's favourite sons kept alive his soon-to-be former club's push for a Champions League place. Taking down an Aaron Lennon pass, Defoe controlled the ball and delivered the type of finish that he will be remembered for in years to come.

Defoe departs on Feb. 28 as Tottenham's highest-ever scorer in European competition, yet having passed over by successive managers.

Defoe is a throwback, a poacher whose best work is done around the penalty area -- he possesses a fearsome shot -- but a player who does not fit modern systems. His physique has never suited playing as a lone striker; he almost always plays his best alongside a partner. There is irony in the fact that he departs Spurs just after they appointed a manager in Tim Sherwood who favours 4-4-2.

Within minutes of Defoe's arrival, he seized on an Adebayor flick, shimmied out and boomed a shot across goal. This was the zest that Roberto Soldado had previously failed to produce. The germ of a partnership that inspired victory at Old Trafford was not in evidence, though the anonymity of Adebayor hardly helped the Spaniard's cause.

Many in England have questioned the wisdom of Defoe's move across the Atlantic, both in terms of its effect on Spurs and his chances of playing at the World Cup. Yet Defoe is a man of a deeper character than his public image might suggest. He fancies something different, just as his club might begin to need him more.

Adebayor and Christian Eriksen had previously combined to swing the match into Tottenham's direction. Largely invisible in the first half, Adebayor's flick to the Dane and a scything finish secured a lead that Tottenham's previous 50 minutes had not deserved. They had been let off by a Jason Puncheon penalty miss that will go down into legend.

Especially anonymous was Soldado. Despite something of a recent improvement, White Hart Lane has seen very little of the Spaniard's best. Instead, he departed to much applause, though that was aimed at his replacement. Defoe soon provided Tottenham a taste of what they will soon be missing.

2. Tiger Tim has his say

Chewing gum alongside Les Ferdinand at first, Sherwood was soon out of his seat in the fashion Andre Villas-Boas used to be. Tottenham are not a team to manage while retaining an air of detached, insouciant cool.

The new man has collegiate approach, with Chris Ramsey and Steffen Freund chipping in, too. The German's lack of relationship with AVB was an indicator of the Portuguese's increasing isolation as he neared his end at the club. Sherwood is still the main man, though. He is too self-possessed a character to let somebody else deliver the key messages.

As Palace momentum pushed for the goal that Puncheon should have given them, Damien Delaney's shot was blocked on its way in by teammate Yannick Bolasie. Sherwood rose from his seat in concern and rage, and questioned his team's application through a chest-beating gesture. A lack of heart was the accusation.

It seemed to work, as Tottenham twice went close. Adebayor, peripheral previously, failed to connect with a left-footed Aaron Lennon cross and Nabil Bentaleb crashed a shot past Julian Speroni but off a post.

His half-time words must have been especially well chosen, though almost certainly not lacking in venom. Tottenham looked a different team as soon as the second period began. Spurs have often made heavy weather of lesser opponents and this looked like being one of those days. Half-time seemed to change everything.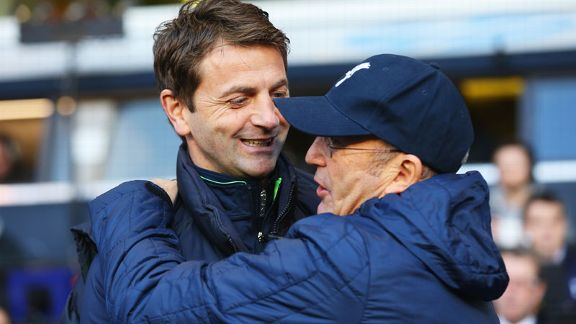 GettyImagesSpurs boss Tim Sherwood greets new Crystal Palace manager Tony Pulis.
3. The Pulis effect

Where there is Tony Pulis there is hope. In the English game there is perhaps no better manager of what can politely be termed "average£ players. Those who obsess over his heavy spending in Pulis' latter days at Stoke ignore the team-building with limited material he did previous to that. The system works, there is proof of that. Football is not an entertainment franchise to the likes of him.

Palace looked dead and buried in the season's opening weeks, a losing machine. Now, even after this result, they have a fighting chance of survival as the season turns for home and the Premier League's lower reaches teem with candidates for the drop.

The visitors began much the brighter, before the moment that might have knocked wind from their sails. Marouane Chamakh was sent clear on the left, and his cut in was stopped by a clumsy Mousa Dembele challenge. A clear penalty could only be awarded by Mike Oliver.

Up stepped Puncheon. Perhaps he had been disturbed by running into Oliver when putting the ball on the spot. Nothing, however, could excuse this moment of high comedy and inexpert technique. Had Puncheon been playing rugby he would still have missed the target. This skied slice was very special indeed.

Under his baseball cap, Pulis muttered in disgust. His shouts of encouragement and castigation were audible thereafter until the game drifted from his grasp almost as soon as the second half began.

His team had previously defended well in the deep, always chasing down Tottenham's attempts to pass through them. A team once bereft of hope and structure now fight for everything. With this season's concertina-ed relegation race looking as close run as it has been for some time, Palace still have hope of achieving the unprecedented; the club has never yet completed a Premier League season without it ending in relegation.

The fight and spirit shown under Pulis may mean that this could be their year. However, they need to perform in both halves for that to become reality.