Lambert continuing to answer England's striking SOS call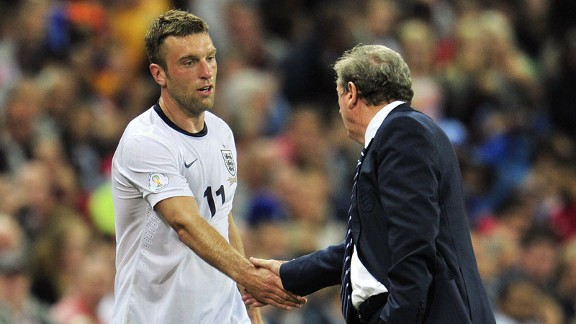 GettyImagesRoy Hodgson shakes Rickie Lambert's hand after another successful night's work for England.
LONDON -- If FA chairman Greg Dyke is correct and England can win the World Cup in 2022, they will need quality strikers to succeed in a Qatari winter. Sadly, by then, Rickie Lambert will be 40 years old. If England make it to Brazil 2014, it will be a first and last hurrah for him.

Before that, England expects Lambert to carry their front line through a potentially vicious trip to Kiev, Ukraine, on Tuesday. Danny Welbeck's ban for a second yellow card places Lambert as England's key striker. Daniel Sturridge's thigh problem will probably prevent him getting on the flight; Roy Hodgson rates his chances as "less than 50-50." Only the tried and not particularly trusted Jermain Defoe remains otherwise available.

Ukraine are unlikely to be as hospitable to Lambert as Moldova proved. When his goal arrived in the 26th minute, it was via the pat-a-cake assist of butterfingered keeper Stanislav Namasco. Theo Walcott's drilled cross thus found its way onto the head of Southampton's favourite Scouser.

The sheer bloody joy Lambert exhibits in scoring for his country reminds of a bygone, more innocent age. Unlike colleagues of considerably more caps, there is no jadedness with the international scene. Though he is established as a Premier League player, he is most reminiscent of Steve Bull, England's last regular striker from down the divisions.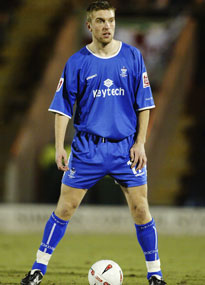 GettyImagesRickie Lambert has come a long way since his days at lowly Rochdale.
An overnight sensation at 31, Lambert is a good news story, the heartwarming tale of a young man who, unnoticed by Liverpool's giants, began his career at Marine, the city's nonleague club, while working out his days in a beetroot factory. He has since climbed through the divisions, via spit-and-sawdust outposts like Macclesfield, Stockport and Rochdale, to become a goal-a-game striker for his country.

Shaven-headed hitman Bull scored a famous goal against Scotland too and went to the 1990 World Cup. Lambert can emulate Bull, but his presence on the England team is damning testament to the problems of now making it as an English striker. The ever-increasing quota of foreign players devours chances to succeed at the top level. Sturridge's tale is similarly instructive. Only now is he making his way as a top-line striker, after never being trusted enough by Chelsea or Manchester City.

No one has properly challenged Wayne Rooney's status as a first name on the national teamsheet since his breakthrough a decade ago. England have always been forced to turn to him, whatever troughs he might be going through. An unfortunate collision with Phil Jones last week opened up both Rooney's face and the path to Lambert's first start for his country. Rooney's fellow Liverpudlian took his chance well enough.

A paucity of available talent has seen other late developers recently given their chance. Kevin Davies played a matter of minutes against Montenegro in 2010, received his customary yellow card and was never seen again. Jay Bothroyd had an international career of similar length. Grant Holt had a groundswell of supporters for his claim but never got his chance.

Lambert, though, is a cut above that trio, even if he has been assisted by appearing on the scene at just the right time.

Rewind 15 years and the English top division dripped with indigenous striking talent. Alan Shearer was in netbusting prime, and Michael Owen terrorised defenders at home and abroad. In reserve were Teddy Sheringham, Les Ferdinand and Robbie Fowler. Andy Cole, scorer of 187 Premier League goals, was always left frustrated at a lack of opportunities. Today he could walk into England's team.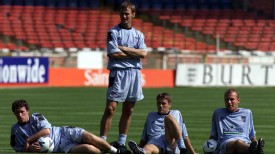 GettyImagesEngland once had an enviable selection of strikers at their disposal.
Back then, strikers played in partnerships too, which doubled the amount of available and experienced talent. Since a lone frontman became in vogue sometime around the turn of the millennium, strikers' chances of proving their worth have halved. Lambert himself faces the threat of losing his Southampton place to Pablo Osvaldo.

Nowadays, the aspiring striker must diversify, which gives rise to jack-of-all-trades types such as Welbeck. His versatility and commitment to hard work keep him relevant even when his scoring touch deserts him.

More's the pity for England that Welbeck received a booking for kicking the ball away when the whistle had blown. He had smashed a shot over the angle only to turn and realise that an offside flag had been waved. The Slovakian referee was unforgiving; the decision sent Roy Hodgson into apoplectic rage. UEFA rules do not allow appeals against such decisions.

"I don't think there will be too many people in football, not even the refereeing fraternity, who would say that was a yellow card," said Hodgson.

When Welbeck scored barely a minute after his yellow card, his expression betrayed an inability to enjoy the moment. The same went for a still-angry Hodgson. Welbeck's second was a cute dink reminiscent of a fine finish at Swansea on the opening day of the Premier League season, yet still the scorer's expression was tinged with regret. The Manchester United man has become an important and trusted player for his country under Hodgson. His industry and growing threat are a highly significant loss. "I didn't hear," Welbeck could be seen mouthing to the referee after the final whistle, before huffing his way down the tunnel. Two-goal heroes rarely look so despondent.

Meanwhile, Lambert had led the line well, his link-up play supplying both of Welbeck's goals. It was to Hodgson's deep disappointment that he will be denied their burgeoning understanding in what has become the key game in Group H. Lambert must forage alone Tuesday. Such is his sudden importance that Hodgson took him off after 70 minutes to wrap him in the luxury cotton wool reserved for most valuable players.

"I am sure he will be expecting to play on Tuesday," said Hodgson. "I have to decide whether to go along with his expectancy or surprise him," he continued with unnecessary mystery.

Rickie Lambert, your country needs you, even if it took a while to realise it.