Three Things: Manchester City vs. West Ham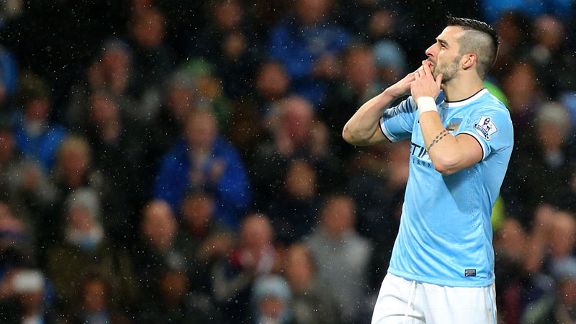 PA PhotosAlvaro Negredo celebrates completing his hat trick against West Ham.
MANCHESTER, England -- Three thoughts from Manchester City's 6-0 win versus West Ham.

1. Man City are Wembley-bound

The usual clichés can be invoked: Anything can happen in football. Nothing is decided until the final whistle. This tie is only at the halfway stage.

And yet it is over.

Manchester City are going to Wembley, but via West Ham. The second leg on Jan. 21 is a formality. It offers a welcome chance for City to rest some of their premier players, all the more important as their already-packed fixture list is still more crowded after their inability to beat Blackburn in the FA Cup third round Saturday.

West Ham could salvage a modicum of respect -- perhaps under a new manager, if their fans get their way -- after this spineless capitulation, but it is all over.

Whether or not Manchester United overcome Sunderland in the other semifinal, the Manchester derby, planned for March 1 at Old Trafford, will have to be rescheduled. And as United will know after their September thrashing at the Etihad Stadium, City will take some stopping.

They were irresistible Wednesday night, playing at speed and with a swagger. Alvaro Negredo scored a hat trick with clinical brilliance while Edin Dzeko could have had a treble of his own but had to settle for two goals and an assist. Yaya Toure was rampant, David Silva silky and Vincent Kompany commanding.

City have scored 59 goals in 15 home games this season, and while their record elsewhere is less impressive, they have to be red-hot favourites to win the competition. Their last League Cup win came back in 1976, when Dennis Tueart's overhead kick defeated Newcastle.

After ending long waits to win the FA Cup in 2011 and the league 12 months later, another drought should come to an end in a few weeks. Anything else would feel like a failure from here.

2. Yaya keeps on improving

This has been a season when Toure has broadened his horizons. They seemed wide enough. The physical force who can play tiki-taka could already brush opponents aside with his sheer power or pick a path through crowded defences with City's diminutive technicians.

Yet the most accomplished all-around footballer in England is, at 30, still adding to his repertoire. A newfound fondness for bending free kicks into the top corner helps explain why this is already the most prolific season -- with 13 goals -- of his career.

The inch-perfect 45-yard ball that Negredo volleyed in for the opening goal showed Toure is as capable of long-range passing as he is of shooting from distance. Fashioning one goal from the centre circle was impressive enough, but Toure managed two, with a solo run from the centre of the pitch that culminated in a shot that he drilled past Adrian.

Collectively, Toure's was a performance to explain why, rather than anything West Ham managed, the greatest cause for concern City had was when he lay in apparent agony on the ground having seemingly injured himself tackling Mohamed Diame in the first half. He was helped off the field, hobbled back on gingerly and resumed his all-action display, scoring a quarter of an hour later.

West Ham had a numerical advantage in the centre of midfield, yet while City had two men against the visitor's three -- and some would say one against three, given Toure's partner was Javi Garcia -- the hosts dominated in that department.

Toure is the favourite to win the African Footballer of the Year award Thursday; there would be an outcry in the blue half of Manchester if either Didier Drogba or John Obi Mikel, the other shortlisted players, pipped him.

3. Roger and out ... for the count

Desperate times call for desperate measures, and there are few more desperate steps than a relegation-threatened side signing a player who has been demoted in each of the past three seasons and is unwanted by a League One club. Yet if Roger Johnson is a shortcut to the lower leagues, he was also a Capital One Cup winner in his days at Birmingham.

More significantly, the lack of any fit central defenders explained why Sam Allardyce borrowed him from Wolves and parachuted him straight into the side. But if West Ham thought they hit rock bottom when losing 5-0 to Nottingham Forest on Sunday, they went one worse against City. It proved a desperate debut.

An early hoof upfield may have indicated an old-fashioned, no-nonsense streak that may endear him to Allardyce, a similarly uncultured defender in his playing days, but it also highlighted a lack of the requisite class. While Johnson was blameless for City's first goal, the second indicated the problems of recruiting a defender last spotted playing at the lower end of the Championship (for Sheffield Wednesday, in yet another relegation battle).

Johnson came out to track Dzeko but did not get close enough to prevent a pass. By moving, he created a gap at the heart of the Hammers defence, which Negredo ran through to score. Johnson was three yards behind Dzeko when the Bosnian scored the fifth.

Yet in between, the third was far and away the most damning. A retreating Johnson backtracked 40 yards as Toure advanced without a semblance of a challenge. If the Ivorian hadn't shot, the centre-back would have presumably kept running away until he ended up in his own net. It was, some commented, the quickest he ran all night and is destined to be featured in DVDs of bad defending for years to come.

So while Allardyce now has a fit central defender, West Ham's fate surely depends on when Winston Reid, James Collins and James Tomkins return to action. If Johnson has to play too often, the likelihood is that "Relegation Roger" will add to his collection of demotions. Indeed, if Wednesday and West Ham suffer the same fate, he will have gone down five times in four seasons.

More pertinently for the Hammers, this was a second humiliation in just four days. Unsurprisingly, their fans were calling in blunt terms for Allardyce to be sacked. Signing Johnson proved one of the factors that finished off Mick McCarthy at Molineux, and it hasn't done much for Allardyce's prospects of remaining employed either.

After the vote of confidence from owners David Gold and David Sullivan on the club website came a vote of no confidence from the supporters. Another display like this at Cardiff on Saturday and it will surely be heeded.