Moyes' bleak winter continues at Sunderland
SUNDERLAND, England -- As the bitterest of winter winds engulfed attendees at the Stadium of Light, an extra air of deja vu was hovering over the Manchester United dugout. For the second time in three days, they were stifled in a cup competition 2-1.

Sunday's defeat to Swansea had arrived with just a whiff of expectancy. With a questionable recent home record, the winds for a perfect storm had already been whipped up. So it transpired.

The same could not be said for a midweek visit to the Stadium of Light, a ground where Sir Alex Ferguson tasted defeat only once. By full-time, as Sunderland celebrated their first win over United in 21 attempts, the old knight's presence in the stands once again cast a shadow over David Moyes.

As Ferguson gifted his successor his continued support, there was a similar display of solidarity from the 5,000 traveling fans. If there are dissenters in the ranks, they certainly had not made the trip. Instead, they sang of their support for their club and their manager, who described them afterward as "nothing short of exceptional."

- Payne: From bad to worse
- Randall: Sunderland's cup fever
- Sign up for Premier Fantasy!

Indulging in a range of chants from the club's storied songbook, the repertoire saw the names of Ferguson and Sir Matt Busby echo around the upper tiers of the stadium. What it served to remind, though, is that Moyes has some of the toughest acts in football management to follow.

"Come on David Moyes, play like Fergie's boys," they sang, in hope rather than expectation. There have certainly been moments of quality this season, but they have been produced amid a number of difficult moments.

That same duality represented itself on Tuesday. Having announced himself during the Premier League clash between the two sides in October with an impressive brace, Adnan Januzaj once again displayed his burgeoning talent and quick feet, but his performance lacked the end product required to influence proceedings.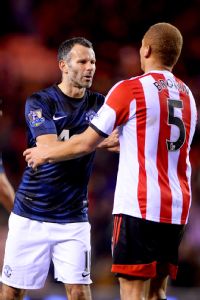 Michael Regan/Getty ImagesFormer teammates from happier days at Old Trafford, Giggs and Brown share a post-match word.
Both Sunderland goals were bones of contention for Moyes after the game. Having described the officiating against Tottenham as "scandalous," he was once again unable to understand why his side had conceded the free kick that led to the opener -- a Ryan Giggs own goal -- and the penalty that ultimately decided the match.

Of the latter, which saw the assistant referee, Peter Bankes, adjudge Tom Cleverley to have fouled Adam Johnson, Moyes told MUTV:

"The linesman gives it but he can't see through Patrice Evra. The referee is looking right at it and is in a very good position: not too close, not too far away, but he turns around."

Eleven points behind Premier League leaders Arsenal, United face a battle to simply finish in the top four and the Capital One Cup may represent Moyes' best hope of silverware this season. He certainly is increasingly in need of something tangible from his first season in charge.

While Ferguson arrived at Old Trafford with a back catalogue of success -- including a trio of Scottish league titles with Aberdeen -- the same cannot be said for Moyes. When times get tough for Man United fans, there is little more than a character reference from their former leader to console themselves with.

You wonder how many of the visiting faithful would be willing to swap Moyes for Jose Mourinho. He may have endured his own difficulties since returning to Chelsea but, having boasted considerable success at every stop on his managerial journey, the Portuguese has the gravitas required to traverse difficult periods.

"If you're going to be in this job you know that's what happens if you don't win," Moyes said, when asked about his difficult recent period. "In the last few games I've not won and we're going through a difficult time so it's never going to be an easy ride."

Of course, the insult to United's injury came in being undone by a clutch of players who played varying roles in their success of recent years. Most notably, John O'Shea and Wes Brown returned to the starting lineup and provided the kind of performance that will give Sunderland fans hope of staying up in the league and, maybe, a trip to Wembley.

"The quantity of chances we gave away was very little, there were few shots and half chances," Gus Poyet said afterward. "I hope there are no more red cards or injuries and maybe we will have a better chance."

The Sunderland boss, who despite the win still tipped his visitors as favourites going into the return leg, was also keen to lavish praise on the impact as a substitute of Johnson:

"I am going home today convinced he can help us and give us a massive hand between now and the end of the season."

Though Sunderland had a night they are unlikely to forget, the crumb of comfort for Moyes is that he is granted a second leg to stand on and he will hope to have Wayne Rooney and Robin van Persie available on Jan. 22.

In days gone by, a one-goal deficit at Old Trafford would hold little fear for Manchester United. But such days appear to be long gone.