Three Things: Real Madrid vs. Celta Vigo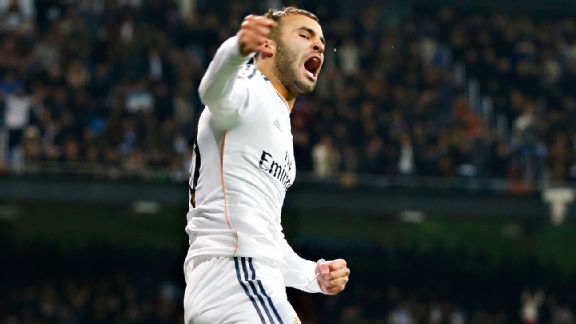 Helios de la Rubia/Real Madrid/Getty ImagesReal Madrid's starlet Jese sparked Los Blancos to their second half dominance over Celta, with the club scoring three goals in the last 45 minutes.
MADRID -- Real Madrid kicked off 2014 with a strong performance, beating Celta Vigo at home 3-0. Here are three observations from Los Blancos victory.

1. Jese to the rescue

The question with the game still goalless and less than 30 minutes remaining was whether Ancelotti would turn to Gareth Bale or Jese Rodriguez as his first attacking substitute. The Italian surprisingly chose the youngster -- and his introduction immediately changed the game. Jese's first touch was a shot which Celta keeper Yoel gratefully clutched, while with his next intervention [with Bale now also on the pitch] he knocked back the Welsh winger's cross but Karim Benzema just could not reach the ball.

The mood inside the ground had changed, and it was no shock when Jese made the opener just a few minutes later. A cross was only half-cleared to where he lurked on the left side of the area, and the Canary Islander immediately shifted the ball away from his marker to drive it across goal to where Benzema somewhat fortunately bundled it in.

As the game then opened up Jese remained Madrid's biggest threat, providing another chance for Benzema with a cleverly lifted pass into the box. Even though Ronaldo added some gloss to the result with two close range finishes, both the Portuguese and 100 million euro man Bale had been overshadowed by the 20 year old.

Jese had made his case, if not for a starting place in Madrid's 'Gala XI', definitely as an excellent attacking option off the bench. The Canary Islander now has two goals and four assists in just over 400 official minutes this season -- and Ancelotti suggested afterwards that coming on when opponents are tired and stretched suits the pacy trickster.

Meanwhile, Di Maria again blotted his copybook by gesturing angrily to whistling Madrid fans as he went off. Ancelotti claimed not to have a problem with the Argentine winger's attitude or workrate, but Madrid's transfer hierarchy [whoever they are] must be seriously considering cashing in on the apparently unhappy winger and investing the cash in more experienced midfield or attacking cover.


2. Defensive issues remain

Madrid came into the game having conceded almost twice as many La Liga goals as both title rivals Barcelona and Atletico Madrid, and it did not take long for their defensive issues to resurface. Celta's Charles was sent through inside the first five minutes, with both Pepe and Sergio Ramos looking forlornly for an offside flag which never came and thankful that Diego Lopez made a superb save. Lopez was also quick to spring from his line when Charles was clean away again in the second half, although the Brazilian's finish this time was poor.

Ancelotti's current number one for league games was less impressive as Madrid's problems with defending crosses were also in evidence. Jose Mourinho's biggest [on-pitch] problem with Iker Casillas was supposed to be his lack of height and weakness in the air. Lopez is 11 centimetres taller, but currently not doing well at all from crosses. Madrid conceded four goals in their last two pre-Christmas games from headers -- and were lucky here when Lopez was rooted to his line as a corner bounced inside his six yard area and was just about bundled away by a defender. Celta boss Luis Enrique was right to say afterwards that, with cooler heads in front of goal, his side would have gone in front.

Ancelotti has also not yet solved his long-running issue with 'balance', even with Xabi Alonso now back in the team. Alonso is a superb reader of the game, but not so good when having to chase opponents over long distances, and he was left trailing in Celta playmaker Rafinha's wake more than once here. Ancelotti explained afterwards that the 32 year old was still uncomfortable due to a burst eardrum suffered before Christmas at Valencia, so he had decided to send on [the younger more mobile Asier Illarramendi] at half-time. Isco is also not one to sprint back 50 metres to cover, while wingers Cristiano Ronaldo and [currently] Angel Di Maria often do not fancy helping out their full-backs either.

So Madrid remain a 'broken' team -- defending with six or seven players, while three or four wait upfield. This does help them counter quickly when opposition attacks break down, but against top class opponents with high quality finishers -- especially in the Champions League -- this looks like it could be a big problem for Ancelotti.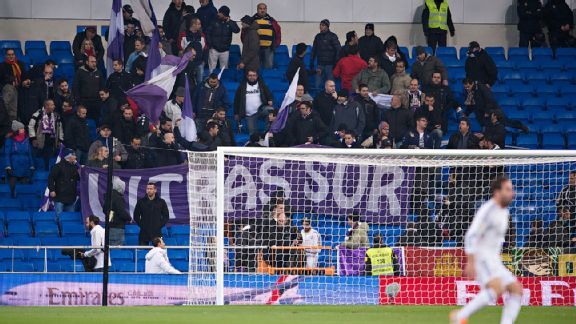 Dani Pozo/AFP/Getty ImagesThere were some concerns that the Real Madrid Ultra's would cause violence at the Santiago Bernabeu on Monday.
3. Ultras removed safely

There were concerns pre-game that Madrid's plan to remove the Ultras Sur from their usual place behind the Bernabeu's south goal might have been made too hastily. The club have taken advantage of an internal split in the hardcore group's leadership to take away their season tickets, and replace them with different hopefully better behaved but equally noisy 'socios' moved from elsewhere in the stadium.

The Ultras Sur have been [more or less] adding their own brand of 'atmosphere' to the Bernabeu since the early 1980s, and the club stuck with them despite violent incidents inside and outside the stadium through the years, and often abuse and offensive chanting during matches. That support is over now, with the club no longer providing cut-price blocks of tickets to ultras leaders, and over Christmas revoking and refunding season tickets of other members.

It had been expected that those being displaced would not just accept this decision, and a protest did take place outside the Bernabeu's gate 28 pre-game. But the 200 or so black-jacketed youths were marshalled by an almost equal number of police, with the reaction limited to whistles and boos for the other Madrid fans who were escorted in through the ultras' usual turnstyle.

The 'new' hardcore did a decent impression of their predecessors during the game -- with the usual chants [including 'Messi, Messi, Messi subnormal' and 'Cristiano, Ballon D'Oro'] getting an airing. Celta coach Luis Enrique -- a villain of the Bernabeu since his shock departure from Madrid to Barcelona in 1996 -- was also the target of the [racist sounding] 'Luis Enrique, your dad is Amunike'. Which was not good at all -- but at least there had been the positive of no violence inside or outside the ground.