Three Things: Derby County vs. Chelsea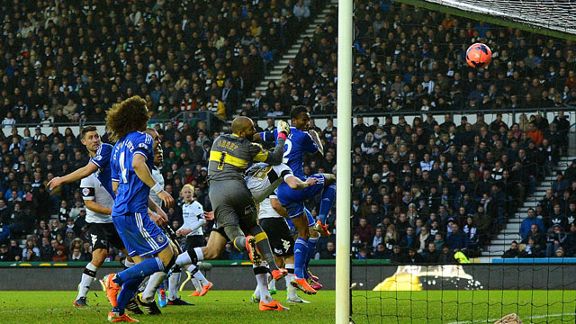 GettyImagesJohn Obi Mikel headed home a rare Chelsea goal against Derby County.
DERBY, England -- Chelsea continued on in the FA Cup, defeating Derby County 2-0 at Pride Park. Here are some quick thoughts from Sunday's third-round clash ...

1. Silence of the Rams

Often, the difference between top football teams and the game's lesser lights is the ability to finish. Time and again Derby County broke into open territory, only for a final ball to fail, or a shot to be too weak. Energy was in high supply; belief and ability were not.

Like many teams who have faced Jose Mourinho's Mark II Chelsea, Derby were ground down. The arrival of substitute Eden Hazard, increasingly the Blues' key player, spelled trouble, as did the replacement of Samuel Eto'o with Fernando Torres.

Eventually, the moment came for a silence of the Rams. Willian's free-kick found the head of John Obi Mikel, who despite only having previously scored three times for Chelsea, headed in with the style of an old-fashioned centre-forward. It was quite a way for the Nigerian to mark his 300th game for the club.

- Report: Mikel, Chelsea ease past Derby

Nowadays, Mourinho paints himself as a lover of English football and has reason to love the FA Cup -- in 2007 it provided his final trophy in his first spell as Chelsea manager. It might not be enough to save his job in light of a Premier League failure, but his club have come to love the trophy over the past two decades. A very loud group of travelling fans certainly enjoyed themselves; there was much ribald banter between them and the Derby fans.

In the end, Oscar's whiplash strike in the 71st minute confirmed Chelsea's progress. The Brazilian, in tandem with compatriot Willian, had exhibited far too much class for Derby all afternoon.

Chelsea might have led by halftime, when a Ramires shot was deflected onto the post after Willian had billowed through Derby's midfield. Equally, the Samuel Eto'o who played for Barcelona would surely have made better use of Mikel's fine pass. Mourinho's frequent moans about his strikers have some credence, though Eto'o was his choice, of course, if something of a last resort.

As Chelsea cruised, Torres made an old-style run past stricken defenders only to fall over his own feet. It confirmed that Mourinho still has striking problems. Nevertheless, a tricky tie had been negotiated, as Chelsea's slow-burning momentum continues to gather pace.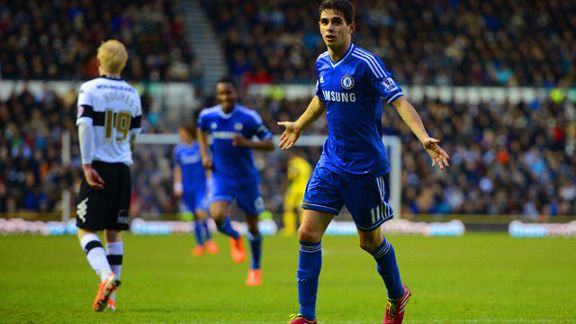 GettyImagesOscar celebrates putting Chelsea's FA Cup progress beyond doubt.
2. Hughes a pretty boy?

A thick shock of blonde hair means that Will Hughes cannot be ignored. Derby's teenage playmaker is on the shopping list of many a Premier League club, with Liverpool most closely linked. The young man may model himself on Xavi and Andres Iniesta, but the white shirt and mane made him more resemble upright German playmakers like Stefan Effenberg or Bastian Schweinsteiger.

Hughes is a rarity in English football -- a public schoolboy making it as a professional. Perhaps that explains the Boris Johnson visage. He attended Repton School, a seat of learning that includes pioneering gay novelist Christopher Isherwood, TV loudmouth Jeremy Clarkson and Harold Abrahams, the Olympic athlete who was the subject of "Chariots Of Fire."

For such a young player, Hughes assumes plenty of responsibility, too. He certainly made himself known to referee Andre Marriner when disagreeing with decisions.

Playing withdrawn behind the front line, Derby's creativity usually derived from him. Early on, Hughes bent his body to make space to supply Jamie Ward with the chance to overlap. Moments later, a shimmy bought him the opportunity to shake off Mikel. The Nigerian, no doubt detailed by Mourinho that this was a danger man, took the opportunity to step on Hughes' feet.

Late in the first half, Hughes showed a strength to belie his stringy frame when holding off both David Luiz and Ashley Cole. A second-half hacking foul to stop an Oscar run suggested there is a nasty side to him, too.

When increasingly forced to chase Chelsea shadows as the afternoon drew on, Hughes was game enough but seemed to lack the power and energy to keep chasing. He is undoubtedly a player of promise, but a Premier League move currently looks a bit beyond his level. However, there were flashes of skill and imagination to suggest that his time will come soon enough.

3. Schteve returns home

Derby County is a club with as rich a history as many of English football's current giants. It is a place where tradition remains important. The removal of manager Nigel Clough in September was a wrench for many fans because of who his father was -- a statue of Brian Clough and right-hand man Peter Taylor greets fans arriving at Pride Park.

New manager Steve McClaren has often opened himself out to being a figure of fun, but he at least had Derby in his veins. That allowed fans to accept him, and a long unbeaten run that has taken the Rams into the heart of the Championship promotion battle has helped.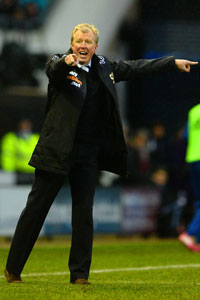 AllsportSteve McClaren has done superbly at Derby but his side lacked the obvious class to trouble Chelsea.

The Derby manager was, believe it or not, a creative midfielder for the club in the 1980s before making his coaching bones as assistant to "Bald Eagle" Jim Smith a decade later. His reputation as an innovator grew to such an extent that Sir Alex Ferguson poached him midway through Manchester United's treble season of 1998-99.

A man who has made many a wrong turn in his career -- and that includes the England job -- is quietly restoring a reputation last revived when winning the Dutch Eredivisie with FC Twente before then squandering it at Wolfsburg, back at Twente, and finally, a short, sharp and shocking spell at Nottingham Forest that probably endeared him to many a Ram.

There are few reports so far of him adopting the flat vowels of a Derbyshire accent. In fact, his East Yorkshire burr is restored after that dalliance -- dalliansh? -- with speaking like a Dutchman. Being McClaren, there was a David Brent moment when using an old-style telephone to convey instructions from the directors' box, only to have to instead make his way down to make some wavy hand gestures.

His Derby side is well-organised, but fed off scraps as the game went on. They are a decent outfit, perhaps ripe for promotion, but much summer work will be required if the Premier League is reached.