More questions for Moyes after Swansea shocker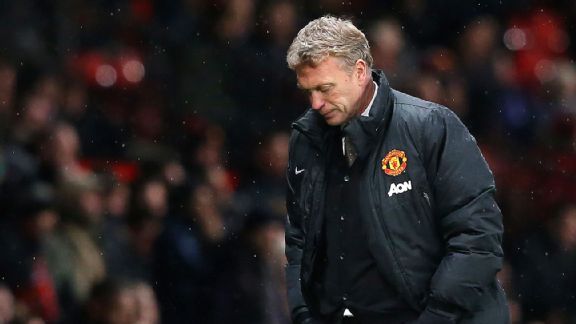 Alex Livesey/Getty ImagesSunday's 2-1 FA Cup loss to Swansea was Manchester United's fourth defeat in their last six matches at Old Trafford.
MANCHESTER, England -- The worst aspect for Manchester United was that -- yet again -- nobody could say it had not been coming.

Three times in the last 10 minutes, Swansea attempted the same move, which saw Wayne Routledge run at stand-in right-back, Darren Fletcher, before crossing, specifically trying to pick out Wilfried Bony.

Despite the warnings, United were powerless to do anything about the forward's 90th-minute goal, which secured a 2-1 win for the Swans.

United manager David Moyes, meanwhile, seems powerless to solve so many of the issues at Old Trafford that are increasingly evident. Were it not for the manner in which impressive upsets like Swansea's restore some energy to the competition, it could be argued that the current United reflect the FA Cup itself: a fading institution that has lost its magic and is seemingly being overtaken by circumstance.

This was a dismal home performance in a generally dull contest that was enlivened only by the brave way in which Swansea manager Michael Laudrup's side eventually forced -- and took -- their chance.

Afterward, Moyes pointed to the number of internationals he included in his starting lineup and admitted "there's no excuse."

There's also no excitement. Just as Sir Alex Ferguson's replacement is currently incapable of rectifying so many mistakes, he also seems unable to inject any life into this team. The two issues are undeniably linked.

- Okwonga: Flailing United fall at home

Old Trafford is a curious place to visit at the moment. There is an unmistakable air of trepidation and flatness about the place, with that atmosphere not only reflecting the home team's style of play but also emboldening so many visiting sides.

For all the fanfare about how long Everton and Newcastle had waited to win here, Swansea went back even further: This was the first time the club had beaten United. That so many of these momentous wins are coming in quick succession would appear to sum up the absence of any intimidation at Old Trafford.

Laudrup was directly asked about this issue after the game but tactfully evaded it.

"The reason why some stadiums are very special -- Old Trafford, Bernabeu, Camp Nou -- it's because of the history of the club, not because of what has happened in one season, two seasons."

One of the concerns is that so little happened for United in the opening few minutes. Although they had the majority of possession, the minimal amount they did with it was illustrated by the fact Chris Smalling was on the ball more than anyone else and variously found himself in playmaking positions.

If that takes Moyes' utter attacking reliance on full-backs crossing from deep to a rather absurd conclusion, it was no coincidence that United's only goal came from an Alexander Buttner centre that Javier Hernandez finished.

Four minutes before that, Swansea played the best football of the game with a three-pass move from back to front that completely opened United up and allowed Wayne Routledge to score the opening goal.

Although United illustrated admirable resilience to immediately respond and equalise, particularly given the mounting gloom after the New Year's Day defeat to Tottenham, Moyes could only lament their inability to build on it.

"I thought we played quite well first half," the United manager argued. "We should have taken more chances when we had the opportunity to create more chances, too, but we're not coming away thinking we deserved to lose."

That was one interpretation. Laudrup had another.

"I don't think we needed that much luck today, because I don't think Man United created the chances I expected them to."

That question about expectation is the absolute nub of the issue.

Let's be fair. In the grander scheme of things, the scale of an event like Ferguson's retirement was always going to lead to an array of different problems, many of them beyond Moyes' control. Furthermore, on any day, any team would be weakened by the absence of players like Robin van Persie and Wayne Rooney.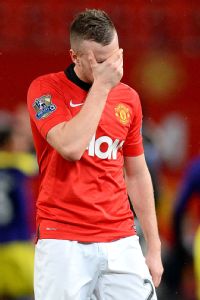 ANDREW YATES/AFP/Getty ImagesTom Cleverley cannot hide his disappointment following United's FA Cup exit.
At the same time, none of that should lead to so many performances as flat as this and so many defeats as defining as this. The absence of those two stars is mitigated by the reality that this campaign has seen so many similar performances despite one of the duo actually playing.

If you could see Swansea's win coming, dreadful displays like this have already been and gone. For all the caveats, this was part of a trend. That leads to deeper questions, many of them going well beyond this individual cup tie.

For one, there is that style of play. If it feels like this is the question we keep coming back to, that is because the ball keeps coming back at Manchester United. That should never be the case.

The team's only attacking template seems to be to get the ball wide and then get the cross in: pass, pass, pass, cross, create chance/repeat.

The disconcerting consequence of that is not just that it makes the team so drably predictable, but that it actually creates uncertainty further back. The fewer chances you manufacture, the more you will inevitably have to defend.

It is football with limits, at one of the few clubs in the world where there should be none. It says so much that the only source of excitement for the home side was the introduction of an 18-year-old: Adnan Januzaj.

Moyes himself said that Fabio's deserved red card -- for a lunge on Jose Canas with 10 minutes left -- was a turning point. That may probably true, but it is possibly stretching things, too, as it only ensured Swansea went from comfortable to concerted. Immediately, with Fletcher moved to right-back, Laudrup's side identified a weakness and repeatedly went for it.

The inevitable question afterward was what United will have to pay to get back on track, and Moyes insisted he was misinterpreted about transfers on the morning of the game:

"I said I would try, that it probably would be doubtful because of the window. If you read the small print, that's what I said ... there's an urgency that we'd like to bring people in but are those players available in January? So there's no point in me hyping it up, the players we want to bring in are not available, not because we don't want but because they're not available."

The next question, however, is whether Moyes' tactics would properly avail of any good purchases. At the moment, things are that bad, even in a recent winning run against a succession of lowly teams.

"It's been a tough start, a tough opening period," Moyes acknowledged. "I'm disappointed we've not won more games and played better, but I'm sure it will change, no doubt about that."

There certainly was no doubt about Laudrup, who praised his team for showing such confidence despite its own run of seven games without a win. That fact, perhaps, says even more about United's current state.

"In my world," Laudrup said, "they are still a big team."

They are no longer a winning one.