Three Things: Arsenal vs. Tottenham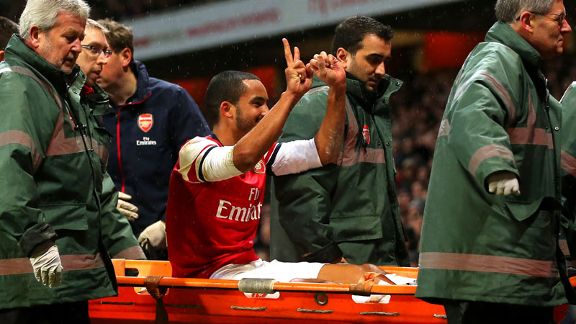 GettyImagesTheo Walcott wasn't popular among the Spurs fans after signalling the score, but now he faces time on the sidelines.
LONDON -- Arsenal defeated Tottenham 2-0 in the FA Cup third round, the Gunners' 18th straight victory at this stage of the competition. Here are some quick thoughts from the victory...

Rotation doesn't stop Arsenal's quality
This local derby may have been the draw of the round but by the end, there seemed a distance between the teams greater than other more lop-sided ties. For once, that is more significant for Arsenal than yet another win over Tottenham Hotspur.

This was the league leader's best and most comprehensive performance since arguably Cardiff City away on Nov. 30. Given that Arsene Wenger's side have looked a little jaded in the weeks since and have been forced to rely on admirable resilience in a greater proportion of games, the context of this one ensures the upsurge was neither coincidence nor without consequence.

It illustrated that many of Arsenal's main players were in bad need of a rest, but also that Wenger should be encouraged by many of his secondary options. It wasn't that the likes of Serge Gnabry and a further-forward Theo Walcott linked in with the existing players -- it was that they temporarily lifted the overall level. There were moments, especially in the more open first half, when Arsenal were glorious going forward. One pacy exchange between Gnabry and Walcott after 12 minutes sent a strong signal about what was to come, while both of the goals came in similar fashion.

- Report: Arsenal 2-0 Tottenham
- FA Cup wrap: Cardiff comeback, Villa 'cupset'

Overall, this was a rout in everything but score. On 33 minutes, Santi Cazorla superbly and powerfully finished a flowing move. Just after the hour mark, Spurs' willingness to keep leaving vast tracts of their goal undefended in the face of such attacks came to its inevitable conclusion as Tomas Rosicky picked Danny Rose's pocket on the halfway line. The Czech midfielder then burst forward before deftly changing pace and lifting the ball over Hugo Lloris. It was a level of control beyond Spurs' capabilities on the night.

Of course, this is not to say that this should now be Wenger's first-choice attack or anything of the sort. Rather, it is encouraging how they managed to play at such a level while the likes of Mesut Ozil rested so he could preserve the required sharpness.

It wasn't, though, the only reason that Arsenal's win was so impressive ...

All huff, and the going was still tough
If popular perception has it that Tim Sherwood will at least restore some earthy passion to Spurs, he was very far from claiming the derby win that would do more than anything else to build such momentum. By contrast, this was arguably Spurs' worst performance at the Emirates in some time. They never really looked in it.

While certain stereotypes attached to Sherwood are unfair, particularly given that he is far more astute than the Harry Redknapp-lite he has been portrayed as, there's no escaping the primary reason for the defeat: Tottenham had their tactics all wrong.

Although they had more of the ball in Arsenal's half and were generally passable in possession, they never looked particularly threatening in attack nor safe in defence. Far from it.

Spurs left swaths of the pitch open. It allowed Arsenal to swarm at them with abandon, and arguably ensured that Gnabry and Walcott were able to find their feet and link up more easily too.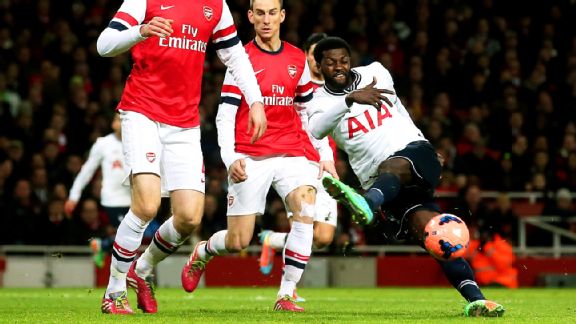 Clive Rose/Getty ImagesDespite playing Arsenal and with Soldado in support, Emmanuel Adebayor cut a disappointing figure for Spurs.

Arsenal did look like they would have played with high energy regardless of what Tottenham team they were up against, but it's difficult to argue they would have been quite so arresting. In short, Sherwood played into Wenger's hands, and Arsenal made them pay.

Whether Tottenham will pay for Sherwood's 18-month appointment is far too early to say -- that and the meantime manager has shown greater sophistication than just a simple 4-4-2. There was also the fact that this defeat immediately followed such a fine win at Manchester United.

That victory at Old Trafford also raises the question, however, of whether Saturday's cup game marked the first time that Spurs have actually played a team superior to them. Sherwood was unable to find the system or the approach to even come close.

The numbers don't quite add up, up front
One, it seems, was worth more than two. Theo Walcott may not have scored and didn't exactly do much with the chances he did have to prove he should permanently be in his preferred centre-forward position, but his role in an attacking trident ensured that Sherwood's insistence on playing two strikers was rendered futile.

Despite the fact it is Arsenal who are the side so badly in need of a striker, Tottenham just couldn't properly use the two they had. Roberto Soldado was again anonymous, reduced to a handful of isolated touches and two shots he dragged wide, while Emmanuel Adebayor never had the focus to accompany his unmistakable drive.

The game's very first moment of significance would effectively sum up the Togolese forward's game. Just seconds in, Adebayor received the ball inside the opposition half and drove at goal, running with in the same forceful manner with which he celebrated a goal for Manchester City against Arsenal back in 2009. Except this time, emotional abandon was not enough. Just when the forward got into a threatening position, his run took the ball too far. Beyond that, Tottenham or their forwards never again -- one Christian Eriksen chance aside -- got so close to the Arsenal goal.

Sherwood eventually switched from two up front but by then it was too late. The damage had been done. Whatever it says about "one against two," this 2-0 could have been 5-0. Arsenal's victory was that comprehensive.