Three Things: Blackburn vs. Manchester City
BLACKBURN, England -- Three things from Blackburn's surprising 1-1 home draw against Manchester City at Ewood Park.

1. The uneasy allies

It seemed an example of a forward duo working perfectly. Edin Dzeko flicked on David Silva's corner and an unmarked Alvaro Negredo volleyed Manchester City ahead in the 1-1 draw with Blackburn. Yet while some strikers jell together and others never quite click, six months into the Spaniard's City career, the evidence is that he and Sergio Aguero belong in the first category and he and Dzeko in the latter. Negredo and Aguero form an instinctive, intuitive and prolific partnership. In the Argentine's absence, however, he and Dzeko are uneasy allies. Perhaps, as two target men, they are simply too similar.

They started together against Fulham without prospering. Since then, Manuel Pellegrini has been reluctant to pair them and, while both began at Blackburn, it was with Negredo on the left in a lopsided 4-2-3-1; James Milner, on the right, tracked back rather more. Before Silva's set piece brought the breakthrough, there was one moment when they almost combined profitably -- Negredo meeting Dzeko's pass with a goal-bound flick -- but he was unable to get his shot away. Yet the general impression is not of a combination as much as two individuals operating in the same part of the pitch.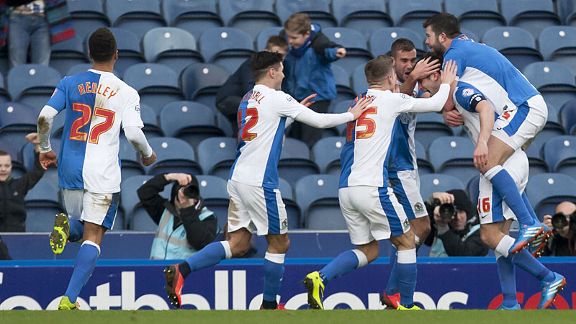 GettyImagesBlackburn players go wild after Scott Dann produced a shock leveller against Manchester City.
The obvious statement is to say City miss Aguero, out with a calf strain. More pertinently, perhaps, this sort of game could have offered an opportunity to see what Stevan Jovetic could do. Instead, the 25 million-pound forward, to Pellegrini's frustration, remains sidelined. He has only made three City starts but, as a player who likes dropping into space between the lines, he would make a more natural partner for either Dzeko or Negredo than they do for each other. Without Aguero, City's best shape is 4-2-3-1 with three of Silva, Samir Nasri, James Milner and Jesus Navas supporting a lone forward, and it was telling that Negredo was taken off as Pellegrini looked for a winner.


2. Boyata the weak link

Pellegrini has an elite squad of 22 players. The 23rd man is Dedryck Boyata, who made a belated first league start for the club in two and a half years against Crystal Palace and failed to last the 90 minutes then. With Micah Richards injured and Pablo Zabaleta given a rare rest, the Belgian was brought back against Blackburn. He did not finish this game either: booked for a foul on Josh King, he collected another caution for tripping DJ Campbell and a deserved red card. It capped a truly dreadful performance.

If the thought was that he could be trusted against Championship opposition, the reality was rather different. Rovers identified Boyata as the weak link. The influential winger Ben Marshall troubled him, beating him with ease. It scarcely helped that the very left-footed Joleon Lescott was City's right-sided centre-back. It is not his normal role and the Englishman's body position was wrong: he was forever facing infield to take the ball on his favoured foot. It was no coincidence that Blackburn's equaliser, like two of their first-half chances, stemmed from a corner on their left. They found City's right, and Boyata's sphere of influence, a profitable channel.

Not that the Belgian's presence on the pitch was the only unlikely element of the City squad. According to the Blackburn programme, one Hallam Hope was listed as their No. 37. He actually left the club in 2005 and is now on loan at Northampton. A rogue template, used for a preseason friendly against Everton, Hope's parent club, apparently accounted for the mix-up, but as he was 11 when he left City, he certainly never had a squad number. Clubs may use the cup competitions to give rare outings to lesser-known players but while there is rarely as strange a sight on the teamsheet, he couldn't have done much worse than Boyata as Pellegrini's decision to put Zabaleta on the bench backfired. The manager can be accused of taking Blackburn lightly.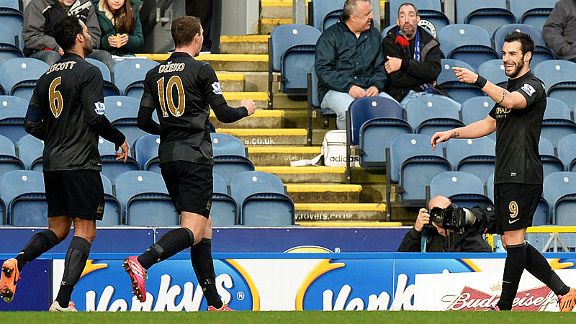 GettyImagesEdin Dzeko flicked the ball on for Alvaro Negredo to give Man City the lead at Blackburn on the stroke of half-time.
3. Rovers return to excellence

Soap opera, circus, crisis club: take your pick from the recent descriptions of Cardiff City. They were all used about Blackburn Rovers for much of the previous two seasons, years of relegation, recrimination, rancour and regression. This time 12 months ago, Rovers were preparing to appoint their fifth manager of the season. They went on to beat Arsenal and flirt with demotion to League One. Despite the victory at the Emirates Stadium, it was a car crash of a campaign.

Now Rovers have faded from the public eye. Obscurity is proving preferable to infamy. For that, much of the credit belongs to the manager who, after Henning Berg and Michael Appleton lasted 57 and 67 days respectively last season, has proved the continuity of being in charge throughout the campaign. The quietly sensible Gary Bowyer has restored sanity to the madhouse. While unpopular owners Venky's remain, there are a fewer flights of fancy and strange decisions at Ewood Park. Last season's overpaid, over-the-hill big names are no longer a factor, nor the random Portuguese imports. Instead, Bowyer has built a solid, mid-table Championship side on honest, earthy values of hard work. It is a team in keeping with Blackburn's traditions.

They acquitted themselves well. They were industrious and organised, showing a refusal to be cowed by a more talented team. After the in-fighting last year, there was a lone hint of discord in the camp when Grant Hanley shoved Chris Taylor as the teams came off at half-time.

If they were unhappy about conceding from a set piece, Rovers managed to score from the same source. Scott Dann got their equaliser and their threat from corners was another sign of how well-drilled Bowyer's team are. They merited the draw, just as they deserve their replay. For a club that made a 36 million-pound loss last season, a payday will be welcome.