Sherwood convinces as Moyes suffers a setback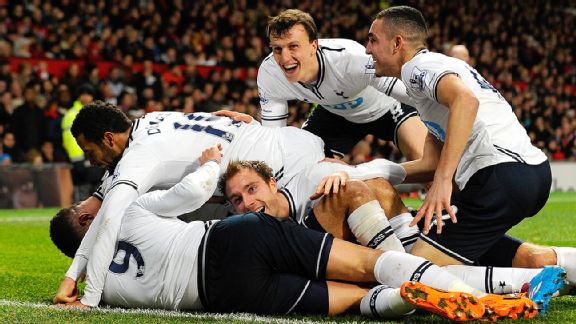 Andrew Yates/AFP/Getty ImagesSpurs celebrate Eriksen's goal, which proved to be the winner.
MANCHESTER -- Tim Sherwood is truly the anti-AVB. The tactical cage has been thrown open and Sherwood's Spurs have brought risk-taking entertainment back. For the second season in a row, Tottenham have a victory at Old Trafford to celebrate: 3-2 last season, 2-1 this campaign. In only his fifth match in charge, Sherwood has already emulated his predecessor's best result.

A striker reborn, Emmanuel Adebayor personifies the Sherwood revolution. Exiled by recently sacked manager Andre Villas-Boas but excellent under new boss Sherwood, his first-half header of a Christian Eriksen cross was perfectly executed, the type of finish so rarely seen under AVB.

"No slant on what was here previously, but I maintain Andre did a good job," said Sherwood before explaining his own philosophy.

"There's different ways to win a football match. I always like the players who can affect the opposition to play in the opposition half. Let them have their head and go out and enjoy themselves."

- Crace: Spurs' spirit shines again
- Okwonga: Man Utd succumb in a tale of two flanks

Spurs, for all their troubles and uncertainty, are now three points clear of Manchester United. The champions' title is all but surrendered, while their push for the top four is in almost as much trouble. The teams ahead of them play with far greater confidence; the top three have vastly stronger resources.

Another midfield disaster pointed to the area where the rebuilding must begin. January has not come a moment too soon, but will they strengthen there or, indeed, anywhere? A splurge should not be expected.

"If I was going to change my mind, it wouldn't be because of what I saw today," said manager David Moyes when asked if defeat here had him rushing to the sales.

- Okwonga: A tale of two flanks

Eriksen's goal, which proved to be the winner, came as a result of horrendous defending. With Michael Carrick withdrawn and Wayne Rooney playing as midfield anchor, Spurs streamed forward with ease, and Antonio Valencia proved he is no defender by allowing the Dane to score an unlikely headed goal. Moyes had shown Sherwood-esque risk-taking values, but paid a very different price.

Danny Welbeck's goal a minute later cut Spurs' lead to 2-1 and began the type of rousing push that was not in evidence a month ago when United suffered twin defeats to Everton and Newcastle.

A penalty claim for Eriksen's loose challenge on Welbeck came and went, as did a Hugo Lloris challenge on Ashley Young that had Moyes out on the field of play in anger.

Lloris' feet were high and Young looked to have been clattered. Perhaps the United player paid for his reputation, but this was another questionable decision by referee Howard Webb to follow a litany of them at Stamford Bridge on Sunday when Chelsea met Liverpool.

"Scandalous," raged Moyes. "Anywhere else on the pitch and it would be a sending off -- an incredible decision."

As United chased, Adnan Januzaj came in from the right flank with increasing menace, but dogged defending and goalkeeping dug Spurs out for victory. There was never quite the United relentlessness of their previous management. The delivery of results was certainly different. It never felt as if an equaliser would arrive.

"All you can do is play well and hopefully you take your opportunities when they come. The effort was terrific to try and get back into the game at 2-0 down and we never deserved to be behind," said Moyes, defensively.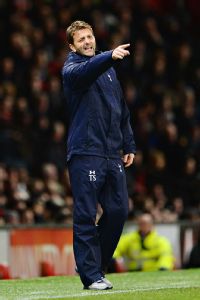 Michael Regan/Getty ImagesSherwood has collected three wins and a draw from four league games.
Sherwood's moment of triumph was celebrated in typically brash style. In the postmatch, he never removed the smile from his face. The source of his delight had the side effect of stopping dead the festive revival of United, who badly missed the finishing of Robin van Persie while Rooney was playing at quarter-back as they sought an equaliser.

Welbeck showed -- again -- that he is great at finding space, but by no means a reliable convertor of chances. Too often, his feet get caught, or the ball does not sit right. His goal, a calm conversion of Januzaj's fine pass, showed the Welbeck is capable -- but far better, more often, is required.

The arrival of United's season into 2014 sees them with just one win against the Premier League's top nine, and that was a backs-against-the-wall affair against Arsenal. Revision of those recent six wins in a row is now required: victories against Norwich and Hull City hardly mark out revival, while West Ham, United's last home opponents, are headed swiftly downward.

United clearly struggle at Old Trafford against teams who fearlessly come at them. Newcastle and Everton did it a month ago, as did West Brom and Southampton prior to that. Tottenham followed the template and, perhaps, there is now no fear for anyone.

United began well, but Adebayor's goal followed a let-off for the hosts when Aaron Lennon should have scored following Roberto Soldado's switch of play that left Patrice Evra stranded. David De Gea saved well, but was allowed to do so by Lennon's side-foot finish.

After 15 minutes, that was Tottenham's first attack, but their confidence grew exponentially, as did United's exasperation over their own missed chances.

Adebayor has not changed completely: He followed Welbeck's goal with what looked a sit-down protest. Eventually, he was stretchered from the field, which may have been the last we see from him in a while. Still, It was good while it lasted.

"He's got ice on every part of his body, so we can't tell what is wrong with him," said Sherwood of the Togolese. He needs his striker back soon to meet Spurs' top-four ambitions.

Four into one will not go, and United are fighting it out for the final Champions League place with Spurs and the two Merseyside clubs, who are having their best seasons in years.

The form of Moyes' men at Old Trafford has been especially ruinous. Even if they finish fourth, they will become only the second Premier League champions to finish the next season outside the top three (Blackburn did so in 1995-96).

"The margin for error's been very slim for a long time," admitted Moyes.

Other than his own, Sherwood was few people's idea of a Tottenham Hotspur manager, but by playing the type of football their fans approve of, he is beginning to convince.

Moyes' recent revival of United's fortunes had achieved something similar. Now, the doubts will circle once more.