Three Things: Chelsea vs. Liverpool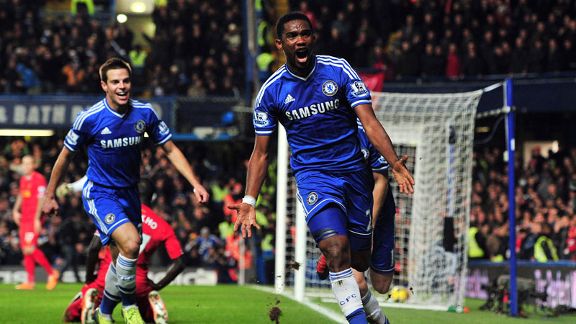 GettyImagesSamuel Eto'o celebrates after scoring for Chelsea against Liverpool.
LONDON -- Three things from Chelsea's 2-1 win over Liverpool at Stamford Bridge ...

Mignolet costs Liverpool again
Arsenal, Manchester City and now Chelsea. That trio look to be the three teams that will duke it out for the 2013-14 title. Liverpool's claims have been squandered over a ruinous Christmas period that now leaves them six points off the pace and back in fifth.

Chelsea were just too powerful. They did not panic after an early setback. As at the Etihad, Liverpool came away with much credit but zero points after scoring first. Individual errors proved costly again, while Eden Hazard and Oscar shone for Chelsea, causing all sorts of trouble for a brittle backline.

There is a renegade band of Liverpool fans who still yearn for the return of Pepe Reina, on loan at Napoli but not expected to return. Such a splinter group may be gathering numbers now. Simon Mignolet's mistakes have twice caused Liverpool's defeats against rivals. His soft hand at the Etihad for Alvaro Negredo's winner was echoed by his fumble of Samuel Eto'o's hardly unerring finish.

- Worrall: Eto'o the man of many moments
- Wrap: Chelsea, Arsenal win

The Belgian's reputation of being a fine stopper of shots has been diminished by twin catastrophes. His presence at Liverpool is partly down to cost-cutting -- Reina was on a very high basic wage -- but until the festive period, he had acquitted himself well. Now, the doubts begin.

A dream Liverpool start had been squandered; Philippe Coutinho's free kick had been tapped in by the maligned Martin Skrtel after a scramble.

Eden Hazard's equaliser was unstoppable. The assist had to go to the shins of Mamadou Sakho, as the Frenchman's control let him down. Hazard punished Liverpool. Mignolet, who had earlier made a fine save from a similar Lampard shot, could only dive in vain. Jose Mourinho swiftly switched from agitating officials to cheerleading in front of the home fans.

He smelled blood. Liverpool's vulnerability lies in the centre of their defence. Skrtel partially redeemed himself with his goal, but struggled with Eto'o. Sakho has many of the tools to be a fine defender, but ball-playing skills are not among them. His half-time shirt swap with Eto'o was an odd message to send, though he might have equalised when his drifting header instead hit the angle of crossbar and post.

That was the closest it got for Liverpool. Luis Suarez was a constant pest and incurred the wrath of Mourinho, who ran down the sideline to berate the Uruguayan for playacting as the final whistle approached. Yet in that battle of pantomime villains, Mourinho was the victor this time.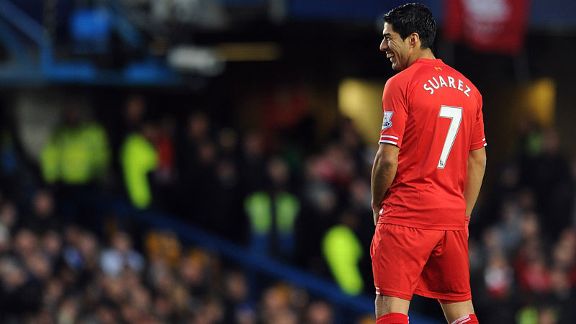 AllsportLuis Suarez was in a happy mood on his return to Stamford Bridge, though Liverpool's thin squad was laid bare in defeat.
A difference in depth
The combination of Frank Lampard and David Luiz in central midfield was novel. Mourinho might not like to be reminded of this but he once mocked Rafa Benitez for playing the Brazilian as an anchorman, even when last season's evidence suggested that it is a decent option to take. Ramires' suspension put the joke into practice.

Mourinho is a coach with a particular fondness for defensive midfielders. His many public moans about the quality of his squad derive from a paucity of strikers and the type of player that Michael Essien and Claude Makelele once were for him. Essien is still around -- he was on the bench here -- but is an utterly reduced force only to be used in extreme emergency. Luiz, meanwhile, played a full role in breaking up Liverpool's midfield play, and Suarez's darts from deep were not as effective as usual. Luiz is an excellent footballer and this role may well be his best. Perhaps Mourinho might now be convinced.

A comparison of the benches suggested that Mourinho's moans about personnel would be deafening if he were Liverpool boss. Jordan Rossiter is 16; when he was born, Lampard had already been a West Ham first-teamer for over a year. Victor Moses' ineligibility as part of his loan agreement meant that Rodgers was down to the brittlest of bare bones. Aussie full-back Brad Smith, at 19, is a positive veteran by comparison and had to come on for the injured Joe Allen as Rodgers ran out of midfielders.

Liverpool's season rests on a small band of players, with not much behind them. The summer's additions -- aside from Mignolet, until his crisis of the past week -- have yet to make an impact. A glance at Jordan Henderson's career trajectory suggests that players need time at Liverpool. They have not bought ready-made class since Suarez was signed nearly three years ago.

Mentor Mourinho masters Rodgers
Brendan Rodgers, a coach at Stamford Bridge for four years during the first Mourinho era, did not quite receive a warm welcome. When Chelsea's PA announcer said his name, a chorus of boos rang out. He and Mourinho had enjoyed a tactile moment in the tunnel but from there, game faces were adopted.

Mourinho waved back in irony at Liverpool fans' attempts to bait him, while Rodgers tried his best to remain nonchalant when the same voices sang his name. The pair were rivals in the most open title race for a generation, though Rodgers may have to settle for second best for the moment.

Both stood throughout, with Mourinho by far the more demonstrative. He is still the best show in town. Rodgers' hands were deep in his in pockets, except when a whistle was required. The apprentice had failed to master the mentor, who is exactly 10 years older than him. In truth, the pair have different aims in life. For the elder man, nothing less than a league title will do, or else he might face a Roman removal. Rodgers, meanwhile, can show progression with a top-four place that looks eminently within reach.

There is little shame in losing at Manchester City and Chelsea, the two strongholds of the Premier League -- Mourinho even made it 70 Premier League matches unbeaten with this win. Liverpool have been a little unlucky with their festive fixture list. They are behind Everton but within reach of their stated objectives. All is by no means lost. Aside from Manchester United, the second half of the season will see all the major contenders visit Anfield. Those matches could place destiny back in Liverpool's hands.