Three Things: Newcastle vs. Arsenal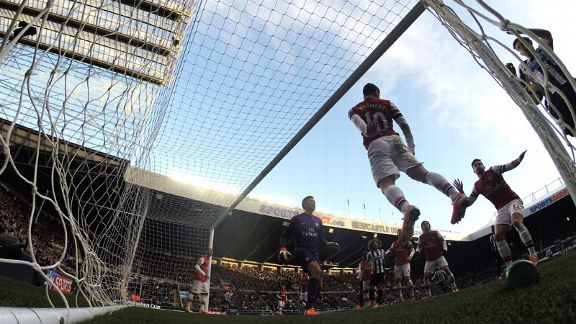 PA PhotosJack Wilshere clears the ball off the line
NEWCASTLE, England -- Arsenal went top of the league again with a battling 1-0 away win against Newcastle on Sunday. Here are some quick thoughts from St James' Park ...

1. Arsenal show resilience on Tyneside

Manchester City skipper Vincent Kompany is well aware of the problems a trip to St James' Park can present. "You never leave without bruises," the Belgian tweeted after his side emerged victorious in 2012 on the way to their maiden Premier League title.

Thus it was fitting that this season's Premier League pacesetters, Arsenal, ended the year with a testing trip up north to Tyneside. Having already beaten Chelsea and drawn with Liverpool (with 10 men) this season, no team has taken more points since November than Newcastle as Alan Pardew continues to steer the club far away from the previous campaign's flirtation with relegation.

For the Gunners, there had been a brief suggestion that cracks were appearing in their title charge when Per Mertesacker barked at compatriot Mesut Ozil after the crushing defeat at Manchester City, but the defender told this week's Bild am Sonntag: "It can't just be all happiness, peace and pancakes. If it is then you won't develop as a team."

And, in the midst of a poor recent run, the fans' excuses were already being prepared when it was revealed that they would be making the trip to Newcastle without 42.5 million-pound summer signing Ozil and free-scoring midfielder Aaron Ramsey -- both injured. Instead, the Gunners approached the game with a steel and determination that showed this may be their first serious title challenge since 2007-08 -- incidentally, the last time they ended the calendar year atop the league.

As with anything worth having, however, it wasn't easy. Reduced to long-range shots from distance during the first half, Olivier Giroud's header just after the hour mark was Arsenal's first attempt inside the penalty box.

Before that Newcastle had sat deep in a bid to soak up pressure -- just as they had in the 2-0 win over Chelsea in November -- before countering in an explosive manner. Once more, the Magpies showed signs that they subscribe to the strongly held belief that Arsenal's feathers are easily ruffled by physical play.

But, showing just the slightest hint of frustration when Tomas Rosicky pushed Mathieu Debuchy in the second half, for the most part the Arsenal players held their nerve. Believing his side had displayed both technical and mental strength, Wenger also felt the last 15 minutes had seen the emergence of his side's resilience under pressure as their goal came under pressure from the kind of long, lofted balls that had previously been their undoing.

"We believe in ourselves," Wenger said afterwards. His faith is well founded given that no side has taken more points (82) in 2013 than Arsenal. And while he is not naive enough to proclaim at this stage that his side are even close to winning their first Premier League title in nine years, they have certainly moved a significant step closer.

2. Giroud's strike reminds Arsenal of their lack of depth

It had been six games since Giroud last sucked his thumb in celebration at scoring a goal. On that November day, he had capitalised on a mistake by Southampton goalkeeper Artur Boruc; at St James' Park, though, there was no fortune to his goal -- rather, a perfectly timed run and neat header that trickled into the net.

However, while it was an important strike in the club's pursuit of the Premier League crown, Giroud's goal did little to change the complexion of Arsenal's attacking predicament. Among the sides with ambitions of finishing atop the league, they possess arguably the weakest front line.

The fact that the Frenchman was replaced by the oft-criticised Nicklas Bendtner spoke volumes about the climate at the Emirates. Now relying on a player they had tried so desperately to move on in the summer, the failed bids for Gonzalo Higuain and Luis Suarez are unlikely to be revisited in January.

Instead the club must now attempt to navigate a transfer window in which proven options appear sparse. Despite having previously secured Emmanuel Adebayor and Andrey Arshavin in the winter, the same kind of magic trick seems unlikely. Last season had seen goals divided equally among the likes of Lukas Podolski (11), Theo Walcott (14) and Santi Cazorla (12).

A goal-scoring return from Podolski and Walcott in the win over West Ham may have eased the tension to a degree but, as the new year begins, Arsenal cannot escape the problem of 2013: they lack striking depth.

3. Newcastle show progression as Cabaye and Williamson impress

A year ago today, Newcastle were enduring capital punishment. Humbled 7-3 at the Emirates by Arsenal, a spectacle for the neutral proved to be a mentally damaging evening for the Magpies.

Involved in a relegation battle for longer than they would have liked, last season saw the club's manager, players and transfer policy questioned. The quintet of French players that joined them weeks later endured an inconsistent first six months at the club.

Granted a preseason with the club, Alan Pardew also revealed that being afforded more time on the training pitch has aided his side. Now back in the top half, their resurgence is typified by three of the January five -- Debuchy, Yoan Gouffran and Moussa Sissoko. Complemented by staples of the side, such as Yohan Cabaye -- who has recovered well from an unsettling summer -- Pardew remains confident his side can maintain this form into 2014.

Asked whether he may renew his interest in Cabaye come January, Wenger dismissed it out of hand. With both Ozil and Ramsey due to return, Arsenal are already strong in that position.

The script had been written for the Frenchman to show Arsenal why they should have met Newcastle's valuation. Unable to secure victory, there were still bright spots to his game. Having mended his relationship with the fans, Cabaye offers a range of passing that delights those on the terraces and was lacking in Arsenal's midfield.

Still able to construct neat, slick interchanges that had Newcastle chasing, it lacked the required penetration. Taking until the 11th minute to receive the ball in space, Cabaye instantly displayed his threat with a fantastic ball over the top for Debuchy -- with the defender just unable to control it.

Another player linked with a move away in the summer -- being deemed surplus to requirements -- was centre-back Mike Williamson. With a career forged in the lower leagues, Williamson joined the club in the Championship before helping them earn promotion to the top flight.

Perhaps not the most cultured of defenders, his more traditional approach complements Fabricio Coloccini well and has even earned tongue-in-cheek calls from Newcastle fans for him to make England's World Cup squad.

A laughable proposition six months ago, the dependable defender is proving a consistent option for a Magpies side sitting in the top half. Growing in confidence, his second-half dummy on Rosicky shows he is eager to try to be more expansive in his play.

Both important cogs in the Newcastle side, albeit for different reasons, neither are likely to depart the club next month and have shown that one bad season has not destroyed the project at St James' Park.