Prudent Arsenal schools expensive Spurs on efficiency
LONDON -- Saturday's back page of The Independent scored the North London derby £93million - £0 to Tottenham. Unfortunately for them, there are no points for the amount spent on transfer fees over the summer. Victors in Highbury and Islington only once in the past 17 years, the money Spurs have invested in their team didn't yield a winning return at the Emirates on Sunday, either. Instead, there was a measure of vindication for Arsenal manager Arsene Wenger in the wake of a rousing 1-0 win.

--Giroud the main man
--Capoue injury could be costly for Spurs

The difference in expenditure may be vast between the two rivals, but in these early days of the season that didn't translate on the pitch. No, it's not the arrivals board that counts but the scoreboard, and in the end all that separated them was one goal scored by Olivier Giroud midway through the first half.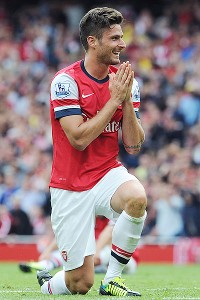 David Price/Arsenal FC/Getty ImagesOlivier Giroud was the catalyst for Arsenal in the win over Spurs.
Arsenal fans went from singing "Spend, Spend, Spend!" in the direction of their own dugout to chanting, tongue-in-cheek, "What a waste of money!" at the Tottenham players. On afternoons like this, you can well understand Wenger's unwavering faith in this group of players, how he's able to justify to himself not opening his wallet and resist joining in the "madness" to spend for spending's sake.

After the game, he was at pains to insist "I am not against spending money" but only will do so for players of "super quality," adding "I'm ready to pay what we can afford, and even if it's above the market [prices] as long as it's not crazy." With the transfer window due to close Monday, Wenger revealed "maybe we can surprise you."

The sense remains -- regardless of how encouraging this performance was, to say nothing of the past week as a whole for Arsenal -- that if they are to contend and challenge for silverware this season, areas of the squad require improvement. Reminded that much of the summer had apparently been devoted to reinforcing the centre-forward position, Wenger jokingly replied: "No, you spent a lot of time in finding another striker."

He was delighted with Giroud and with good reason. The France international's winner was his fourth goal in five games for Arsenal this campaign. Renditions of "Hey Jude" adapted to include his name instead rang out through the Emirates. It was a trademark finish of his: A run to the near post to edge in a Theo Walcott cross, just reward for the home side's encouraging start.

Indeed, it's worth reflecting on how throughout Giroud's career, his second seasons at the various clubs he's played for have tended to be his best. At Tours, he went from nine goals to 21, then at Montpellier from 12 to 21. Maybe Arsenal can expect a similar explosion from him.

Giroud was at the forefront of much of his team's best work. He almost doubled Arsenal's lead in the second half, his shot deflecting off Danny Rose and forcing a save from Hugo Lloris, Tottenham's "best player," according to Wenger, not least for how he came off his line to time a perfect tackle on Walcott outside of his own area. A pull-back of Giroud's for Walcott, which he then swept toward goal, brought another parry from his teammate at international level.

Pleasure was also taken in Mathieu Flamini's display. Though his return on a free transfer earlier in the week was greeted in some quarters with sneers of derision, his introduction just before halftime for a stomach-cramp-afflicted Jack Wilshere was a welcome one. He put himself about, gave the midfield bite and tried to organise things around him to good effect. "I said he was a no-brainer," Wenger said. "I'm just sorry he didn't cost €25M."

Right in his own mind about not buying unnecessarily, Wenger was also correct in forecasting that this Tottenham team faces a period of adjustment with so many new faces to integrate. Manager Andre Villas-Boas admitted that, in the opening 20 minutes, it was "difficult for us to control their pace." Etienne Capoue, the colossus in midfield, gave the ball away a few too many times for Tottenham's liking and, of more concern, would later be stretchered off with what looked like a nasty injury with a quarter of an hour remaining.

Tottenham initially sought out Nacer Chadli with the intention of targeting Arsenal right-back Carl Jenkinson, but nothing came of it. Once again, the "light and spark" in their play came from Andros Townsend. His purposeful running and cuts inside were a worry for Arsenal, but goalkeeper Wojciech Szczesny was up to each of his shots from distance, as he was in the second half when Tottenham midfielder Paulinho latched onto a Giroud clearance. Deflected, his shot caught Szczesny wrong-footed, but he was able to make a good save to deny Tottenham an equaliser. Roberto Soldado also had a penalty appeal turned down, too, though rightly so.

Villas-Boas felt a draw would have been a fairer result on account of the pressure his team put Arsenal under in the latter stages of the second half. But to their credit, Arsenal held on, Wenger's decision to resort to playing with three centre-backs to deal with the threat of balls launched into the box worked.

It was disappointing for Spurs that they couldn't break Arsenal down. The belief afterward was that they lacked creativity, "a false question" according to Villas-Boas. One imagines it won't be an issue over the long term. Erik Lamela, who came on in the second half to make his debut, is expected to provide that as is fellow new signing Christian Eriksen. But it will take time. Not only are Spurs adapting to new personnel, but a new system, too, as they move away from the 4-2-3-1 of last season and toward the 4-3-3 that Villas-Boas is trying to implement in this.

Tottenham will get better, of that there's no doubt. They're a work in progress. But the impression gleaned from Sunday, despite all the claims to the contrary, is that Arsenal are further along.