Three Things: Norwich vs. Manchester United
NORWICH -- A trio of thoughts from Manchester United's 1-0 win at Norwich.

1. Why Welbeck matters

For the first time this season, Manchester United's matchday squad contained neither Wayne Rooney, their player of the season so far, or Robin van Persie, who won last season's award.

The Dutchman is out for two more weeks, and a groin strain prevented Rooney from taking the flight to Norwich. He's expected back for United's home game on New Year's Day against Tottenham Hotspur.

United's deep squad has usually helped them to overcome injuries and rest players, especially in periods of frequent matches such as during the festive programme -- this was their ninth game this month.

In-form Danny Welbeck might have seemed like an obvious replacement in the absence of the forward pair, but David Moyes, who felt the England international had been fatigued from a flurry of recent matches, made him a substitute. That rest lasted until half-time, when Welbeck was introduced with game-changing consequences.

Before that, United looked light without their best two players and were on the back foot for much of the first half at Carrow Road, a ground at which they have a poor recent record, including a 1-0 defeat last season.

Rooney and Van Persie are attackers, yet they lift the whole team. At least one usually comes back to defend when needed, and their work defending set pieces is valued by their teammates.

Javier Hernandez, who did start, was an anaemic replacement. He lacks the physical presence of Moyes' other strikers, and the Mexican seldom troubled Sebastien Bassong and Ryan Bennett, nor the Norwich goalkeeper, John Ruddy. He also picked up a needless yellow card for failing to retreat from a free kick, and his combinations with Shinji Kagawa were limited.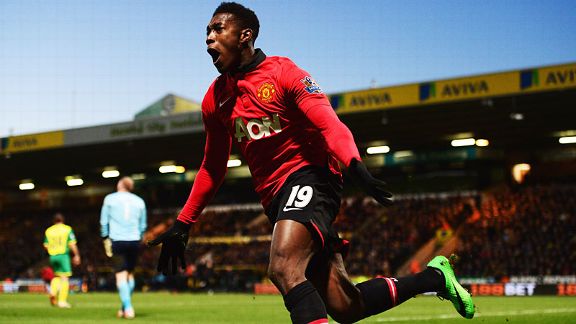 AllsportDanny Welbeck's winner was his fourth goal in his past four league games.
Welbeck, by contrast, was all action. Even without the ball, he closed the opposition down, allowing Tom Cleverley and Michael Carrick to advance. The goal -- his fourth goal in two weeks -- that won the game was a well-taken 57th-minute effort that saw him round Ruddy after a poor Bennett clearance.

Welbeck ran to celebrate in front of the 2,700 noisy United following, some of whom he knows from his hometown of Manchester. As Moyes and his coaches jumped out of the dugouts and punched the air, the away fans in front of Welbeck chanted: "Super, Super Danny Welbeck."

If Rooney and Robin aren't about, then Welbeck's the man.

2. Kagawa misses his chance

"I thought it looked like Shinji's first game back for a wee while," said Moyes when asked about Kagawa after the match.

"He's had a bit of illness, and he just hadn't looked right in training yet. I thought today might be the right opportunity, but I still thought he looked like he was blowing. That's why I thought that it was time for him to come off after 60 or 65 minutes. He'll get better. He's like that. When he plays, he gets better."

Moyes is often asked about Kagawa, not least by the dozen Japanese journalists who follow every United match. Indeed, there were more Japanese journalists at one preseason game last season than British ones.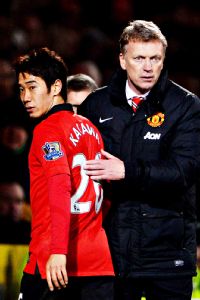 Michael Regan/Getty ImagesStarting just his first league game since Dec. 4, Shinji Kagawa struggled to make an impact before being substituted.
The manager has spoken well of the 24-year-old this season -- especially after his performances at home to Real Sociedad and away to Bayer Leverkusen -- and has said that Kagawa is becoming the player he knows he can be, yet, although the Japanese playmaker is undoubtedly gifted, he is not consistent enough. Inspired in Leverkusen, he was anonymous against Tottenham a few days later.

There's a feeling among United's coaches that he adds balance to the team and that his movement off the ball helps his teammates, but Kagawa is not doing enough to become a regular. An injury to van Persie means he's getting more chances than might otherwise have come his way, yet he's not taking them.

He has spells within games when he looks like a difference-maker, such as a 10-minute cameo in San Sebastian when he switched to his preferred central role behind the striker to effect, yet it's too little.

It's also the story of his Old Trafford career to date since he joined from Borussia Dortmund in the summer of 2012. All the team's attacking play went through him, and Juergen Klopp cannot understand why he is not always deployed in a central role for United.

The problem is that, even when he is deployed through the middle, he doesn't do enough. Injuries have not helped, but Kagawa needs to improve if he is to have a long-term future at United.

3. Pressure grows on Hughton

Chris Hughton is under pressure. His Norwich side have won only one of their six league matches in December, and he remains unloved for his perceived lack of adventure, for making changes too late in games and, primarily, because Norwich are not doing as well as their fans would hope.

In mitigation, he has been without four of his best players through injury, although his unwillingness to select fan favourite Wes Hoolahan annoys the 27,000 who sell out Carrow Road for every league match.

There has been a buzz about the club in recent years. Four years ago, Norwich were playing Carlisle United. Their rise from the third division has been impressive and, although the buzz is fading, there are still 2,500 who are waiting for season tickets.

To satisfy demand, the club have costed a second tier on the Premier League's smallest main stand to boost the capacity to 35,000 at 40 million pounds. Norwich estimate it will make them an extra 4 million per year, so it would be a 10-year investment before it is paid for.

They promised they would do it in the second year of the Premier League, but Norwich are now in their third. Are they waiting to become an established team? Does such a thing exist for a club of Norwich's size in a league in which the bottom 12 teams could go down?

Canaries fans ended the game against United as they started, with a chorus of their "On the ball City" anthem. They had seen much in the first half to give them optimism, especially down the right through Russell Martin and Robert Snodgrass. Not for nothing did Hughton feel unfortunate afterwards, nor Moyes praise Norwich's efforts.

Hughton did not play up the importance of the New Year's Day game at Crystal Palace, but just three points separate the two teams, the same margin by which Norwich are above the relegation zone.

Hughton was rightly bemoaning the sacking culture of managers before this latest defeat. If his side don't improve, his own job will be in danger.