Man City's strength in depth and quality edges Liverpool in clash
MANCHESTER -- The Premier League's contenders have shown their various hands at Christmas.

Arsenal and Chelsea delivered a slumber party on Monday. On Thursday, Manchester United fumbled for loose change at Hull while Everton were brought back to earth by home defeat to lowly Sunderland. Tim Sherwood's no-tactics thing has already fallen flat at Tottenham.

Boxing Day saw Manchester City and Liverpool deliver a belated present, though Arsenal benefited perhaps best from City's 2-1 win.

--Watch match highlights

The gift was entertaining football and it was all owed much to a seasonal openness of spirit. Attack was the winner and defence was abandoned in the first half especially. Even imperious Vincent Kompany was to be found bearing gifts.

City's usual blueprint is to blast away opponents from the start. Only against Everton had they previously been behind at home. Their perfect home record -- nine wins from nine -- was retained through unusual means: fightback.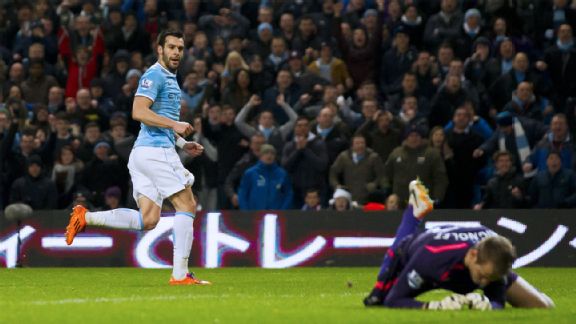 AP Photo/Jon SuperAlvaro Negredo filled in the void of Sergio Aguero scoring a game-winner vs. Liverpool.
Liverpool made Manuel Pellegrini's men struggle to overtake them in the table. The now-favourites are in second, lurking behind Arsenal with intent, while Liverpool swapped being top at Christmas for fourth on Boxing Day, a position once their optimum stated aim but which now registers as a disappointment.

Both Pellegrini and Brendan Rodgers subscribe to attacking football. Neither know any other way. In the second half, Rodgers tried to lock down matters through a more circumspect approach but by the end, he had once again thrown caution to the wind. This was a game in which Steven Gerrard's know-how might have been better suited to stopping City's flow and setting up the counters that were by far Liverpool's best weapon.

"I think everyone walking away would have thought we had deserved a point," Rodgers said. His team performed with distinct credit, but come up short, due to a combination of individual mistakes from both players and officials.

This was not the catastrophe for Liverpool that their November defeat at Arsenal had been. Unlike at the Emirates, they matched their opponents toe to toe, especially during those breathless periods when the action swung end to end. However, their defeats to title rivals have exposed a lack of comparative individual quality, most obviously in defence and the centre of midfield. Chelsea on Sunday is a further acid test of credentials. A loss there combined with an Everton win would drop Liverpool from the top four.

"Our main intention is to set up camp in the top four," Rodgers said. "We have shown this year we are hopefully going to be up there and doing that. We didn't get the points."

This time, Luis Suarez could not inspire Liverpool to victory. The Uruguayan was menacing, but not quite the terror he can be to teams of lesser means. Sometimes, City had double -- even treble -- up on him, but apart from his contribution to Liverpool's goal, he was kept at bay. "They did very well against Suarez," Pellegrini said. "He's a great striker in his best moment."

Hated, adored, never ignored, there is always Luis Suarez. It took until the 14th minute for him to materialise, but his threat was constant thereafter, up until the point when theatrics probably prevented him receiving a penalty when Joleon Lescott had handfuls of his shirt. There was even time beyond that to get booked for a late challenge on Joe Hart.

Eventually, City worked out that they had to stymie Suarez's combinations with Raheem Sterling. It was a hugely dangerous combination in the first half. It nearly delivered three times. First, Hart's charge stopped Sterling's charge. Next, the teenager had the ball in the net. Sterling broke from a clearly onside position, but referee Lee Mason went with his assistant's flag, an utterly incorrect decision.

"They were horrendous in terms of their performance," Rodgers said of the officials. "We never got any decision that went for us. They weren't even on the same cut of grass. If Raheem goes through, he scores."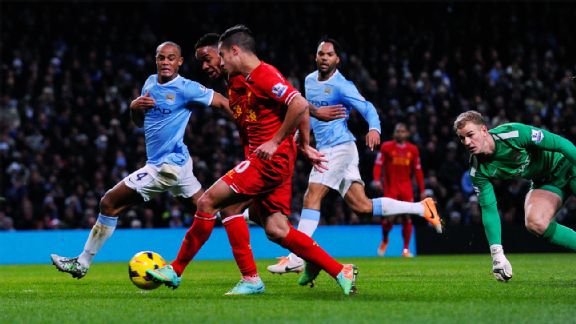 Andrew Yates/AFP/Getty ImagesPhilippe Coutinho's performance was encouraging for Brendan Rodgers and Liverpool.
Third time lucky had to do. This time, Philippe Coutinho whipped the ball from Sterling's toes after Suarez's pass and into the net. However, it was to Liverpool's regret that their best chance of the second half fell to Sterling and not Suarez. Sterling missed badly, and with it, despite some desperate Rodgers switches, City were able to hold on. They might have opened up more of a lead themselves, but they suffered from a lack of a final ball.

If Liverpool have Suarez, City have Kompany. Both team's seasons would disappear from view without their captains. The Belgian's equalising power header wrenched City back to parity.

Behind a Liverpool midfield that left gaps too often, there remains a distinct vulnerability in their backline. Martin Skrtel grappled Kompany well enough, but only until the ball arrived, at which point Kompany had a free header. Whenever City counter-attacked at speed, wide-open spaces appeared through which both Jesus Navas and Samir Nasri in particular should have profited.

Instead of Hart, it was Liverpool's Simon Mignolet who had to wear the cap of keeping calamity. Alvaro Negredo's shot was hit with neither enough height nor venom, and yet the Belgian's hand, which made full contact, could not prevent a goal on half-time.

Hart had already made a save to remind of his instinctive best. Suarez and Sterling had combined beautifully to create the chance for Coutinho, but Hart's contribution was its equal. Always a confidence player, Hart stayed commanding to the game's conclusion.

"I am very pleased with Joe," Pellegrini said. "In the games in the last month he has done very well. It was good for Joe to have a rest."

If Hart's revival continues, then he, Kompany and Pablo Zabaleta are just as important to City's attempts to regain their title as any of their attacking array. Though they were entitled to be annoyed by the officiating, Liverpool could do with players such as those in City's backline.