Three Things: Hull City vs. Manchester United
HULL, England -- Three thoughts on Manchester United's 3-2 win at Hull.

1. United still have a great comeback in them

26 minutes had passed when the 2500 travelling Manchester United fans mocked their rivals on the other side of the segregation line inside Hull City's KC Stadium.

"Mauled by the Tigers," they chanted sarcastically, complete with hand movements of a pathetic mauling tiger.

The song was doubly offensive to the raucous home fans nearby. Their otherwise popular owner, Assem Allam, wants to change their name from Hull City AFC to Hull Tigers, which is not approved by fans.

The United fans had not been so impertinent earlier as their side went 2-0 down after 11 minutes. Later, David Moyes joked that his side were still stuck on the Humber Bridge.

Before today, Hull had conceded just three goals at home in eight home games, a superior record to any other club in the Premier League. That total was doubled as they conceded another three to a United side that recovered from the initial shock to surge back. They were level by 25 minutes thanks to a Chris Smalling header and a dipping Wayne Rooney volley.

Sir Alex Ferguson's sides were famed for their late comebacks, yet Moyes' teams have been strangely ineffective late on in matches, conceding from set pieces against Cardiff and Southampton to drop points rather than grabbing late winners.

- Payne: United show character

It was very nervy at the end for Moyes' ten-man side -- following Antonio Valencia's red card -- but they held on. Progress will be measured by such endeavours.

The champions still think they can win the league, but anything but victory at Hull would have made an improbable task more implausible. As it was, United won with their fifth straight in all competitions.

There were further positives for the reds. Darren Fletcher started his first game in a year, Michael Carrick returned from injury and the victory was achieved without Robin van Persie.

The end of 2013 is looking brighter than it threatened to three weeks ago, when United sat ninth. Moyes' side still need to improve their form against the top teams if they're going to have a hope of retaining the title, but they've traditionally used Christmas as a launch pad to a brighter, trophy-winning New Year.

They feel they can do the same again.

2. Settled on Smalling and Evans

"I knew it would be difficult to break into the first team because of Nemanja [Vidic] and Rio [Ferdinand], the best defensive partnership the Premier League has seen," said Hull's James Chester, who scored for both teams.

Chester wasn't the first player to leave because of the impenetrable back two; Gerard Pique left for Barcelona. United were sad to see him go, but there was no obvious solution.

Now though, the Ferdinand-Vidic pairing, arguably the greatest in United's history, is all but finished. When Ferdinand tweeted on Christmas Day that he was about to make Christmas dinner, it was obvious that he had not travelled with his teammates to East Yorkshire. At 35, he won't have enjoyed being dropped.

Ferdinand is an exceptional professional and has been a world-class defender but his form has not been encouraging. Against Shakhtar Donetsk early this month, he suffered what's known around Old Trafford as a "Gary Neville at West Brom moment" when he was easily beaten for pace.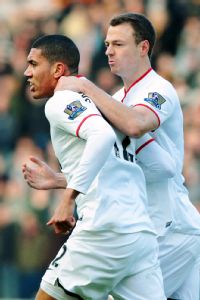 Lindsey Parnaby/AFP/Getty ImagesSmalling and Evans started together in central defence for the third straight game.
He had carefully adjusted his game to offset his advancing years, but his status is slipping at the club ,where Jonny Evans and Chris Smalling are now the first-choice defensive pairing for David Moyes.

Great United sides have been built upon a solid central defensive partnership. The one between Hull manager Steve Bruce and Gary Pallister was only eclipsed by that of Ferdinand and Vidic. Injury, rather than age, appear to have taken a greater toll on 32-year-old Vidic, but he still has a future at the club. Regardless, the club is relaxed about the situation because they have Smalling and Evans.

Bruce had never been on the winning side as a manager against his former club in 18 previous attempts, but when Evans prodded into his own goal after 11 minutes to make it 2-0, even he would have fancied his chances.

The visiting defence was in chaos but steadied, with Smalling a sublime scorer to halve the deficit. Evans has been excellent this season too and the more they play together, the better they'll be. This was supposed to be a season of transition, after all.

3. There's a high life after Old Trafford

"United is the ultimate dream, but your chances of making it there are slim," said Chester.

"If you don't, then being a professional footballer at another club is the next best thing."

The Warrington-born Manchester United fan joined United at age 8 and rose through the ranks before making a solitary appearance for the first team.

"That was my highlight at United," said Chester. "I came on for Gary Neville at Old Trafford. The gaffer [Sir Alex Ferguson] said: 'Chester, get your kit off, you're coming on.' My family were there. I was happy for them as well as myself. They'd put a lot in to help me over the years, like taking me to training."

Life may have turned out differently for Chester at Old Trafford had he not picked up injuries at the wrong time. Even when he went on loan, he got hurt.

Many a footballer would have dropped down and down. For example, at least two of Chester's teammates played from United's victorious 2007 FA Youth Cup-winning side have since been without a contract at any level of the professional game

Chester ended up at Hull -- signed for 300,000 pounds -- where he's since played with several former United players such as Corry Evans, Ben Amos, Robby Brady, Joe Dudgeon, Cameron Stewart and Paul McShane. All are enjoying handsome careers in football away from Old Trafford.

"It was always a tough decision to leave United, but I've come to the right place," said Chester, who played more games than any Hull player last season.

He's now established as a Premier League footballer, and the opening goal of this game is a highlight for him. Sadly, it was followed by a low point as he headed into his own goal to give United the 3-2 advantage. He nearly amended it with a late equaliser but it wasn't to be.

"It could have been his day," said his boss, Bruce. "He'll remember today for a long, long time."