Holiday spirit missing at the Emirates
LONDON -- Slip-sliding away in the stormy conditions that have brought Britain to a sodden halt, a Christmas classic was never likely.

Instead, a stone-cold turkey was served as Arsenal and Chelsea drew 0-0. Rain and wind swirled around two teams labouring in the gloom; passes either aquaplaned on a soaked surface or squirmed away as players chased them.

Festive spirit was in short supply, too, as tackles were snapped into and tempers frayed. The mood was hardly enhanced by a refereeing performance that was simultaneously lenient and also over-picky. Mike Dean will not be receiving compliments of the season from anyone associated with Arsenal.

Winning ugly is often beautiful for Chelsea under Jose Mourinho, but he is also rather fond of drawing 0-0 away at his rivals. Those who benefit most are Liverpool, top of the league on Christmas Day for the first time since 2008, only the third time they have been in that position in the Premier League era.

A word of warning to gleeful Kopites: Liverpool have not won the title after any of the past three occasions when they led the league at this juncture.

Liverpool's lofty position owes much to Arsenal's recent slide in results. After being battered in Manchester nine days ago, they completely lost their flow against a Chelsea whose main aim was to frustrate.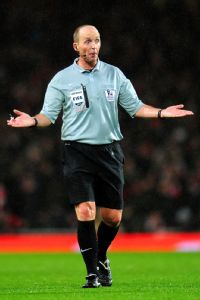 Shaun Botterill/Getty ImagesMike Dean incurred the wrath of Arsenal on several occasions.
It's 10th time unlucky for Arsene Wenger against Mourinho, the manager he is yet to beat. In truth, neither team deserved anything more than a point, though plaudits must go to John Terry for his vintage marshaling of Chelsea's back line.

"It's their home game. It's up to them to bring it to us," Terry said afterward, unapologetically. "We tightened things up and went for the draw."

Arsenal had only one true chance, and that arrived late when Kieran Gibbs' pass found Olivier Giroud at his favoured near-post position, only for Petr Cech to make a fine save to thwarted him.

"They came to defend and catch us on the break," Wenger said. "It was a game of very few chances. The few opportunities we had we couldn't take. When you cannot win, you try not to lose, either."

We were edgy," he admitted.

Last season here, Roberto Di Matteo fielded three amigos in Eden Hazard, Oscar and Juan Mata and won a crushing victory. Only the Belgian started on Monday, and he fulfilled a workhorse role that hardly comes naturally.

Mata's absences are now habitual, but Oscar's was more surprising. Willian 's pace on the break was trusted instead, but the Brazilian offered virtually nothing to the game in an attacking sense.

Counter-attacking and power made Mourinho a Chelsea legend. Though the best in-game manager in the sport, he has always leant on brio when a result is required. Flair is housed only if it is paired with defensive duties. In that fashion, he is just as principled as Wenger; the difference between them is that the Frenchman is nowhere near as reactive.

Chelsea's probable best performance of the season so far was their visit to Arsenal in the League Cup. A largely second-choice lineup blasted Arsenal away with ease. Frequent exiles like Mata and David Luiz shone then but were back on the bench here.

Mourinho's mastery of the media has many seeking the message each team selection is sending out. However, there has been little subterfuge about his disappointment with the tools he has to play with.

He is in control of a squad clearly constructed on the off chance that Pep Guardiola had arrived at Stamford Bridge last summer. A manager who prefers hard-running athletes is forced to work with a group of effete dancers.

"It was a tactical match," Mourinho said. "A game that Arsenal want to win but don't want to lose, a game that Chelsea want to win but don't want to lose.

"I want to go in the direction of creative players," he replied to questions on his cautious tactical plan. "But there are matches that I have to play with a different philosophy."

Mourinho's selection hardly betrayed belief in creativity. Arsenal's passing game had to pierce two banks of bore. It closely resembled Chelsea's approach to their early-season visit to Old Trafford: defend, harry, hustle and hope for a chance on the break. The aim was to kill the game and strike later; Plan A was followed closely, but Plan B never arrived.

It was not until 25 minutes in when an attack worthy of the name was mounted. There had been a couple of failed Fernando Torres bursts, but a Bacary Sagna overlap, thwarted by Gary Cahill's header out was the first moment to lift fans from their pews.

The weather provided a chaotic element, and no moments of intrigue derived from footballing class, aside from Frank Lampard 's crashing of a Hazard pass against the crossbar.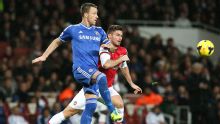 AP Photo/Alastair GrantTerry was imperious at the back for Chelsea.
John Mikel Obi should have been dismissed for a studs-up lunge on the ankle of Mikel Arteta. Arsenal also had a penalty wrongly waved away after Willian's loose challenge on Theo Walcott. That the winger's fall looked unnatural probably saved Chelsea.

Arsenal have more reason to feel aggrieved at referee Dean; they have won just three of 21 matches he has officiated. The Dean/Mourinho combination must sink Gunners' hearts. The referee had a clear view of both incidents.

"100 percent a penalty," exasperated Wenger of the latter.

When Ramires aimed a similar tackle to Mikel on Arteta in the second half, Dean again kept the Chelsea man on the pitch, and rage from those in red descended once again. Next, Branislav Ivanovic 's tussle with Mesut Ozil and theatrics under a Tomas Rosicky challenge brought further howls of frustration.

"They like to cry. That's tradition," Mourinho said dismissively. "Football is for men, or women with a fantastic attitude," said Mourinho, who chose to praise Dean.

Wenger, who did not make a substitution, had to settle for a stalemate and was diplomatic when told of Mourinho's jibes: "We are used to it," he deflected.

Goodwill to all men had not resulted from a game that will only be memorable for its extreme turgidity.