Three things: Getafe vs. Barcelona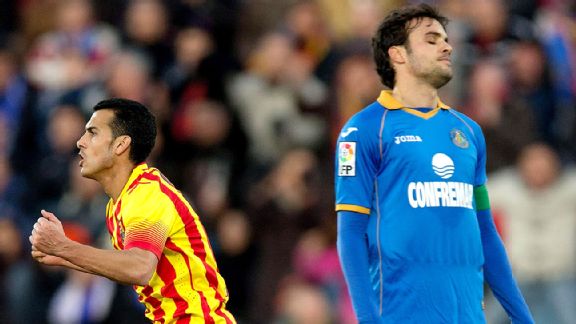 Gonzalo Arroyo Moreno/Getty ImagesPedro's brilliance versus Getafe rescued Barcelona from a slow start.
Here are three observations from Barcelona's come-from-behind 5-2 victory over Getafe.

1. Barca defence still not good

By the final whistle it was moot, but Barcelona's defending in the opening stages was just awful.

Getafe left-back Sergio Escudero ran straight through the right side of their defence for the opener on just 10 minutes. Dani Alves was caught way out of position, and Javier Mascherano decided (wrongly) against coming across to cover. Escudero said "thanks very much for all this space inside the penalty area" and set himself to drive a powerful shot straight through reserve keeper Jose Pinto.

The defending for Getafe's second goal was just as bad, if in another way -- with home centre-back Lisandro Lopez left unmarked 6 yards out to head in a corner. Barca have changed from zonal to man-to-man marking under Gerardo Martino this season, but it mattered little, as Pinto was also embarrassingly rooted to his line. Five of their 12 goals conceded in La Liga this season have been from corners -- while it remains clear that the personnel, not the system, is to blame.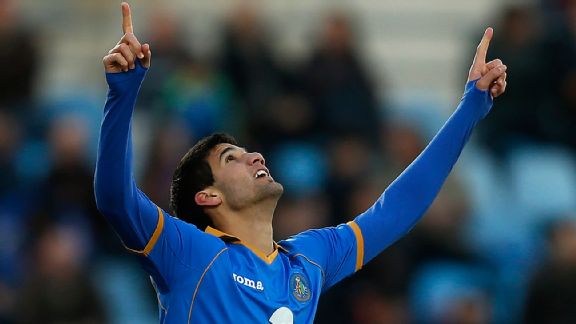 AP Photo/Andres KudackiLisandro Lopez took advantage of some poor set piece marking to give Getafe an early 2-0 lead.
Even as his side roared back to win Mascherano had some shaky moments -- and it looks as if the new more traditional style of defending favoured by Martino in open play does not suit him either. The decision about whether to buy a new defender was put off last summer as club captain Carles Puyol was returning from injury, but he continues to be troubled by that knee problem, and at 35 is hardly the future. Marc Bartra, is younger [at 22] and much hyped in Catalonia, but questions remain over his suitability -- and he was at fault when Villarreal scored from a corner last weekend at the Camp Nou. This evening's calamities should ensure the search for a new centre-back will be back on again during the upcoming transfer window.

- Getafe 2-5 Barcelona

2. Pedro's day

With main attackers Lionel Messi and Neymar both missing, Pedro Rodriguez seized his opportunity, and then some.

The winger's first goal was brilliantly taken -- running onto a Cesc Fabregas through ball and chipping Miguel Angel Moya before the advancing goalkeeper had time to set himself.

- Tomas: Pedro steps up with hat trick

His second was even better, as he raced clear down the left wing, cut back inside Juan Valera and lashed the ball to the net with his right foot. His third was not bad either -- taking advantage of a slip by his marker to control the ball and finish clinically inside the box. Three goals in nine minutes was the fastest hat trick by any Barca player in the 21st century -- meaning it was quicker than any treble in Messi's club career.

Such emphatic finishing was also perhaps a message to Martino, who usually favours Alexis Sanchez -- who brings more physical attributes but less composure in front of goal -- when completing the three-man front line of his "gala XI." Pedro also chipped in with two assists in the second period -- providing the game's clinching goal with a pinpoint cross that was expertly volleyed in by Fabregas for Barca's fourth, and then bemusing Borja Fernandez into the clumsy challenge that led to the penalty converted by Cesc for 5-2.

Getafe's generous defending was a boon, but Pedro's three goals showed the confidence of a player who is now getting back to top form after a few so-so seasons. The Tenerife-born attacker is clearly enjoying his trips to Madrid -- he also scored a hat trick at Rayo Vallecano in September. This display means he should really start -- even with Messi and Neymar back -- when Barca visit title rivals Atletico Madrid at the Estadio Vicente Calderon on Jan. 11.

3. Finding ways to win

There had been concern pregame over whether Barca's off-field issues were now too much of a distraction.

The past week has seen Messi's father, Jorge, accused in the media of involvement in drug-money laundering; Neymar's summer transfer from Santos become the subject of a Spanish court inquiry; the European Commission confirm it was investigating whether the club had received illegal state aid; and, most worryingly perhaps, Messi junior heavily criticise Barca's directors in public. There was also the "curse" of Barca's red and yellow "senyera" kit to take into account. At 2-0 down it all seemed to be just too much.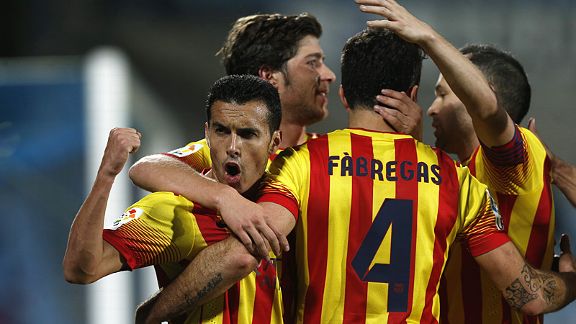 GettyImagesPedro roars in celebration after scoring one of his quickfire hat trick goals against Getafe.
But on the field at the Coliseum Alfonso Perez the players remained focused on their jobs. Pedro, Fabregas and their fellow not-so-old but still vastly experienced Spanish internationals Sergio Busquets and Jordi Alba got down to work and turned the game around with some superb attacking football. Barca took risks at times, but showed the strength of character of true champions in overcoming all the various types of adversity, while also being able to read the game and do what had to be done at different moments.

At 2-0 down the whole team squeezed right up the pitch -- trying to overwhelm Getafe with numbers, but leaving acres at back. Supposed midfield shield Busquets was often playing just 30 yards from the opposition goal, while Alba and Alves were pushed up like wingers. In keeping with Martino's preference the ball was moved forward much more quickly (often through Fabregas) than previously under Pep or Tito, and the Getafe defence could not cope with the pressure.

After half-time, with the scoreboard 3-2 in Barca's favour, the game plan was different. Now Fabregas was dropping deeper, alongside Andres Iniesta and Busquets, to help keep the ball and take the sting out of the game. Busquets was outstanding yet again -- and he is now probably Barca's most important midfielder -- even more vital than Xavi Hernandez or Andres Iniesta. For the fourth goal it was "Busi" who won possession and carried it forward before springing Pedro down the wing.

Busquets completed his evening by picking up a yellow card which means he can sit out the game against Elche on Jan. 5 and be back for that all-important game at Atletico. Diego Simeone's team also showed their mettle this weekend, coming from behind at home to Levante to win 3-2. That Calderon clash on the second weekend of January now looks like it could go a long way to deciding this season's Primera Division title.