Three Things: Fulham vs. Man City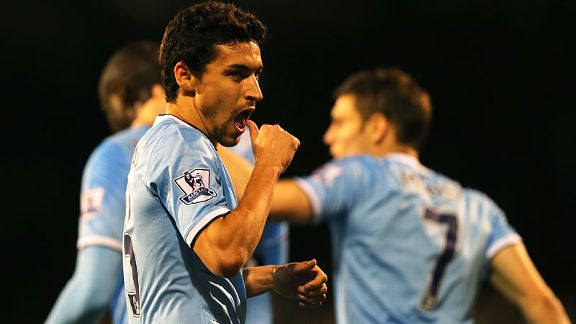 GettyImagesJesus Navas celebrates after putting Man City back in front at Fulham.
LONDON -- Man City's 4-2 win at Fulham takes Manuel Pellegrini's side up to second place in the Premier League. Here are three things on the victory:

Away day Blues: Travel sickness is the only ailment that might prevent Manchester City winning the Premier League. They were cruising at Craven Cottage only to suffer the collywobbles that could prove catastrophic to their title hopes.

Fulham entered the half-time dressing room beaten, taken apart by a typically powerful City dismantling. Yaya Toure had boomed in a free kick, and Vincent Kompany poked home City's second after lax defending.

Yet by the 70th minute, Fulham were level and in the ascendancy. City were tetchy; the flow of their football had gone. They had to rely on the Spanish brilliance of David Silva and Jesus Navas to dig out three points that should already have been theirs by right. James Milner's later goal was rather unfair on Fulham's endeavour, even if it owed much to a mistake by Aaron Hughes.

At home, City are perfection itself. Arsenal were utterly destroyed last week in Manchester. Yet four defeats away from the Etihad campus had the team with almost certainly the strongest squad in English football languishing in fourth place. Barcelona are highly wary at the prospect of facing City in the Champions League, yet might allay such fears if they consider defeats that City have suffered at Cardiff, Aston Villa, Chelsea and Sunderland. Any Barca scouts here might also take heart from the hitting of a flat spot that has become habitual on City's travels.

Pellegrini has so far failed to cover a glaring fault line. Somehow, he has to convince his players that they actually are in Manchester when they travel away. Perhaps he could bribe stadium disc jockeys to belt out Oasis tunes, or maybe take a tube of blue ketchup on the team bus.

Even the likes of Kompany are affected. His own goal for Fulham's equaliser was a thing of comedic beauty as Joe Hart could only watch it spin and squirm into the goal off a post.

This time, City got away with it, benefitting from a gulf in class and a troubled opponent. However, their problem is by no means cured.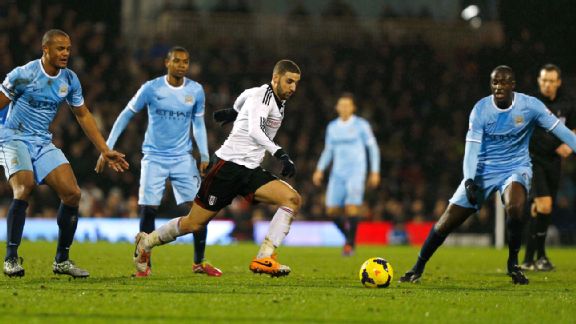 ADRIAN DENNIS/AFP/Getty ImagesAdel Taarabt thrives against big opponents but still couldn't lead Fulham to victory vs. Man City.
Cottage concerns: In the absence of injured Dimitar Berbatov, Adel Taarabt played as the falsest of nines, a role he fulfilled with some distinction when QPR beat Chelsea at Stamford Bridge last season.

What threat Fulham posed came through the Moroccan. He certainly asked Hart some questions in his first day back at his old job. Toure even took it upon himself to issue Taarabt with a "reducer" tackle when his twists and turns were proving troublesome.

A typical Taarabt burst beyond Gael Clichy, after David Silva had lost possession, set up Kieran Richardson's goal at the beginning of the second half. There are few more talented players in football than Taarabt, but, equally, few match him for inconsistency. He does, however, seem to save his good days for the bigger-name opponents.

Rene Meulensteen's version of Fulham play with an energy lacking in Martin Jol's latter days. The departed Dutchman seemed disinterested as his time at the Cottage came to a close. His compatriot has his big break at last, and keen work on the training ground is evident. Jol's reputation as a trainer and tactician is, to place it politely, hardly stellar.

Meulensteen's moments of truth will come against lesser adversaries than City. He desperately needs to restore a previously enviable home record. Even the big teams used to fear a trip to the Cottage, but City swatted Fulham aside with notable ease, especially in the first half. Just two wins at home are the reason for Fulham's place in the bottom three.

When he stepped into Jol's shoes in somewhat cuckoolike fashion, Meulensteen spoke of an ability to spend money in the January transfer window. He might be best advised to invest in some strikers beyond Berbatov, who cannot be relied upon in a dogfight, and at least two decent defenders. And some midfielders, too.

Good luck with that, Rene.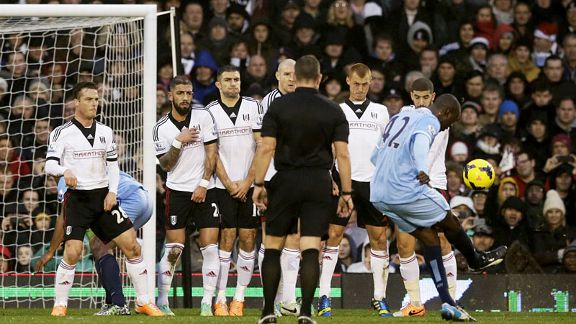 GettyImagesYaya Toure scores another free kick to put Man City in front at Fulham.
Joe takes Hart: Hart is back from the wilderness. In the midst of City's destruction of Arsenal, Costel Pantilimon gave a noticeably shaky performance. Flaps, fumbles and a distinct lack of control of his area might have proved fatal if their attack had not been firing on all cylinders.

Pantilimon is simply not good enough a goalkeeper to keep Hart out permanently. Should they move to sign someone such as Stoke's Asmir Begovic, he will have far more of a problem keeping his place. Hart has had a 2013 wracked by doubts over his form and state of mind. The aim must be to finish the year as first choice.

Calamity has come to haunt him on a regular basis. Goalkeepers just do not get away with being in the wrong place at the wrong time too often.

Having Kompany around usually helps matters. City's hopes of regaining their title will be damaged by a wonky back line, especially porous in the absence of an inspirational skipper. In him and Pablo Zabaleta, City have two players who would comfortably improve any other Premier League team. That, though, is only half a decent defence.

There was the odd sight of Gael Clichy playing at right back in place of hamstrung Zabaleta while disaster-waiting-to-happen Martin Demichelis kept his place in the light of there being no other credible or fit candidates. City's summer failure to reinforce that department may yet be costly when their front six is much better than all the rest's.

Clichy's miscontrol of a ball in the 13th minute signalled his discomfort with his unfamiliar position. Taarabt's ensuing shot was true but Hart's save its equal. He also got the ball away from significant danger, which has previously been a weak point. The hand had held firm and strong.

The exchange served as an early, much-needed fillip. Hart was blameless in both Fulham goals. Taarabt's run and ponderous defending had left him exposed. The own goal by Kompany was unfortunate, although perhaps derived from a continuing sense of unease between keeper and defence.

In the end, Hart's road to redemption is by no means a clear path.