Three things: Stoke-Manchester United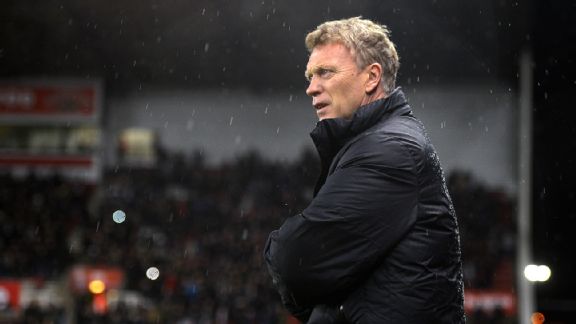 Michael Regan/Getty ImagesCup competitions are an area where David Moyes and Manchester United can draw some positives.
STOKE-ON-TRENT, England -- Three things from Manchester United's 2-0 away win over Stoke:

David Moyes looks for a silver lining

Moyes has many issues to address before he convinces his growing band of doubters that he is a bona fide Manchester United manager. Principal among them is if he is a winner or just a man who nearly gets there, so this was a step in the right direction.

The only pieces of silverware that came the Scot's way during 11 years at Everton were the individual honours. Moyes was named manager of the year three times, but his teams' trophy collection consists of a third-tier title won with Preston North End in 2000 and this past summer's Community Shield, which he felt belonged to Sir Alex Ferguson; had he not lifted the league title, United would not have played at Wembley in August.

His predecessor represents a role model for Moyes.

The managerial knight began to recognise the use of the League Cup in his latter years; it provided a silver lining to the troubled 2005-06 campaign and was one of the reasons United finished a season without a major honour only four times in his final 24 years at the helm.

Ferguson's first trophy, the 1990 FA Cup, came in a knockout competition and amid a struggle in the league, where Manchester United finished 13th. The parallels are obviously inexact, because that isn't to suggest that United will end up in the lower half of the division in May or that Moyes is on the brink of an era of extraordinary dominance, but this tournament gives him the chance to stop his debut year from being a complete write-off. The difficulty, of course, is that United will have to beat better opposition first if Manchester City lie in wait in the final.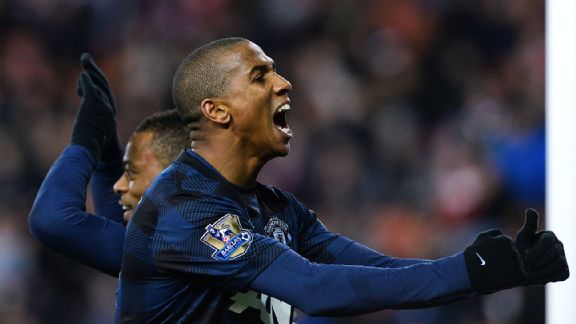 Andrew Yates/AFP/Getty ImagesAshley Young turned back the clock with a performance that will remind many of his Aston Villa days.
Young rewinds the clock

Remember the date because, for the first time in 19 months, Ashley Young scored a goal for Manchester United.

It was emphatic, too, drilled past Thomas Sorensen after Javier Hernandez teed him up, in a manner to invite questions of why his drought lasted so long. The Englishman averaged exactly one goal every five games for Aston Villa and arrived at Old Trafford with a reputation for finishing and creating consistently. It has been rather lost in an awful year and a half when Young has dived more often than he has scored.

His fortunes have plummeted quicker than the winger does in the penalty box, and this was only his third start since his disastrous Manchester derby showing. The reality is that United require a world-class winger, and Young does not qualify.

Yet, the goal was a reminder of Young's ability, and he played with enhanced confidence thereafter. His jinking run led to Patrice Evra's well-taken second. He also provided a contrast with another who may be in the last-chance saloon. Anderson began a game for the first time since September and was ineffective. It was unsurprising that he was the man removed when Moyes brought on Hernandez, and given how limited his chances have been, it amounted to a missed opportunity. Anderson was not abject, but nor was he impressive enough. Especially if Moyes signs a central midfielder in January, the Brazilian may not be seen in a United starting XI again.


Clattenburg couldn't cope with the Stoke weather

As visitors to this part of the world have long known, the Britannia Stadium has its own microclimate. Stoke stakes a claim to take Chicago's nickname, "The Windy City." On this occasion, it was a factor in a storm of biblical proportions.

For years, facetious comments were made, wondering whether Barcelona's bunch of diminutive technicians would cope with a wet and windy Wednesday in the Potteries. When the rain and gales gave way to ferocious hail, referee Mark Clattenburg decided neither Stoke nor Manchester United footballers were equipped to play in it.

The hosts were rather more reluctant to go, and Jonathan Walters, the man for all seasons, was the last to leave the pitch. The hardy perennial was willing to continue even when all others weren't. It was an indication of how determined Walters was. The Merseysider was Stoke's most influential player, buffeting Evra aside and twice coming close to a goal. Yet after Young struck, the climate was altogether kinder to United. Stoke still have not defeated them for 20 years, and despite historic reverses to Everton and Newcastle, there are some unbeaten records they have extended.